Posts on Happily Homegrown contain affiliate links. When you make a purchase through an affiliate link, your price will be the same, but Happily Homegrown will receive a small commission. Thank you for your support!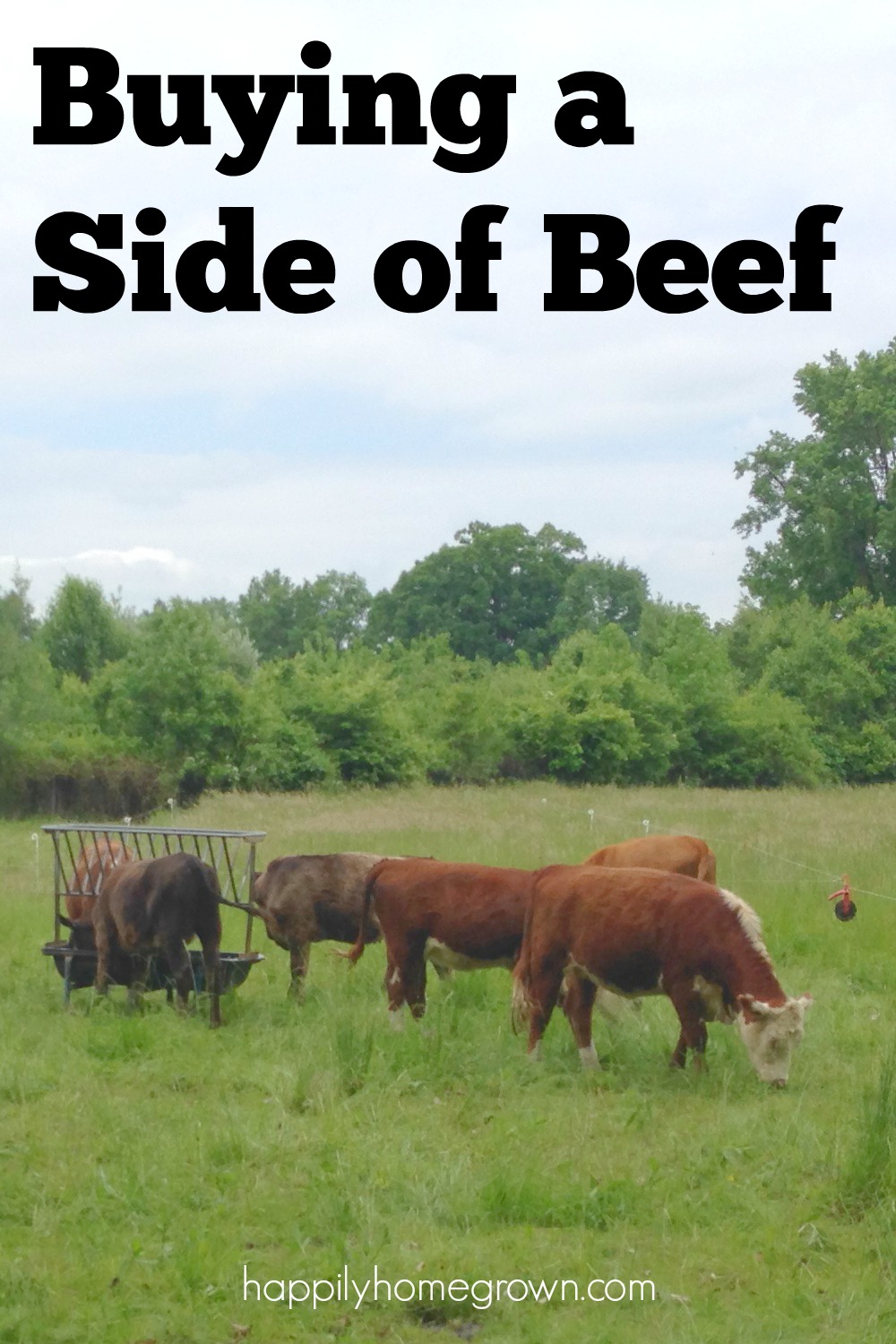 Many years ago, I watched an episode of Jon & Kate Plus 8 in which the family traveled to a farm in Lancaster Co, PA to purchase a side of beef. On the show, Kate mentioned that buying a side of beef was more cost effective for her family, that the beef was organically raised, and that the total purchase price was around $1,000. I remember watching them as someone with a pallet jack brought several large coolers of beef out to their van, and silently thought, that's great for a family of 10 but we are only a family of 2. There just was no way.
Fast forward a few years, and in the summer of 2009, I found myself watching a Jon & Kate Plus 8 marathon (don't judge), and the episode where they purchased a side of beef came back on. We were now a family of 4 and while my 2 children (one of which was less than 2 mos old at the time) didn't eat a lot of beef yet, I was starting to see the appeal of purchasing a year's supply of beef at one time, from a local source, and having meals on the ready whenever I needed them.
It didn't take long to convince my husband that we should buy a side of beef, after all he believes the steak should be its own food group. For the first few years, we purchased our side of beef from a local farmer in New Hope, Pennsylvania.  When his prices jumped, we decided to begin looking for other resources for purchasing our side of beef.  That is when I found out our butcher, Bringhurst Meats in Berlin, NJ, also sold beef by the side.  Since I already loved going to Bringhurst Meats, it was a very logical jump for our family to make.  Instead of buying direct from the farm, we were now buying directly through our butcher.
That side of beef from Bringhurst Meats was huge! From the prior farmer, our largest side had a hanging weight of 290 lbs (weight of the side before dry aging and butchering). Then there was this cow… a hanging weight of 398 lbs! That is one big cow!
Now, 398 lbs is the starting point, you lose some weight in the dry aging process (moisture loss), and then there is fat & bone that's not good eats, but when all of the butchering is finished, we still have quite a bit of beef.
When you buy beef by the side, all of your cuts from premium selections like rib roasts and tenderloin to your hamburger are the same price. For us (in 2014), that was $3.20/lb hanging weigh (Bringhurst updates their prices every Thursday – currently in 2016 that price is around $3.11/lb hanging weight). The other nice thing is that all of your meat comes from one critter, so when there are beef recalls, you know your meat is not in question.  That has given us a lot of piece of mind over the years.
What do you get in a 398 lb side of beef?
93 lbs ground beef in 1 lb packages
15 lbs of hamburger patties
4 shoulder roasts
2 chuck roasts
6 round roasts
16 NY Strip Steaks (Steve's favorite cut)
7 Sirloin Steaks
2 London Broil (I use these to make beef jerky)
9 Filet Mignon
8 pks of short ribs (about 2 lbs each)
a 4 bone standing rib roast (traditionally this is for Christmas dinner)
1 eye roast
1 rump roast
4 bags of soup bones
6 rib eye steaks (my favorite for on the grill)
1 Tri Tip roast
1 flank steak
1 whole brisket
6 pkgs of chip steak (about 1 lb each) for steak sandwiches
The much beef will last us the year, however if we run out of steaks or a specific cut before we are ready to purchase another full side, Bringhurst offers a lot of bulk meat options where we could purchase a large quantity of steaks at a savings over retail, but still not the same great deal as buying the whole side.
Buying a Side of Beef FAQ
Where do you order from?
We order all of our meat and poultry from Bringhurst Meats in Berlin, NJ. They are about an hour from where we live (Rt 73 is known for its traffic), but we figure going just a few times a year is worth the drive for us. In the nice weather, I stop at Stella's Farm for strawberries, corn, and other delicious Jersey produce since they are only a few minutes from the butcher shop, and, in my opinion, help me to justify the trip down even more.
How much does buying a side of beef cost?
At Bringhurst Meats, the price per side varies from week to week. In 2014, I paid $3.20/lb hanging weight. Since our side of beef weighed in at 398 lbs, I paid $1,273.60. This included having our beef custom cut, wrapped & labeled, and frozen. The meat was boxed up into 7 boxes, and they loaded them into my car for me. Our heaviest box was about 40 lbs, so reasonable to lift & carry into the house.
How are the prices at Bringhurst compared to the grocery store?
Pricing is competitive to the non-sale prices at the grocery store, however if you check out their bulk buys than you can get even better deals. Bringhurst lists all of their prices on the website, so you won't have any surprises when you go to the store. One thing to consider is the quality of the food you are getting. I think the meats and chicken we have gotten from Bringhurst taste better than anything from our local grocery store, and custom butchering on beef, lamb, veal, and pork is not something you will get at a grocery store (not even Whole Foods or Wegmans, which are the only grocery stores around here with an actual butcher counter).
How much freezer space do I need?
A side of beef can fit in a 10 cu ft freezer, with strategic packing so you can get to everything. For years, we have had a 15 cu ft freezer, and our side of beef fit in there without problems leaving the top shelf & some door space for the other necessities (like ice cream).
I want to buy in bulk to save money, but don't have the freezer space.
I hear this a lot from friends and family. You don't need to have a huge freezer to benefit from buying meat in bulk. My friend Miranda purchased around 33 lbs of meat for her family on her recent bulk meat trip, enough to feed her family for about a month. While Melissa & Noel both have chest freezers, they decided to split a side of beef to get the financial benefit while not having more than their families' can consume. My mom takes advantage of the weekly specials and will purchase a 10 lb bag of chicken or a case of steaks when they are on special – just enough for her and my brother and it fits in the freezer over their fridge.  There are a lot of ways to make bulk buying work for you and your family's needs; you just have to get creative.
Berlin is kinda far for me, any suggestions on where else I can get meat/poultry in bulk?
I would suggest starting with your local butcher shops. Many butchers are willing to offer you wholesale pricing when you place large orders. From there, check the Amish markets in your area. I have found the Amish market at the Columbus Farmers' Market as well as the one just off Rt 13 in Bristol to be very helpful in the past when I have had questions and have been looking for larger orders.
If you are interested in buying direct from the farmer, than check out Eat Wild and Local Harvest for those available in your area that sell direct to the consumer. Both of these pages are also a great resource on what you should ask when working directly with the farmer to purchase meat/poultry.
Lastly, look into your local 4-H. Children participating in 4-H raise animals, and they then have the animals slaughtered and butchered to recoup their expenses. Buying a 4-H raised animal supports the children in their programs.
If you have any other questions about buying beef by the side, Bringhurst Meats, or buying in bulk, feel free to ask them below and I will do my best to answer all of your questions.