Posts on Happily Homegrown contain affiliate links. When you make a purchase through an affiliate link, your price will be the same, but Happily Homegrown will receive a small commission. Thank you for your support!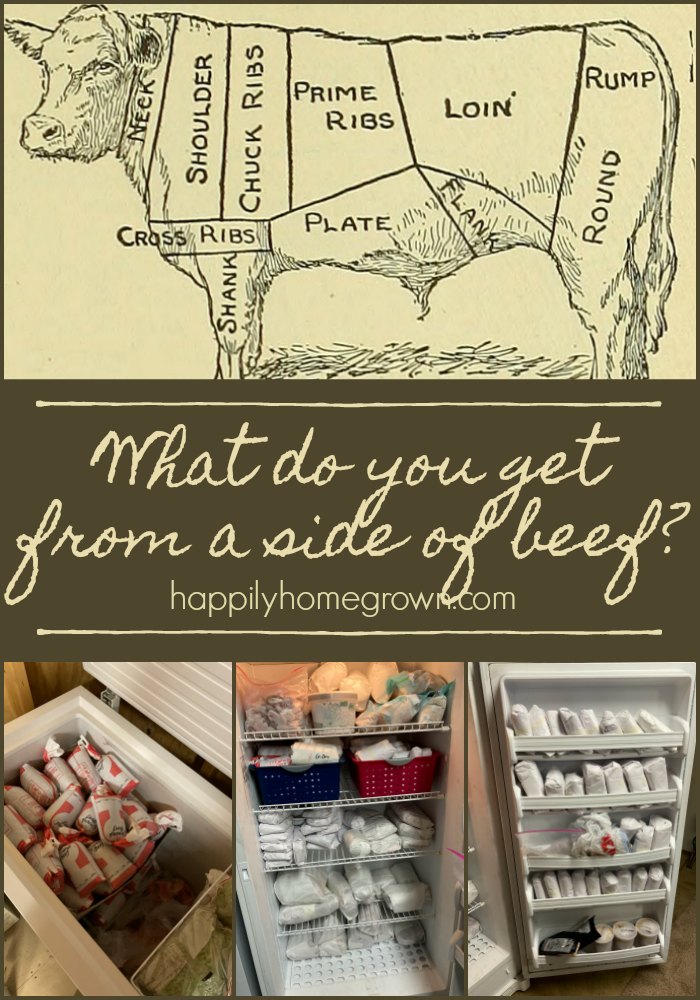 Last week, I picked up our side of beef from Bringhurst Butchers in Berlin, NJ. I know there was a lot of interest in what you get from a side of beef and the cost.
Let me break it down for you.
Cost of a Side of Beef
On July 1st, I paid $2.99/lb hanging weight for our side of beef. Since we purchase through the butcher and not through a farm, that cost includes custom cutting and wrapping. I like the convenience of one price that includes all of my butcher fees.
Our grand total was $1381.38 which is quite the investment, but when you consider that that is enough beef for the year, and that you are getting everything for only $2.99/lb it is worth every penny. The added benefit is that when there are beef recalls, you will have the peace of mind to know what you have in the freezer is healthy and safe for your family.
How much meat do you get?
This year, we have the largest side we have ever gotten. Our side came to 462 pounds hanging. That means it will be a little less than that after butchering and dry aging, but it is still a lot of meat.
What cuts did you get from your side of beef?
With buying from the butcher, we do not get the organ meats, tongue, or tail unless we request them. Our family doesn't care for those cuts, so we pass so someone who does enjoy them will benefit.
There are also a few other cuts we aren't fond of, so they get added to our ground beef. This is what we received this year, your cut list and quantity would reflect your family's preferences and the size of the beef you are bringing home.
We asked our butcher to make sure our steaks are 1″ thick, which we find perfect for the grill. They are also individually wrapped which is perfect when everyone likes a different cut.
Our roasts are each at least 3 lbs. I just tell my butcher the size of our family and to cut the roasts accordingly. Sometimes that means I get one roast from a cut, other times it means I get a few. We always do a 4-5 bone standing rib roast though even though it is quite large because that is our Christmas dinner and I want enough for guests.
124 lbs ground beef in 1 lb packages
12 lbs of beef cubes in 1 lb packages
8 packages of beef short ribs
6 bags of soup bones
6 packages of chip steak
7 Delmonico (boneless ribeye) steaks
1 4-bone standing rib roast
15 NY Strip steaks
1 Skirt Steak
3 London Broil
1 Flank Steak
1 Brisket
8 Sirloin Steaks
1 TriTip
2 Bottom Round Roast
1 Chuck Tender Roast
1 Eye Roast
12 Tenderloin steaks
1 Rump Roast
3 Sirloin Tip Roasts
How much freezer space does a side of beef take?
I split the beef between two freezers this year. I have a small (I think) 7 cubic foot chest freezer and I put all of the ground beef and soup bones in there.
The rest of the beef has gone into our 15 cubic foot upright deep freezer. It took up four shelves and most of the door. All those items on the top shelf are chicken and produce. The blue bin is ground beef and the pink bin on the right is filled with steaks. The bottom shelf of the door is venison chili and some bacon. The rest of it is beef.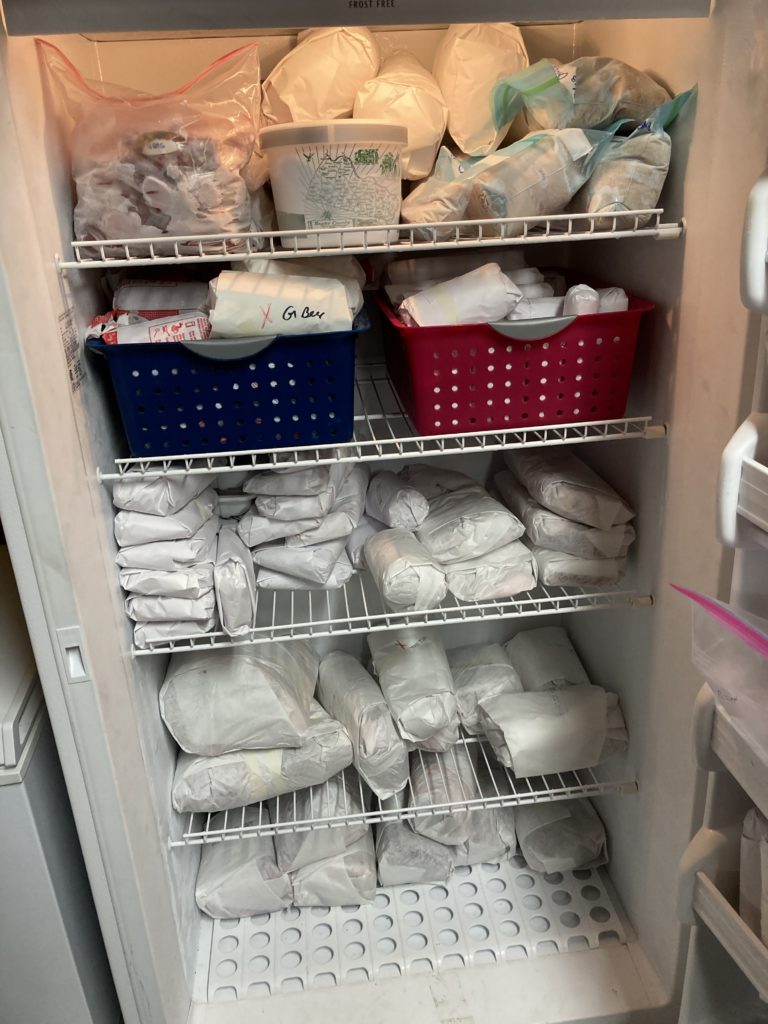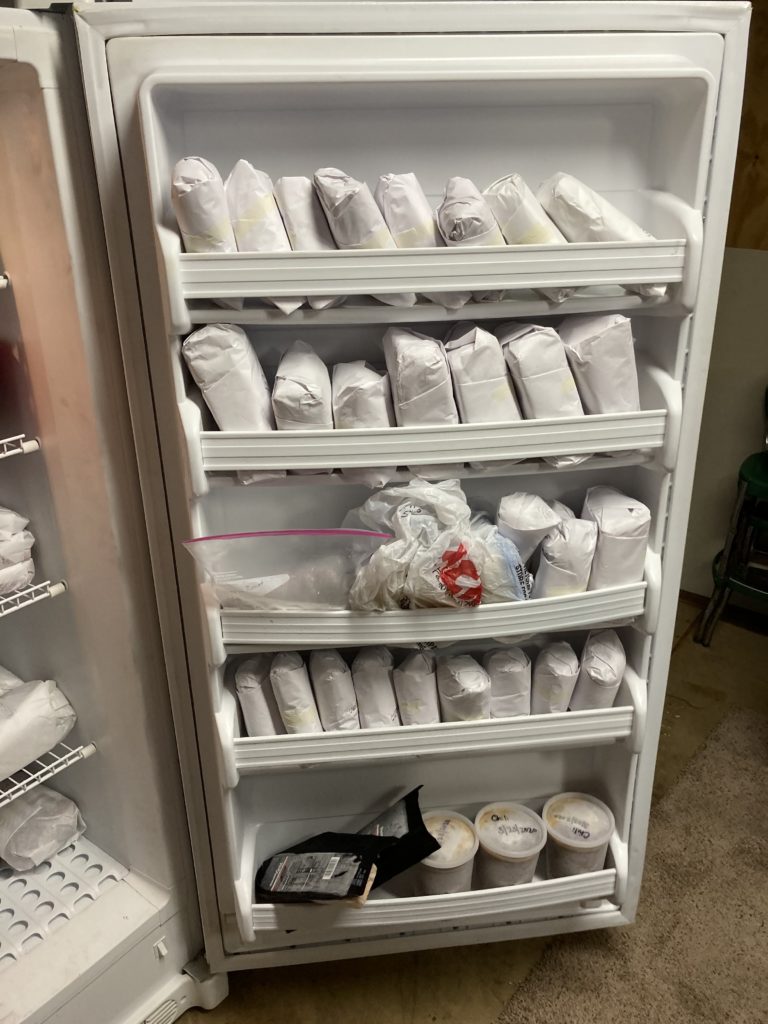 If all you have is one freezer, anticipate a 460 lb side to take up approximately 12-15 cubic feet of freezer space. A smaller 200 lbs side or quarter would need a little less than 10 cubic feet. The trick is stacking all of the individually wrapped packages so they don't fall on your toes when you open the freezer.
So that's it! One very large side of beef, our family of seven, and a whole lot less grocery shopping for me to do in the upcoming months. Now I just need to menu plan for all of this.
What questions do you still have about purchasing a side of beef?
Ask below and I'll be happy to help you out!
For more information on purchasing a side of beef –>