Posts on Happily Homegrown contain affiliate links. When you make a purchase through an affiliate link, your price will be the same, but Happily Homegrown will receive a small commission. Thank you for your support!
My overall goal is to be more self-reliant in 2019 than we were in 2018.  Self-Reliance means we will be able to do more for ourselves and save money in the process.
The time between Christmas and New Year's is a wonderful time to reflect and set goals for the coming year.  I am taking lots of me time while my husband is home from work to focus on reflection, goal setting, and planning for 2019.
Homesteading & Self-Reliance Goals
My overall goal is to be more self-reliant in 2019 than we were in 2018.  While this is my goal, it is definitely going to be a family affair.  I need buy-in from my husband and children to help keep our household running smoothly.  Nothing done at home or on a homestead is done alone.  Becoming more self-reliant will probably take us some time as we adapt and get used to a new way of doing things, but in the long run, it will save us time and money.
Gardening & Agriculture
Redo the garden beds in our backyard and build them deeper to be more efficient
Grow lettuce indoors so we don't have to worry about yet another recall
Grow more medicinal and culinary herbs
Start our own seeds
Save our seeds
Grow enough tomatoes to can tomato sauce & salsa
Eat from the garden as often as possible
Learn to properly prune the fruit trees
Continue to compost, and learn about additional items that can be added to our compost bins
Add to our pollinator and cutting gardens
Tap the maple trees to collect sap, and cook it down to make maple syrup
Learn to forage for wild edibles and medicinal plants
In the Kitchen
Bake bread more frequently so we rely less on store-bought
Make more of our own snacks
Learn to make a variety of crackers
Continue to preserve our harvest and what we get from our local farmers' markets
Make my own extracts for baking
Use fruit scraps to make vinegar
Make my own mustard
Purchase a side of beef and side of pork
Render lard from the pork we get at the butcher
Make our own convenience foods and freezer meals for busy nights instead of ordering carry out
Menu Plan on a monthly basis
Grocery shop weekly instead of daily
Use a refillable water bottle and filtered water instead of purchasing bottled water
Turn on the whole house fan when baking to pull the heat from the kitchen through the rest of the house
Shop in bulk and practice food storage
Make our own mixes for pudding, cornbread, rice pilaf, and pancakes
Make our own cheese & yogurt
General Household
Learn where the best areas are for fishing near our home
Learn how to clean a fish that we caught
Shop thrift stores for books and housewares
Host a yard sale to get rid of the items we no longer need or use
Fix it instead of replacing it
Switch to LED light bulbs
Make our own cleaning supplies
Continue to make our own laundry detergent
Pack lunches for field trips instead of purchasing food while we are there
Use reusable containers instead of disposable ones
Perfect my homemade soap formula
Make our own skin care items
Utilize our library for free events & activities
Group errands to use less gas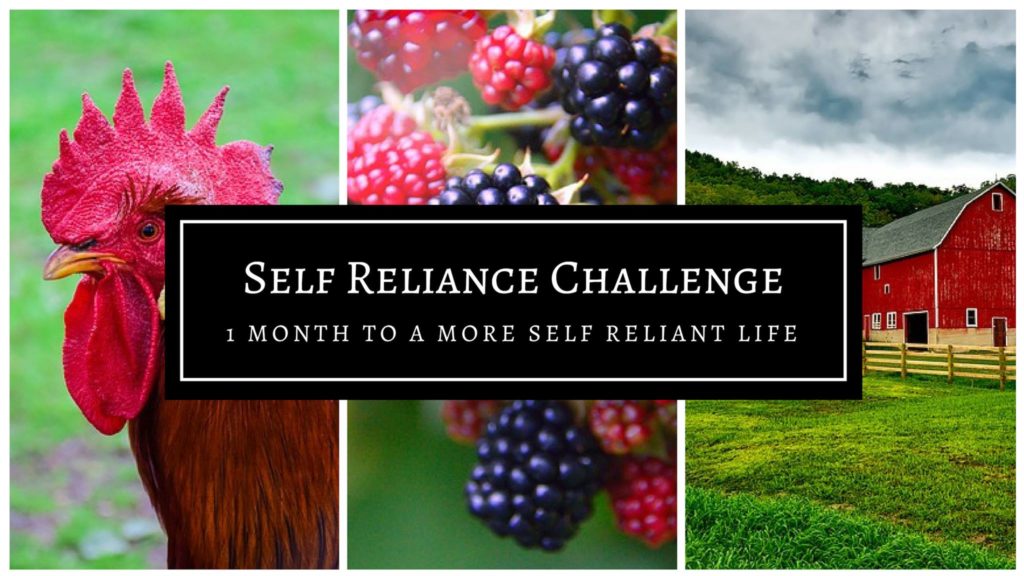 Self-Reliance Challenge January 2019
Make a resolution to be more self-reliant in 2019! Being more self-reliant helps save money and increase your confidence and skills. I've pledged to share my self-reliance posts, tips, and plans with you in January 2019 as I challenge myself to learn new skills!
Follow our Pinterest Board for Self-Reliance Challenge posts.
Stop By & Visit The Self-Reliance Challenge Bloggers
Kathi – Oak Hill Homestead
Nancy – Nancy On The Homefront
AnnMarie – 15 Acre Homestead
Farmgal – Just Another Day on the Farm
Candy – Candy's Farm House Pantry
Kristi – Stone Family Farmstead
Marla – Organic 4 Greenlivings
Heidi – Healing Harvest Homestead
Victoria – Modern Homestead Mama
Shawna – Homegrown Self Reliance
Stephanie – Happily Homegrown
Bethany – Family Growing Pains
Dianne – Hidden Springs Homestead
Julie – The Farm Wife
Lacey – Home & Harrow
Robin – A Life in the Wild
Sheri Ann – Experimental Homesteader
Lisa Lynn  – The Self Sufficient HomeAcre & The New Homesteader's Almanac