Posts on Happily Homegrown contain affiliate links. When you make a purchase through an affiliate link, your price will be the same, but Happily Homegrown will receive a small commission. Thank you for your support!
This blog post has been compensated by Borden® Cheese. All opinions are mine alone. #BordenCheeseLove #CollectiveBias #Ad
My dad has always made stromboli with lots of pepperoni and mozzarella cheese. The recipe was always simple – dough, cheese, and pepperoni all rolled up and baked until golden. Slice it up and dip in your favorite pizza sauce. It was a hit at all of our holiday parties, or when we'd get together to watch the big game.
Philly – The City of Brotherly Love
Mummers
The Liberty Bell
Independence Hall
The Philly Phanatic
and of course Philly Cheesesteaks
Nothing makes me think of home more than these quintessential images of Philadelphia. When I now make my stromboli, I not only make the traditional pepperoni & cheese version, but also this amazing Philly Cheesesteak Stromboli.
Cheesesteak vs Steak & Cheese
When I was in North Carolina recently, I saw a Steak & Cheese on the menu at one of the restaurants. Someone at the next table ordered it, and when the waitress brought out the orders, I was shocked to notice that she serving a round roll with a steak on it and melted cheese. A whole steak! This was not the cheesesteak that I came to know and love growing up near Philly.
A Philly Cheesesteak is made with chip steak, very thinly sliced pieces of steak that cook up on a hot griddle in just seconds. Some people prefer the frozen chip steaks that are pressed into rectangles for easy packaging, but I prefer the fresh chip steak right from the butcher counter at my local ShopRite. Next up is the cheese, and this is all about personal preference. I hit the dairy case for my two favorite cheeses – Borden® Cheese Mozzarella Shreds and Borden® Cheese Provolone Slices. Check here to see where you can find Borden® Cheese near you.
It was time head home to make my Philly Cheesesteak Stromboli.
Philly Cheesesteak Stromboli
Pizza Dough
1 lb chip steak
1 onion, thinly sliced
2 Tbsp olive oil
Borden® Cheese Mozzarella Shreds
Borden® Cheese Provolone Slices
Salt & Pepper
Sauté the onion in the olive oil. When the onions are soft, add in your chip steak. If your pan is too small, you will want to cook this in batches to prevent your steak sandwich meat from drying out. When everything is cooked, remove it from the heat, and top with a few handfuls of Borden® Cheese Mozzarella Shreds. Set your filling aside to cool.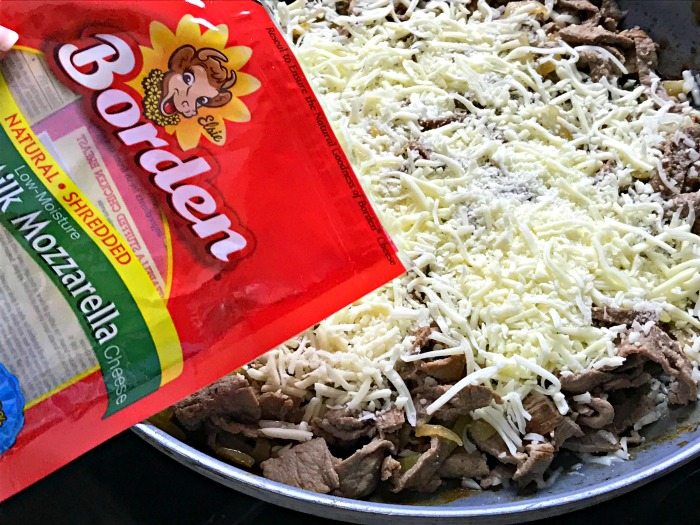 Roll out your pizza dough into a rectangle. On the long side, lay out the Borden® Cheese Provolone Slices. You want to use the entire package. Next, top the cheese with your Philly cheesesteak filling. Roll up the dough, keeping it as tight as possible, and pinching the ends closed so none of the yumminess oozes out.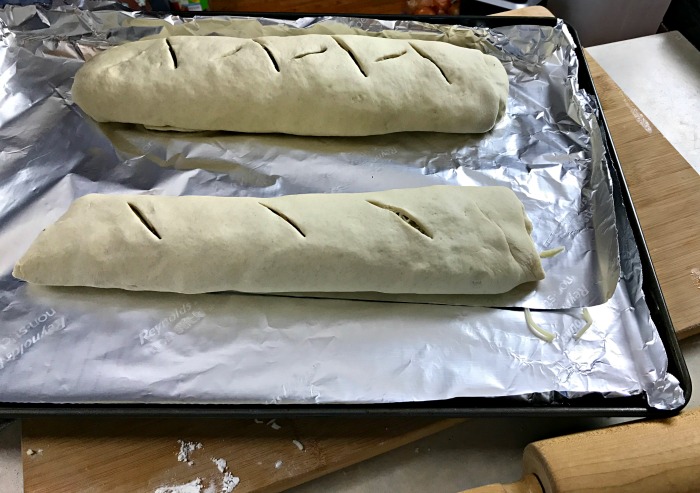 Place your stromboli on a lined baking sheet. Slit the top of your Philly Cheesesteak Stromboli to allow the steam to escape. Bake in a 450° oven for 25 minutes, or until golden and cooked through.
Allow your stromboli to cool for 5 minutes before slicing. Serve with ketchup or your favorite pizza sauce for dipping.