Posts on Happily Homegrown contain affiliate links. When you make a purchase through an affiliate link, your price will be the same, but Happily Homegrown will receive a small commission. Thank you for your support!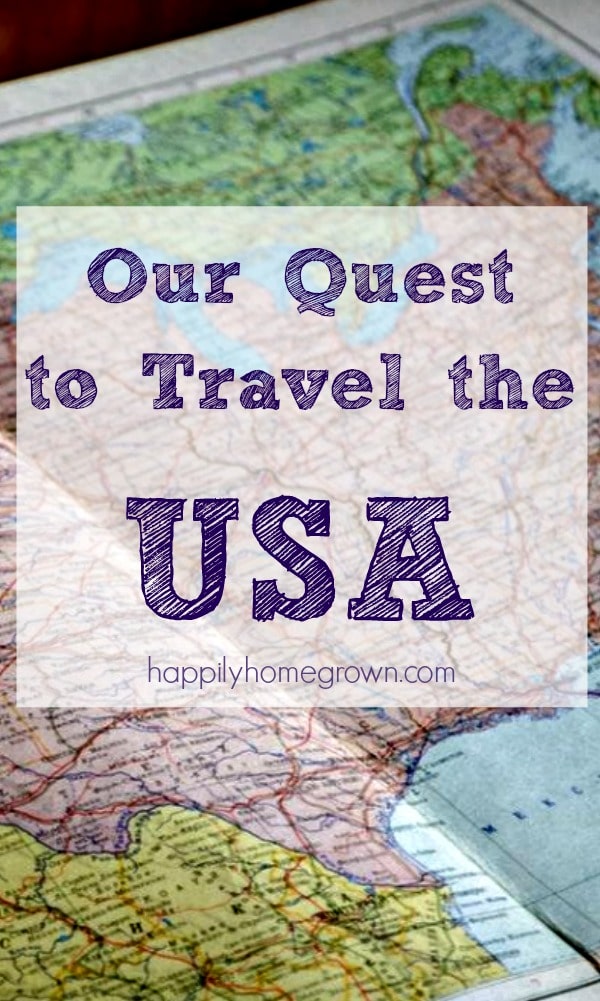 A few years ago, while driving across Pennsylvania to attend Bloggy Con at Cedar Point, Ohio, I made the offhand comment to my husband that I'd like to see all of the lower forty-eight before my 50th birthday.  Since flying is so expensive, we knew that if we were going to make this happen it was going to involve some epic road trips or train trips.  While ideally, I'll get to see these with my family (meaning Steve and I as well as our children), I know that some may involve various numbers of us as work, school, and scouts take us in different directions.
My Travel Experience
I don't have all that much travel experience outside our area.
I have flown 3 times in my entire life.  When I was in first grade my mom took my brother & I to visit my aunt in Rochester, NY.  Then, the summer between my freshman and sophomore years of high school, my dad took my brother & I to Florida for vacation.  And finally, over spring break 1999, my dad took me away on a cruise.  That was also the closest I've ever been to being "out of the country" even though I didn't need a passport since we only visited US territories (Puerto Rico, St Thomas, and St Croix).
We took road trips when I was growing up, but with family in Massachusetts, that's where the road trips always lead.  It sounds so hoity-toity to say I spend summers on Cape Cod as a child, but I was always visiting family and I don't think I truly appreciated the experiences I was getting until I was an adult looking back on them.
In high school (mid-90s), our music department took a fun trip to Burlington, Vermont.  We were supposed to go skiing but with 30 inches of fresh powder overnight, we spent time exploring downtown Burlington instead.  I didn't go on my senior trip.  I didn't leave the state for college. In fact, I only went away for spring break in college twice – once with my dad and once with my boyfriend to his parents' beach house in Sea Isle, New Jersey.
Once Steve & I were married, we just weren't in a financial situation to be able to travel.  Neither of us like to fly, and hotels are so expensive.  It wasn't until 2005 when my father moved to Florida that we went on our first vacation together – a road trip from New Jersey to Florida taking 22 hours each way.  After doing that drive twice, we had the desire to do bigger road trips, but then I was pregnant, and then next thing I know 5 years and 3 children later we hadn't gone anywhere more than an hour or two from home.
But then there we were driving to Ohio.  Only a few hours into what should have been a 9-hour drive (it was closer to 11 hours because of a nursing baby), we had the realization that we wanted to do more of this.  To drive around the country and see so much more than what was around us.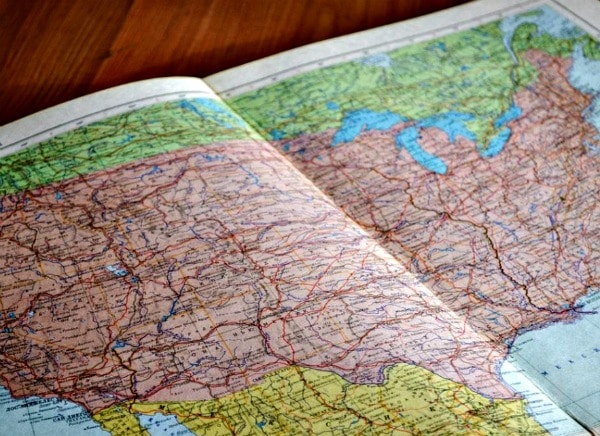 Our First Trips
When you have littles, two hours seems like an eternity to be in the car, but we pushed it to four for a trip to Mystic, Connecticut.  Then, we went to Bloggy Con in Ohio three times in four years, with stops in Pittsburgh on the way home.
With the children being older, we were able to go away for a long weekend to visit friends in North Carolina.  That trip included passing through West Virginia, Virginia, and Tennessee.
And now here we are.  Only a few small localish trips on the horizon, but I so want to travel and see this beautiful country.  I want to put my toes in each of the Great Lakes.  I want to show my children where I spent my summers as a child visiting Cape Cod.  To visit Maine and see the sights my father Chuck told me about from when he was a child.  Let's visit places we have only seen in books and in movies.
Where are we off to next?
Front Royal, Virginia in October 2018
Savannah, Georgia in July 2020
I need to get some more trips on our calendar!
Our Quest to Travel the USA
As we travel, I will come back and update this section.  As of today (8/24/18) I'm at 18 out of 51.
Alabama
Alaska
Arizona
Arkansas
California
Colorado
Connecticut
While I have lost count of the number of times I've driven through Connecticut, I've stayed there twice.  First was a trip to Mystic with my 6th graders to visit the Mystic Seaport & Aquarium for their class trip.  The second time was a week-long trip with my family and my in laws when we stayed in Groton and visited Mystic.
Delaware
Delaware is for day trips when you live in southern New Jersey.  Christiana Mall was one of the closest to where I lived for a few years, so it was just convenient to pop over the bridge.  Steve & I also took the Cape May – Lewes Ferry for a day trip to Rehoboth Beach and Dewey Beach years ago.
Florida
I went to Florida when I was a baby, then not again until the summer between my freshman and sophomore years of high school.  That was the one and only time I did Disney and Universal Studio.  My dad also took us to Cocoa Beach, and to visit Nasa, all while staying in Daytona.  I can remember so much of that trip, and absolutely loved it.  When my dad retired to Florida in 2005, Steve and I made the road trip down a month after he went to settlement on his new home in Largo on the Gulf Coast.  We went down again in 2006, and while we had planned to go down with the kids, it just never worked out before he left Florida and moved back to New Jersey.
Georgia
Since we drove to Florida, we drove through Georgia.  In 2020, I will be traveling to Savannah with my daughter's Girl Scout troop to see where Girl Scouting began.
Hawaii
Idaho
Illinois
Indiana
Iowa
Kansas
Kentucky
Louisiana
Maine
Maryland
My uncle lived in Maryland when I was a child, and I remember driving down to see him once or twice with my mom.  I have also done day trips to Baltimore with my dad.
Massachusetts
I spent summers, as well as Easters and Thanksgivings, on Cape Cod.  My grandparents had a home in East Sandwich, and we would also rent a cottage overlooking the Cape Cod Bay in Sandwich.  I am currently trying to figure out how to get my family up there for a long weekend next August or September when the water is still warm enough to put your toes in (the bay always felt like ice water) and show them all the places I used to visit when growing up.
Michigan
Minnesota
Mississippi
Missouri
Montana
Nebraska
Nevada
New Hampshire
New Jersey
New Jersey was home for the first 27 years of my life.  I've lived in 4 counties, and have visited all of them at one time or another.  It's always fun to visit where you grew up with the eyes of an outsider to see it in a different light.
New Mexico
New York
New York is so much more than just New York City!  While I've been to NYC for day trips and even weekend long adventures, I really enjoy other parts of the state.  My favorite, so far, was a small town called Greenwood Lake that invited me to speak at their library a few years back.  It was so incredibly beautiful and picturesque.  Steve and I had turned it into a day trip, but I would love to go back and explore the area more.
North Carolina
My first trip to North Carolina was a ploy to surprise my best friend lived in Waynesville, North Carolina for a few years.  With the help of her then boyfriend, I knew where she would be on a Thursday night (his brother's pub – Mad Anthony's), and when she least expected it, I walked in to give her quite the shock!  We then spent the next few days and nights together exploring Waynesville and Asheville, North Carolina.
North Dakota
Ohio
I've only seen a small part of Ohio, and all of it is around Sandusky.  We've been to Bloggy Con which is held at Cedar Point.  It has been so much fun going to Halloweekends, swimming in Lake Erie, and just spending time together as a family.  I know there is so much more to Ohio, but what we have seen so far has been amazing.
Oklahoma
Oregon
Pennsylvania
Pennsylvania has been home since 2006.  While we live only one-mile from the New Jersey state line, we are starting to explore more of the state.  We've driven the PA Turnpike clear across to Ohio 3 times, and came back on I-80 once (I don't recommend it).  While we grew up going to Philadelphia, we have also spent time in Lancaster, Pittsburgh, Harrisburg, Gettysburg, New Hope, the Poconos, and Milford (as well as the surrounding areas).
Rhode Island
I've only ever driven through Rhode Island on my way to or from Massachusetts.
South Carolina
Unfortunately, I've only ever seen South Carolina from I-95.  I'm looking for that to change.
South Dakota
Tennessee
We drove through the eastern most part of Tennessee on our way to North Carolina.  We have plans to go back and visit Lynchburg, both to visit friends and visit the home of Jack Daniels.
Texas
Utah
Vermont
In high school, our music department took a trip to Burlington, Vermont.  While that was more than 20 years ago, I've been wanting to go back ever since.
Virginia
I've been to Virginia Beach, Williamsburg, Alexandria, and Manassas for various trips.  I've also seen various parts of the state from both I-95 and I-81.  This October, Steve and I will be going on a trip to Homesteaders of America Conference in Front Royal, and are looking forward to seeing yet another part of the state.
Washington
Washington DC
While I've been to Washington DC several times, my favorite trip there was on New Year's Eve 1998.  It was the only time I was ever there and the city was empty.  It was so incredibly peaceful.  We walked along the reflecting pond by the Lincoln Memorial just before midnight and were one of only a handful of people there.  I ran out of film before we got there, and being late at night there was no where to get more.
West Virginia
I drove through West Virginia for the first time a few years ago and thought it was absolutely stunning.  We got off the interstate for lunch, and the small town vibe was strong.  It's definitely somewhere we want to go back and explore more.
Wisconsin
Wyoming
I'd love to hear about your travels around the United States!
Comment below with your must-see locals or places to eat – anything we just need to see when we visit.