Posts on Happily Homegrown contain affiliate links. When you make a purchase through an affiliate link, your price will be the same, but Happily Homegrown will receive a small commission. Thank you for your support!
Thank you to Mitsubishi for helping us travel in comfort & style while creating lasting family memories.  #DriveMitsubishi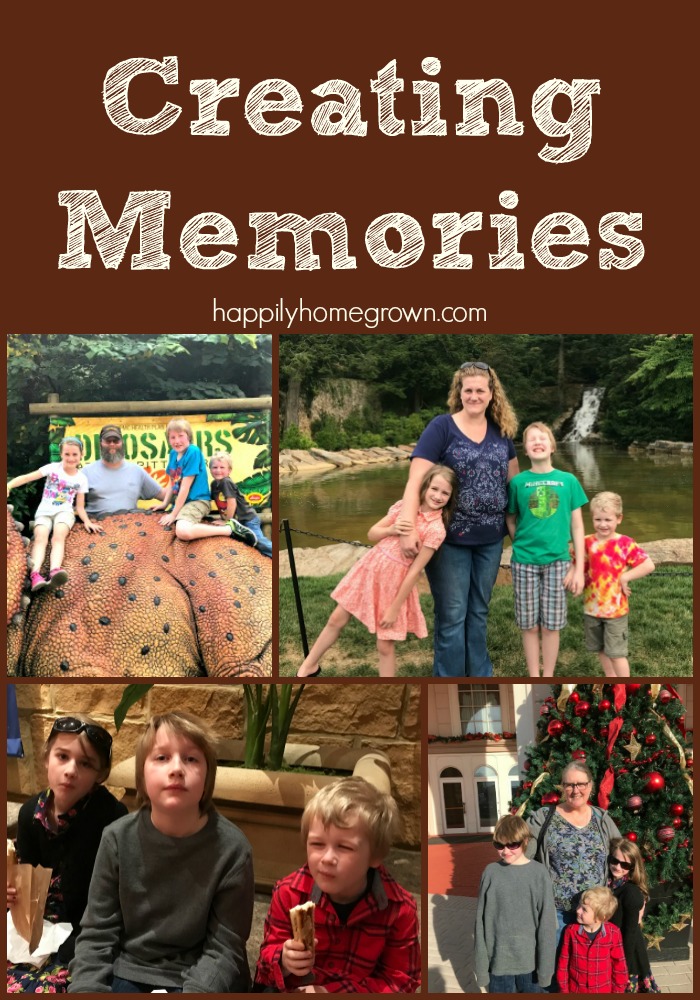 Toys and homeschooling materials have taken over the living room!  We still have baby toys on hand even though my youngest is four!  My older children still play with toys, but are more interested in video games, but I don't want them plugged into tech all of the time.
With the holidays coming, everyone's asking, "What do the children want for Christmas?"  They want to go on adventures!  They want to create memories!  My husband and I are looking forward to creating lasting memories and want to connect with kids instead of just filling our home with more stuff.
Ways to Save While Creating Memories
Going on adventures can get expensive, but there are ways to save.
Local libraries often have memberships to area attractions.  You can check out the passes for free, and then return them for the next family to use.
Google is your friend.  There are always free events popping up, even in small towns.  There are also lots of places that hold free admission days.  Some even have discounted admission if you visit on certain days or times.
Get familiar with Groupon.  You can save so much on memberships to area attractions and single days admissions through Groupon.  We have gotten great deals on hotels, meals, and classes which makes it a better value for our family.
Instead of asking for toys at birthdays and holidays, ask for memberships and season passes.  These memberships often pay for themselves in one to two visits.  They usually include members-only events so that you can get experiences that the general public can't.  We like to purchase memberships that allow us to bring one to two guests with us as well.
Bring Along The Whole Family
As a homeschooling family, it is often me and the three children when we go out creating memories and experiencing attractions in our region.  Whenever possible, my husband comes with us.  This means creative scheduling so we can attend things in the evening or on a weekend.  With grandparents who live nearby, it is important that our children build memories with them as well. Plus, Steve and I get to see our children in a different light when all three generations get together.
However, being we are a family of five, it can be challenging to go on day trips with grandparents and get us all into one vehicle.  Most vehicles only seat four comfortably and five is pushing it.  Make that three adults, 2 big kids, and a preschooler who is still in a booster seat and finding a vehicle where we all fit is quite the challenge.
Thankfully, we have some options for transportation.  Recently we drove the 2018 Mitsubishi Outlander GT S-AWC when we took all three generations to Lancaster for a beautiful day trip.  I have always been intimidated by larger vehicles that have a third row, but with our family, it is a necessity.  I was pleasantly surprised that the vehicle size didn't overwhelm me, and it was quite comfortable to drive and handled the curves and hills of Lancaster County beautifully.
My two oldest children were in the third row, my mother and preschooler (with his booster seat) were in the backseat, and my husband and I were up front.  Everyone had plenty of legroom!  This mama's main stresser went out the window and we could just enjoy the ride.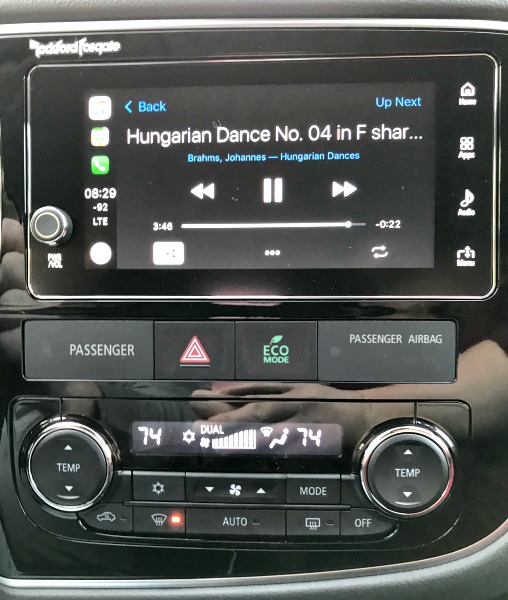 Our everyday driver is a 2005, so I'm even more blown away by all of the creature comforts that are available on the Mitsubishi Outlander that I wouldn't have even been able to dream up 12 years ago!  Heated seats.  Heated steering wheel.  Dual-Zone climate control.  Blind Spot Warning (BSW) system.  Rearview camera system (which makes backing into a parking space a breeze).  USB chargers that are hard-wired into the vehicle with designated pass-throughs for the wires. A 7″ touchscreen display audio unit with Bluetooth® wireless technology.  The most amazing audio system (my husband is an audiophile so this was important to us).
All of those little things add up, making this the perfect car for families who want to travel in comfort and style, and help us to build a few extra special memories along the way.