Posts on Happily Homegrown contain affiliate links. When you make a purchase through an affiliate link, your price will be the same, but Happily Homegrown will receive a small commission. Thank you for your support!
Some people go absolutely crazy for spring cleaning with their checklists and new products. Me? That's just not my thing. By the time spring is in the air, I'm up to my elbows in the garden and don't have the energy to deep clean the house. Luckily, I have the fall and winter holiday season, when my garden is at rest, to take the time to get our entire home holiday ready.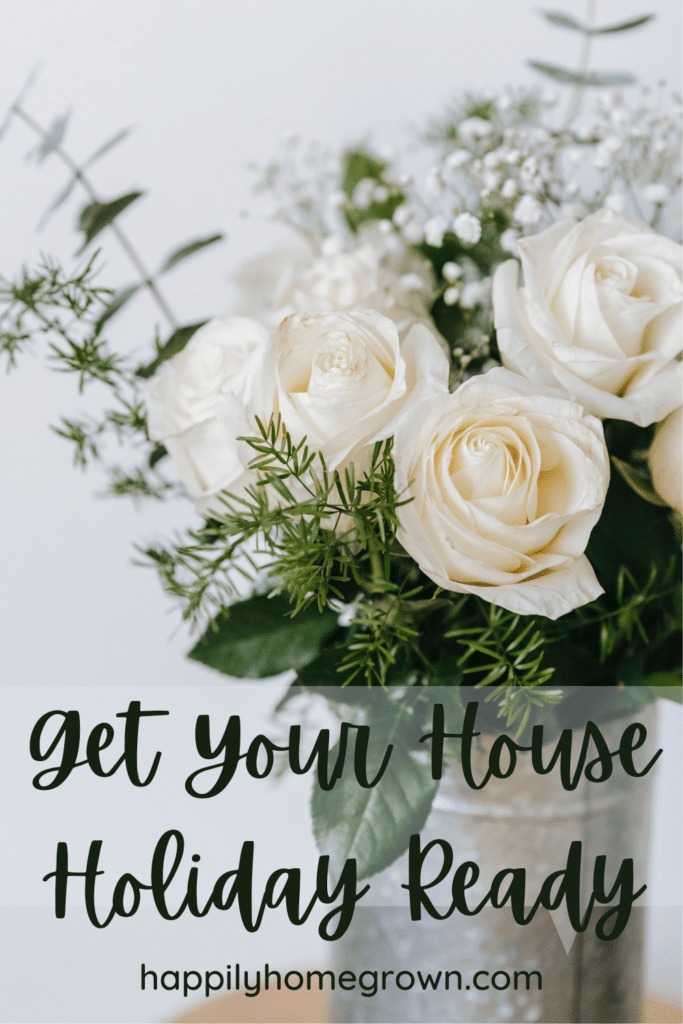 Getting the House Holiday Ready
Getting the house holiday ready is going to look a little different for everyone. In my opinion, there are a few main things that just have to be done. The three D's of holiday home prep – Declutter, Deep Clean, and Decorate!
Declutter
First things first. You need to declutter before you can actually clean. It's why there is the old joke about cleaning the house before the cleaning service arrives. If you have clutter everywhere, your house is going to look a mess even if it isn't actually dirty.
Have the children pick up their toys and put things away that are in the common parts of your home. Make sure the school supplies are where they belong not strewn across every flat surface. Make sure the laundry has made its way into the hamper. Shoes and boots are put away. Hang up your coat. Even young children can help to put things away.
Now for the tricky part … the adult messes that need to be decluttered. You know what I'm referring to. The pile of mail on the kitchen counter. The magazines on the nightstand. The receipts that you need to scan into Fetch! Books to go back to the library. Even the baking dish that you didn't put away after doing dishes and the basket of laundry in the living room.
Either put the item where it belongs, return it (as is the case with the library books), or toss it in the trash. If you have items you want to donate, put a bin aside to collect those items when you find them in various parts of your home.
Decluttering can get overwhelming especially if you have had things pile up a bit. To keep from feeling overwhelmed, pick one room or one task and do it for 10 minutes. That's it. Hey Siri/Alexa, set a timer for 10 minutes. Then go! Ten minutes isn't too long, and we can stay focused for ten minutes in an effort to get the house in order.
Deep Clean
In a perfect world, decluttering would take only 10 minutes and we could move on to cleaning, but that's not the world I live in. What about you? It may take me several days to get things decluttered enough to feel like I can clean a room. Sometimes, I get lucky and I can declutter and clean on the same day but sometimes that just doesn't happen and that's ok.
No matter when you are ready to start, the goal is to declutter first and then clean. I like to start at the top and work my way down when I clean a room because dust falls and this way the last thing I do is vacuum or mop and I can call the room done.
Start with stripping the linens from the room and tossing them in the laundry. If you have area rugs, take them outside and shake them out or give them a good beating to remove the excess dust before vacuuming them.
Then, starting at the ceiling work your way through the room. The ceiling fan and crown moulding get cleaned first. Then, windows and walls. Pay attention to those window sills that sometimes get mildew on them from condensation. Use a Magic Eraser to remove fingerprints and pet smudges from surfaces.
Follow this up with all of the surfaces in the room – tables, bookcases, dressers, desks, shelves – all of it! Take the items off of the surface, wipe down the surface, and then dust each item before you put it back in its place.
Dust the baseboards, and then it's time to vacuum or mop the floor. Don't forget to get into the corners and under the furniture.
If you are cleaning a room with upholstered surfaces (like a couch or chair), don't forget to remove the cushions and vacuum them off as well. You may want to use a lint roller to remove pet hair and fuzzies from the furniture. If time permits, consider using a steam cleaner on those surfaces as well.
The final step, replace all of the linens with fresh ones.
Kitchens and bathrooms follow a similar routine, with working from ceiling to floor. In these rooms, I also like to wipe down my walls and cabinets with hot water and a Norwex Enviro cloth to remove and ickiness that has built up. I run a self-cleaning cycle on my oven. And give the appliances a little extra TLC to remove fingerprints and any build-up on the surfaces.
Decorate
Now that the room you are working in, is clean and tidy, it's time to decorate. Wreaths, floral arrangements, candles, special linens, special dishes … whatever items put you in the holiday mood can now come out and become a feature in your space.
Don't worry about being Pinterest perfect or having a home that looks like it belongs on HGTV, do what brings you joy and happiness during the holidays. Incorporate your family heirlooms and traditions, and stay true to what you like and who you are.
The Finishing Touches to Make Your Home Holiday Ready
Come up with a signature scent for your home through the holiday. Don't think of the overly perfumed candles and oil plugins that make your eyes water and throat burn from chemicals. Instead come up with a subtle essential oil blend to diffuse or a simmering potpourri that you can put together with a few items from your spice cabinet. Smells trigger memories, so pick something you like and go with it.
Also, come up with a holiday playlist that you can have as background music in your home to put you in the holiday mood. You can simply listen to the classical station or holiday station on Apple Music, Amazon Music, or Pandora. Alternatively, create your own custom playlist with songs you really like then whenever you have company or just want a little festive background noise, play your holiday playlist and enjoy!