Posts on Happily Homegrown contain affiliate links. When you make a purchase through an affiliate link, your price will be the same, but Happily Homegrown will receive a small commission. Thank you for your support!
I love everything about the Christmas season. From the shopping to the decorating. All of the delicious food and amazing smells. Sometimes, I want the house to smell like Christmas without having to whip up a pie or a batch of cookies. Let's be honest, freshly baked treats smell amazing, but who has time for that every day.
My go to used to be scented candles or wax melts, however, we have eliminated a lot of synthetic scents from our home over the past few years for health reasons. Now, those products smell way too strong and a bit fake for my liking, so I'd rather do without.
I played around with a few scents before coming up with a combination that is quintessential "Christmas".
Simmering Christmas Potpourri
1 orange, sliced
a few handfuls of cranberries
a few sprigs of rosemary
2 cinnamon sticks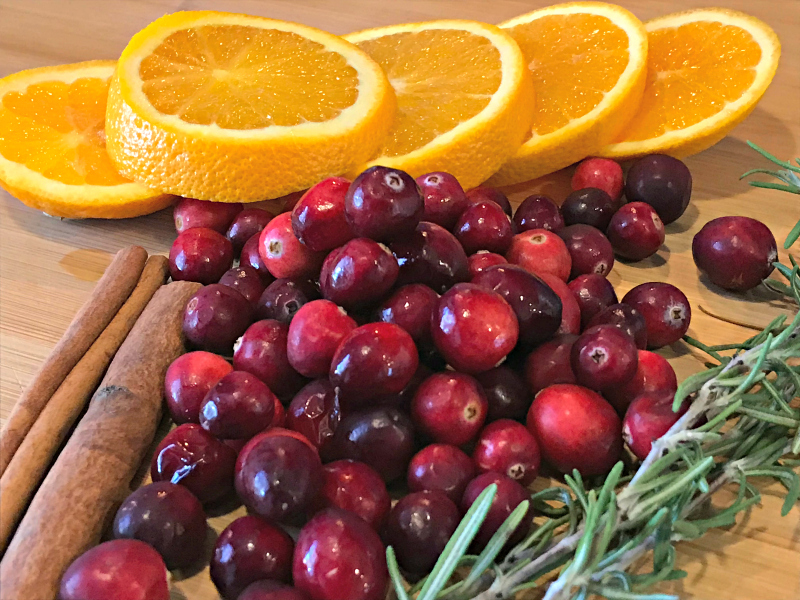 Place everything in a 2-quart saucepan and cover with cold water. Place it on a low burner and bring it to a simmer. Let it go and the wonderful smells will travel throughout your home. As the water level in the pot gets low, add more water.
Alternately, you can use a small dip sized crockpot, and put all of your simmering Christmas potpourri ingredients in there. Plug in the crockpot in whichever room you want to smell amazing!
Safety first! Please remember to turn off the stove and/or your crockpot when you are going to bed or leaving the house. Also, keep an eye to make sure you don't boil your pot dry.