Posts on Happily Homegrown contain affiliate links. When you make a purchase through an affiliate link, your price will be the same, but Happily Homegrown will receive a small commission. Thank you for your support!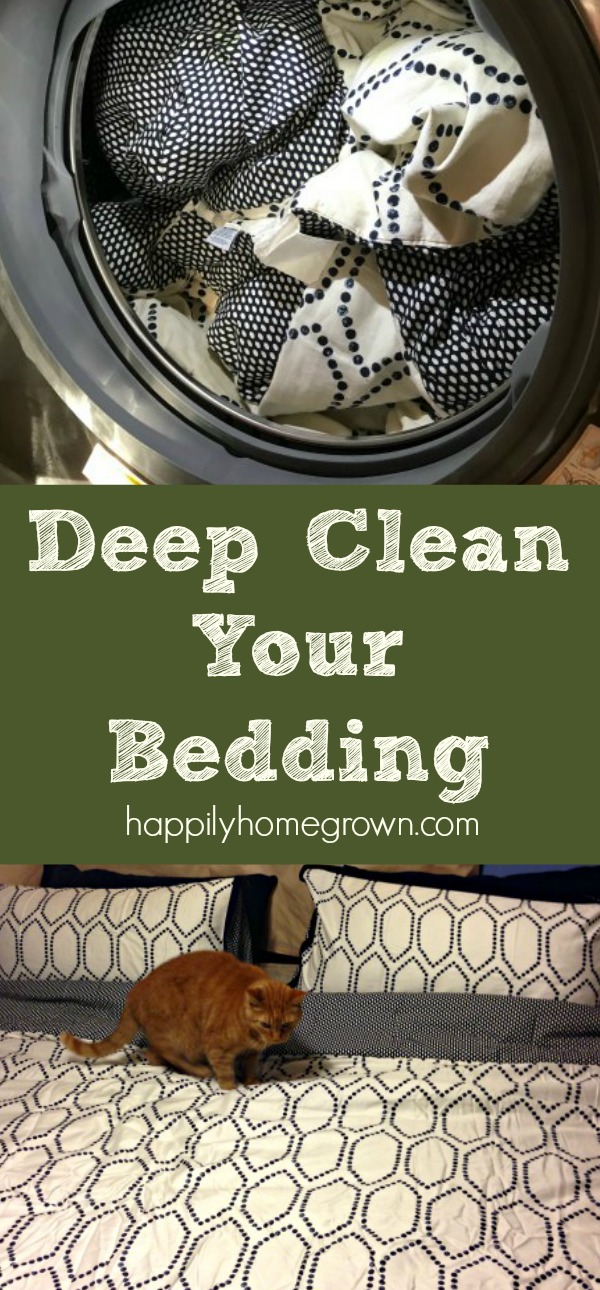 Deep cleaning isn't only happening in the spring. Throughout the year, I deep clean various rooms or even parts of rooms so that we can keep up with the housework the best we can. Some areas get deep cleaned on a regular schedule, but others like our bed linens, get a deep cleaning as necessary.
There are three times when I need to deep clean bed linens in our house:
after someone has been sick to get rid of any germs that may be hanging around
after one of the children (or a pet) has had an accident
once every 3 months to reduce the build-up of skin cells, body oils, germs, and dust mites
While cleaning the bed linens happens regularly, deep cleaning is when I clean the mattress, pillows, stuffed animals, comforters, mattress pads … ALL OF IT!
Where to Begin
Just like on laundry day, you begin by stripping your bed. Everything comes off.
If I'm cleaning one of the children's beds that have those vinyl mattresses, I wipe down the entire mattress with the warm soapy water. For the big kids and adult mattresses, which are cloth, I vacuum the mattress and then spritz it with Norwex Mattress Cleaner. I like using an enzyme-based cleaner because it helps remove organic matter and body oils from the mattress that the vacuum can't get.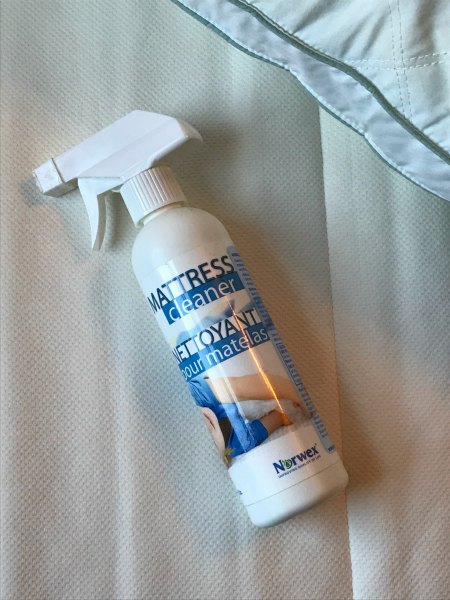 I like to open the windows and put on a fan to help air out the mattress and dry out. If you get a cloth mattress damp in the morning, and there is no air movement, it will still be damp at bedtime, and no one wants that.
When the mattress is clean, I rotate it 180 degrees. If it's not a pillow top mattress, I often flip it as well so that it wears more evenly (it's what mom and grandma did, so I do it too).
You Can Wash Pillows?!
We don't have down pillows, so the pillows go into the washing machine. You read that right – in the washing machine! I'm amazed how many people don't know you can wash your pillows.
We have a front load washer, so I can fit either two king-size or standard-size pillows in there at a time. When I had a top load washer with an agitator, I could only do one pillow at a time. I wash my pillows with our homemade detergent and hot water. If someone has been sick, I use the sanitize setting on our washer because it makes the water even hotter. I feel like the hotter water does a better job getting rid of the germs. It's worth it for the peace of mind.
The pillows do take a little while to dry, so I try to get them going early in the day so they have plenty of time in the dryer. I dry our pillows on the Jumbo Dry setting which takes about 90 minutes to dry 2 king-sized pillows, but I don't need to do a second round in the dryer. Its one and done. Check your pillows to see how dry they are before moving on to the next load of laundry. I give our pillows a good fluff & scrunch, and if they feel damp at all, they go back into the dryer. I'm not taking a chance of the pillows being damp and getting that sour funk.
Washing the Comforter and Duvet
After washing the pillows, I wash our comforters and duvet because they are the next most time-consuming item. If your comforter can't fit in your washing machine, you will want to take it to the laundromat for one of the oversized machines or take it to the local dry cleaner. Our dry cleaner offers a washing service for curtains and oversized linens. One thing I have also noticed, some duvets and comforters are dry clean only! Check your tags before deep cleaning these yourself.
I wash our comforter using the Bulky/Large setting using the standard water temperature and our homemade detergent. If you have hard water, you may want to add white vinegar to the rinse cycle to help remove any build up and soften the fabric. I add the vinegar to the spot where the fabric softener would normally go. Drying our comforters is contingent on the weather. If its damp, humid, or really cold the comforter goes into the dryer on the Jumbo Dry setting.
If the weather is cooperative, the sun is out with a gentle breeze, then that comforter is going out on the clothesline. In the dryer, it takes about 90 minutes to dry, but on the line, it could take anywhere from an hour to four hours depending on the breeze. Nothing beats laundry that has been hung out though. It smells so fresh that it is worth the little bit of extra time it could take.
Laundering the Bed Linens
Next up is the mattress pads/covers. I keep mattress pads on all of the beds and they get washed in warm water on the Cotton/Normal setting. Since these are often white, you may opt to add a little bleach to your load of laundry. I find that hot water and laundry detergent are all they really need. When it comes to drying the mattress pads, I prefer to put them on the clothesline, otherwise, they get low-heat on the Cotton/Normal setting on the dryer. I have melted crib mattress pads that have that plastic backing to them because my dryer heat was too high. I no longer take that chance.
We launder the mattress pads regularly, and I've found it beneficial to have a second set on hand so that I can remake the beds as needed and not have to wait for them to dry since they take longer to dry using less heat.
The last things to wash are all the sheets and smaller throw blankets. Since these are laundered on a regular basis, if I don't get to them on my deep clean day it's not the end of the world. I'll just make our bed with a second set of linens. Deep cleaning the sheets is no different from how we typically launder our sheets – Cotton/Normal setting on the washer and dryer, unless the weather is nice enough to hang out the sheets.
What about Stuffed Animals?
Most stuffed animals that do not have electronic parts can go into the washing machine and dryer. However, my children don't like to be without their cuddly friends for long. Spot cleaning and a quick spritz with the Norwex Mattress Cleaner is our usual game plan. If you do choose to clean stuffed animals in the washing machine, you want to wash them on either the Handwash or Delicates setting, and place the stuffed animals in a mesh washing bag so they don't get damaged. Dry stuffed animals on low-heat so the fur doesn't get messed up. Never put stuffed animals that have batteries or other electronic components in the washing machine.
Time to Remake the Bed
Normally, we remake the bed as soon as it has been stripped. Not the case on deep cleaning day. I start cleaning in the morning and don't remake the beds until just before bedtime. This gives the enzyme cleaner a full day to work and the mattress plenty of time to air out and dry out.
Deep cleaning is a time-consuming process. Luckily, most of the time spent deep cleaning bed linens is passive. I can usually do all four of our beds over the course of three days since I double up on the boys' bedding since they share a room. So one day in the laundry room for each bedroom.