Posts on Happily Homegrown contain affiliate links. When you make a purchase through an affiliate link, your price will be the same, but Happily Homegrown will receive a small commission. Thank you for your support!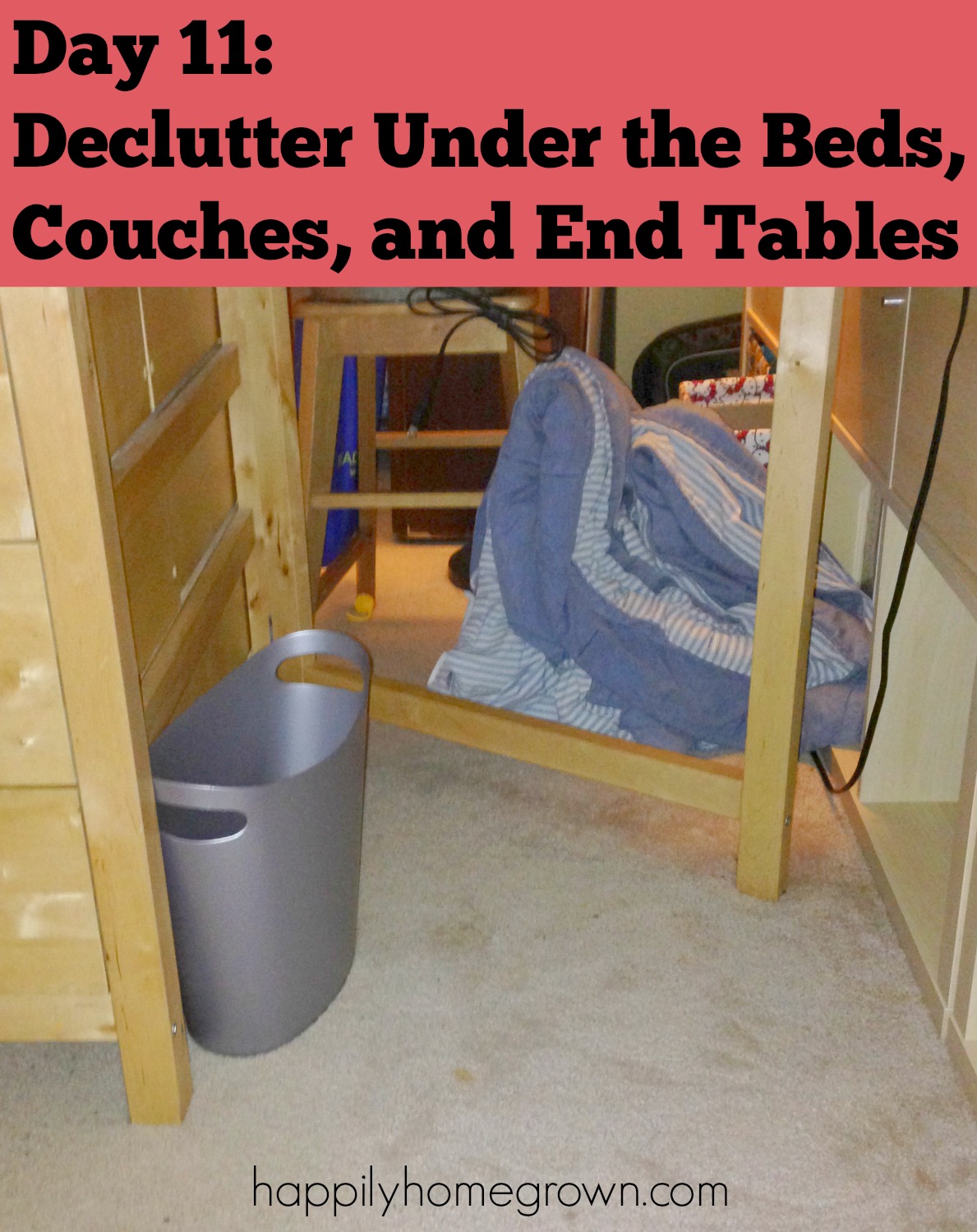 I actually like Mondays because they are the start to a new week and a clean slate; a chance to get it right. This week we have a lot of little projects going on around our house. I did some deep cleaning over the weekend, and my living room and kitchen are now "company ready," but the one chore I didn't do was cleaning up under the furniture – particularly our couches & end tables.
Day 11: Declutter Under the Beds, Couches, and End Tables
When we had a regular bed frame, and all sorts of stuff would disappear under the bed, from our children's toys to laundry, in addition to the dust bunnies of course. Since our house has small bedrooms, and our children share a room, we opted for beds with built in drawers from Ikea instead of separate dressers. My husband and I liked the children's beds so much, that we got a king sized Brimnes bed frame for ourselves giving us 4 drawers for under bed storage. This means we can cross off cleaning under the beds since there is no way for stuff to end up under there. I love crossing items off of my list!
The space under the end tables is also easy to deal with. Usually, there are only children's books or junk mail that find their way under the those tables, or perhaps a ponytail holder. The desk in our homeschool room seems to be more of a trap for random stuff, and currently there is a bag of Girl Scout materials and a throw blanket under there.
The biggest "Bermuda Triangle" in our home is the couch. We use our living room as the homeschool room and primary play area for our children. As such, anything that gets dropped onto the couch eventually works its way through the cushions and onto the floor. Since our couch has dual recliners, there is no frame to stop the items from falling onto the floor, and in some times getting stuck in the inner workings of the recliners. I don't like cleaning under the couch simply because it is so large and awkward to move. I'm fairly sure, there will be crayons, blocks, legos, and a toy car or two hidden under there when we flip it to clean. My children are really good about gathering up all of the toys when we flip the couch to clean, so then all I have to do is run the vacuum when they are finished.
Which of the three is the Bermuda Triangle in your home?

COMPLETE 40 BAGS IN 40 DAYS SERIES
DOWNLOAD YOUR 40 BAGS IN 40 DAYS CHECK LIST