Posts on Happily Homegrown contain affiliate links. When you make a purchase through an affiliate link, your price will be the same, but Happily Homegrown will receive a small commission. Thank you for your support!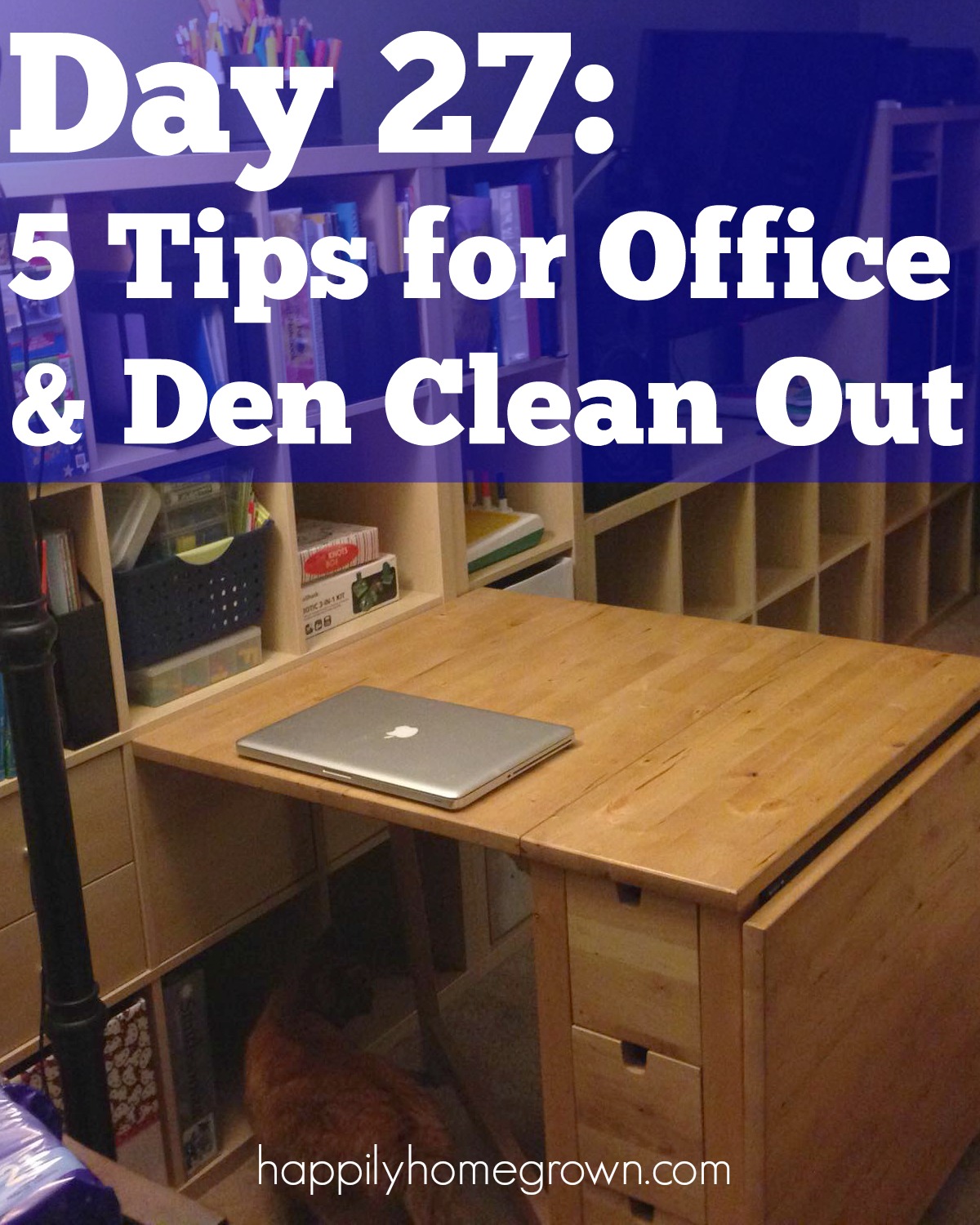 It is really feeling like spring around here! Today its going to be in the mid-60s, so once again I am in the mood to open windows and get cleaning. Today, we tackle the office and den, or as it is called in our house – "the shack". My husband and I both have our amateur radio licenses (W2SRH & KC2NSY), and we have one room in the house that is the ham shack and office all rolled into one, and it is a hot mess.
Two desks, and electronics workbench, a piano, a set of shelves, the filing cabinet, and who knows what else all in a room that is approximately 7'x11′. Its very tight quarters to say the least, and it gets cluttered incredibly fast.
While most of you don't have all of the computers and radio gear taking over your office space, I do know that we are not alone in having a space that has to serve double or even triple duty.
Yesterday, we talked about how to go about decluttering your desk and workspace, dealing primarily with the paper clutter. Today, we will tackle the room as a whole.
5 Tips for Office & Den Clean Out
Deal with all of the paper clutter. Refer to my 10 tips for cleaning out your desk.
Put all of the books and magazines away.
Go through the remaining items in your space, and decide whether they are a keep, trash, recycle, or donate. Remember to shred anything with sensitive or personal identifying information.
Tidy up the power cords. My husband likes these velcro strips to help things look neater.
Lock up important papers. Whether you go with a safety deposit box at a bank, or a fire proof safe, things like your passports, social security cards, birth certificates, marriage license, titles to your vehicles, and death certificates for loved ones should be secured.
Once the general decluttering is finished, dust the room starting at the top and working your way down. End with running the vacuum, opening the windows (if it warm enough where you are) and air out the place for a bit.