Posts on Happily Homegrown contain affiliate links. When you make a purchase through an affiliate link, your price will be the same, but Happily Homegrown will receive a small commission. Thank you for your support!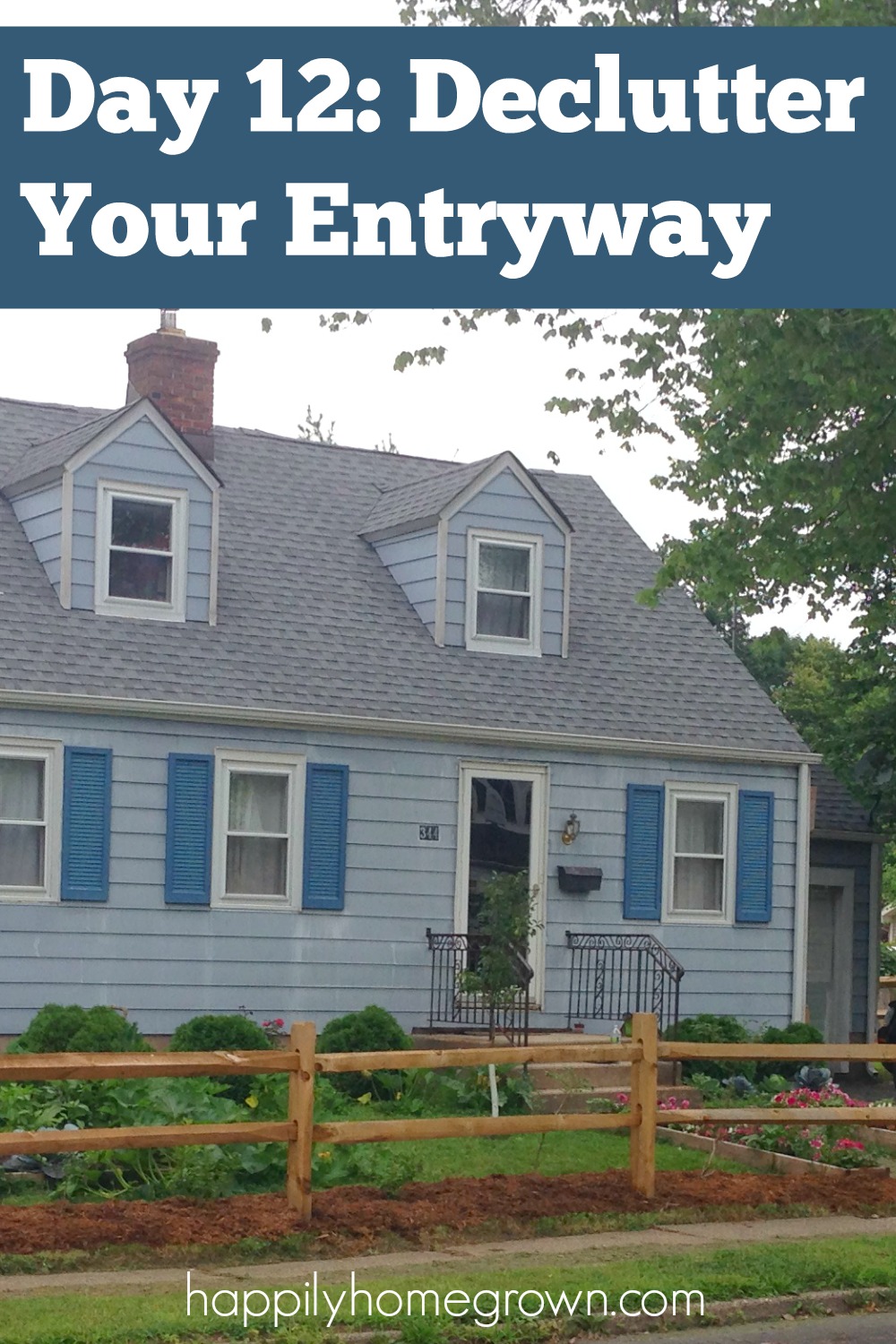 When you drive through a neighborhood and you are looking at the homes, you notice people's front yards and their front entryways. The homes we find most appealing on first glance have everything in their place – neat and tidy. We should want a neat and tidy home for ourselves too. Walking up to our front door, we should feel welcomed into our own home, and we should not instantly get that reaction where we start making a to do list about everything that needs to get done for our homes to feel livable and comfortable.
Your home should feel like a sanctuary from the outside world, and little steps like decluttering and spring cleaning can help you to reach this goal. Its time to give a little TLC to both the indoor and outdoor entryways to our homes. Whether that means your front porch, a foyer, a back deck, or the mud room – Day 12 is all about decluttering these spaces.
Day 12: Declutter Your Entryway
Before you start your 10 minute timer, select which area you are going to work on today. Go to that part of your home, inside or out, and make some observations about what needs to be done for you to feel like this space works for your lifestyle, or the lifestyle you want to have. If you don't see clutter in one of these spots, ask yourself what cleaning needs to be done to spruce things up.
My Entryway Observations
I stood at our front sidewalk and looked at the house. The first thing that jumped out to me is that I still have my Christmas wreath on the front door. Its time for that to go. I also have a empty flower pot sitting on the bottom step that needs to find a new home. Besides that, we don't have any clutter out front. I do, however, need to touch up the paint on the door frame, clean the kiddo prints from the glass door, and sweep the steps and porch. That combination of tasks will probably take about 10 minutes on a fair weather day. Not bad if you ask me.
What steps do you need to take to give your entryway some TLC?

COMPLETE 40 BAGS IN 40 DAYS SERIES
DOWNLOAD YOUR 40 BAGS IN 40 DAYS CHECK LIST