Posts on Happily Homegrown contain affiliate links. When you make a purchase through an affiliate link, your price will be the same, but Happily Homegrown will receive a small commission. Thank you for your support!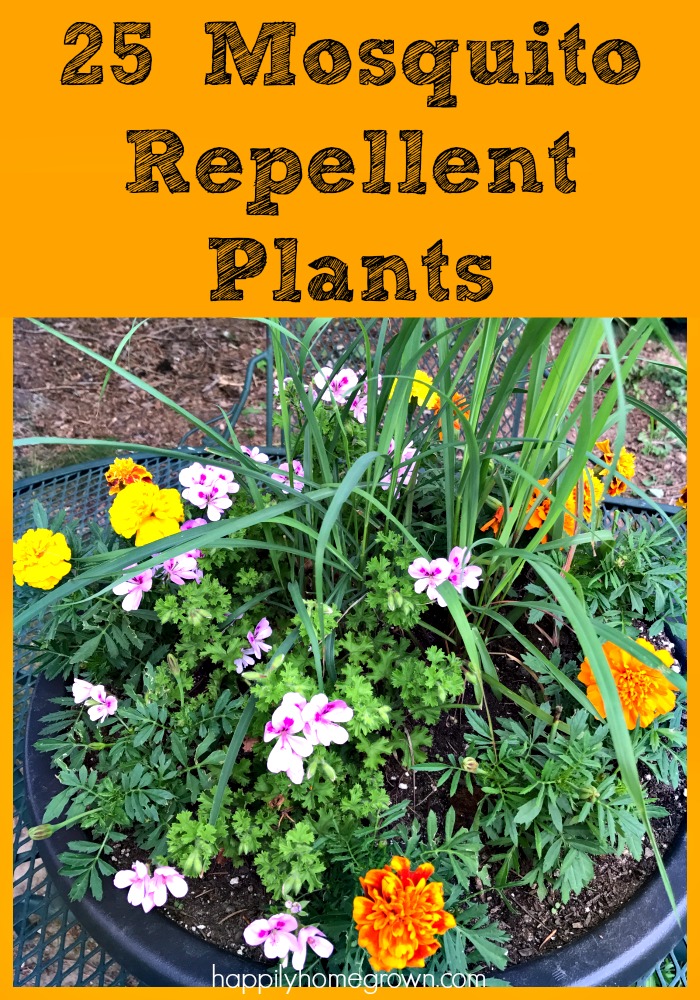 I love spending time outdoors, but I despise mosquitos and gnats. I don't want to kill all of the bugs; bats and birds need to eat. I just want to keep them away while we are are enjoying the backyard. Enter in the mosquito repellent plants!
While these have not kept all of the annoying bugs and insects out of the yard, it has definitely made a HUGE improvement, and all without chemicals!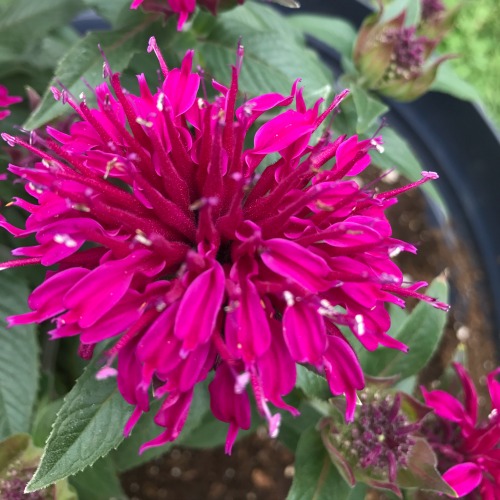 25 Mosquito Repellent Plants
Ageratum
Basil*
Bee Balm*
Cat Mint*
Catnip*
Citronella Geranium
Citronella Grass
Feverfew*
Floss Flower
Lantana
Lavender*
Lemon Balm*
Lemon Geranium
Lemongrass*
Lemon Thyme*
Lemon Verbena*
Marigolds
Melaleuca (tea tree)
Mint*
Pennyroyal
Peppermint*
Pineapple Mint*
Pitcher Plant
Rosemary*
Wormwood
* These herbs are also edible and/or have medicinal properties. Even more reasons to have them in your garden!
Creating a Mosquito Repellent Planter
I have several different types of mosquito repellent planters around our yard – from individual pots of lemon balm, lemon thyme, and basil on the front steps to a beautiful self-watering planter on the picnic table. The general idea of creating a decorative planter is to have a thriller, a spiller, and a filler. In a mosquito repellent planter, you can follow the same principals to make it beautiful as well as functional.
For our picnic table planter, I started with a low-profile, self-watering planter. Fill the planter with a quality potting soil. You don't want to use garden soil because it will get way too muddy and dense causing your roots to rot. Then, it's time for the plants. Lemongrass makes a great "thriller". Use a combination of marigolds and citronella geranium for your "filler". And if your pot is big enough (mine was not), use something like lemon thyme, which likes to cascade, as your "spiller".
Keep the soil moist throughout the summer, and you will have fewer annoying pests bugging you (and biting you) while you are outdoors!