Posts on Happily Homegrown contain affiliate links. When you make a purchase through an affiliate link, your price will be the same, but Happily Homegrown will receive a small commission. Thank you for your support!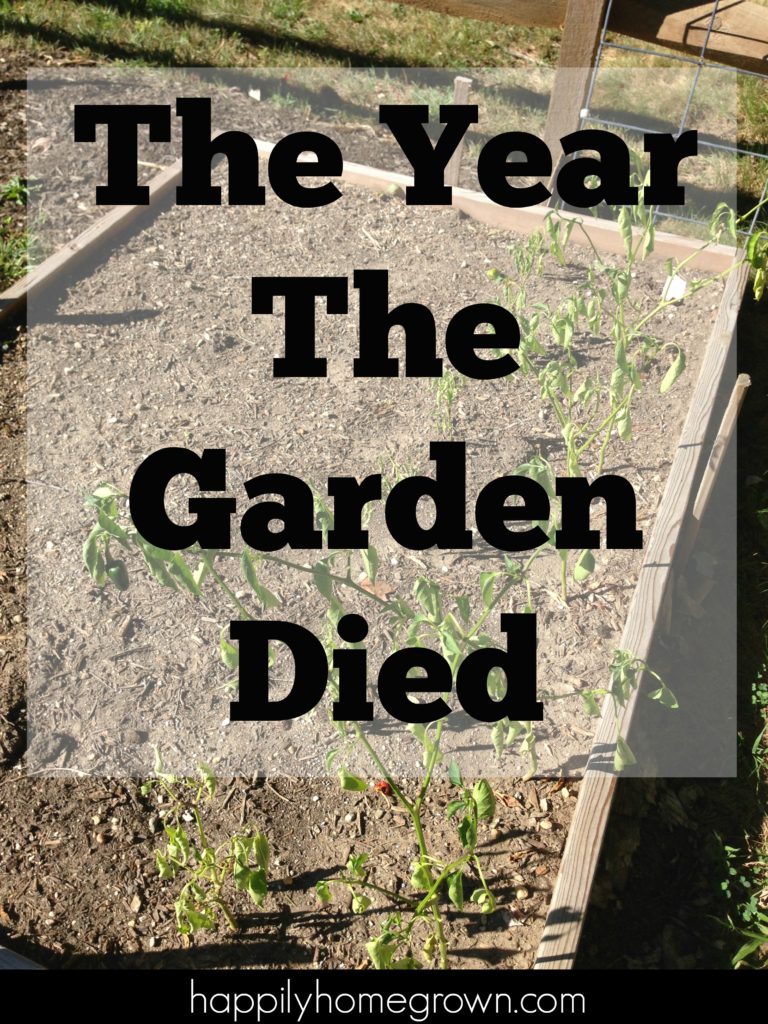 Consecutive days with temperatures over 90°. Drought. Summer travel. And ultimately, indifference.
Yup, that's pretty much how it happened. Its how the garden died.
I have been gardening in some way for 30 years. This is the first year in recent memory that the entire garden just bombed. And it bombed hard. My mother, on the other hand, told me there were several years my father planted a garden and after strawberry season the rest of the growing season was a bust. That made me feel a little better.
This year's garden was a total disaster though.
We attempted to plant corn, and the entire bed, more than 40 plants, died. Twice.
Our pear trees, which last year produced 8 pears between them, this year had more than 2 dozen beautiful green pears started. Then we went away over the 4th of July. When we returned, each and every pear was gone from the tree.
I had more than 30 tomato plants and harvested fewer than 30 tomatoes! The one bed that was supposed to be all Amish paste tomatoes ended up being various red and yellow tomatoes – most slicing varieties, and many of the plants in that bed never even produced.
The squirrels at the yellow squash plants, miniature pumpkins, and about half of the pepper plants. Squash bugs wiped out the cucumbers and larger pumpkins.
I currently have a watermelon vine that is doing fairly well and has 1 watermelon on it. I'm being hopeful. There are 8 corn plants too, so I'm going to try to nurture those into a late harvest. And my son's garden bed has cantaloupes gone crazy! The vines have suddenly taken off and they are growing really well. I'm hoping to get a half-dozen melons out of that bed before the season is over.
But, even when it feels like everything has died and I didn't put up a single jar of pickles or tomato sauce this year, I will not give up. I will continue to garden.
While it is fairly unorthodox to start a fall garden in mid-September, I have a lot of seed on hand and a few bags of fertilizer, so what do I have to lose? My goal is to get some lettuces and greens in the beds out front, and root vegetables in the beds in my side yard. If I play my cards right, I may even be able to grow some Brussels Sprouts in time for Christmas since I have the frost covers.
So now we clean up the remains of the summer garden and start planning for the late fall and winter, and even more importantly we plan for next spring. You just have to believe that anything is possible.
Better Days in Our Garden