Posts on Happily Homegrown contain affiliate links. When you make a purchase through an affiliate link, your price will be the same, but Happily Homegrown will receive a small commission. Thank you for your support!
Originally published March 2016
Peas are one of my all time favorite spring vegetables. This year, I am growing 2 varieties of shell peas and 1 variety of snow peas. I start all of my pea plants from seed, and plant directly in the garden. They are extremely easy to grow, and even do well in hanging baskets, or other containers if you have limited space. And the best part – you can start your peas outside now!
How to Grow Peas
The first thing I want you to do is soak your pea seeds in warm water for at least 4 hours, or up to 24 hours. A seed needs to be fully hydrated in order to germinate, so by soaking your seeds ahead of time, you are making sure that they are completely hydrated before going into the ground. This results in a shorter germination time, and more successful sprouting and growth. A fully hydrated pea seed is about the size of a normal pea that you would eat for dinner (that is what they are after all).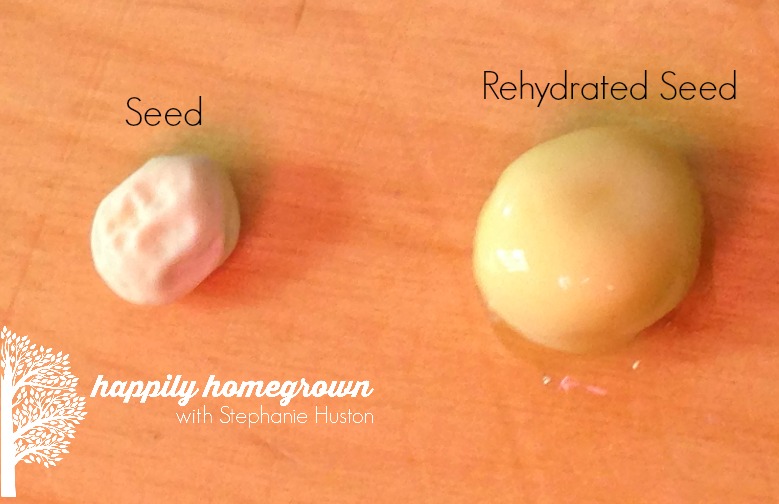 While your seeds are soaking, get your garden bed ready for planting. Since our beds are established, I just topped it off with a little compost and then turned the soil so I'd be ready to plant. If you are creating a new garden bed, you want to make sure that you have plenty of organic matter in the soil. A combination of peat, compost, sand, and garden soil works out really well. If you are planting in pots, combine equal 2 parts potting mix to 1 part garden soil. This will keep the mix from being too light, but it will still allow adequate drainage since its in a closed pot.
When you are ready to plant, make a trench where you would like to plant your peas. In an 8′ row, you can plant 24 seeds. Make sure to leave 6-8 inches between rows. If you are planting following the square foot gardening (SFG) method, you can plant 8 seeds in a single square of garden space (2 rows of 4 seeds). We do a combination of SFG and traditional row gardening, so in our garden we have a 1'x8′ area with a trellis in the middle, and we plant 1 row down each side of the trellis giving us 32 seeds per row.
Now, before you cover your peas, you want to give them a little boost by providing them with an inoculant for legumes. The inoculant puts beneficial bacterial right where the seeds are in the ground. These microbes work with the plant to help them to get the nitrogen out of the air and use it more effectively. While these microbes are naturally occurring in soil, your soil doesn't have enough of them to be truly beneficial to the plants so adding some in will do the trick. You can't over inoculate the soil, so I apply it liberally.
If you don't have inoculant or you don't want to add anything to your soil, you will still be able to grow peas, they just won't be as vigorous as if you had inoculated your plants.
Once your seeds are in the ground and you have inoculated them, its time to gently cover them with your garden soil. When you are finished water your new garden deeply to fully saturate the soil. You will want to water your peas every other day until sprouts appear, then every 2-3 days keeping the soil moist but not soggy. Skip a scheduled watering if you get rain.
Most pea varieties mature in about 60 days, so planting today, means fresh peas by mid-May, and for several weeks after. You can then get a second crop of peas in the fall by planting around Labor Day. Peas are cold tolerant, and can handle a light frost so you have nothing to fear putting them in the garden now.
Happy gardening!