Posts on Happily Homegrown contain affiliate links. When you make a purchase through an affiliate link, your price will be the same, but Happily Homegrown will receive a small commission. Thank you for your support!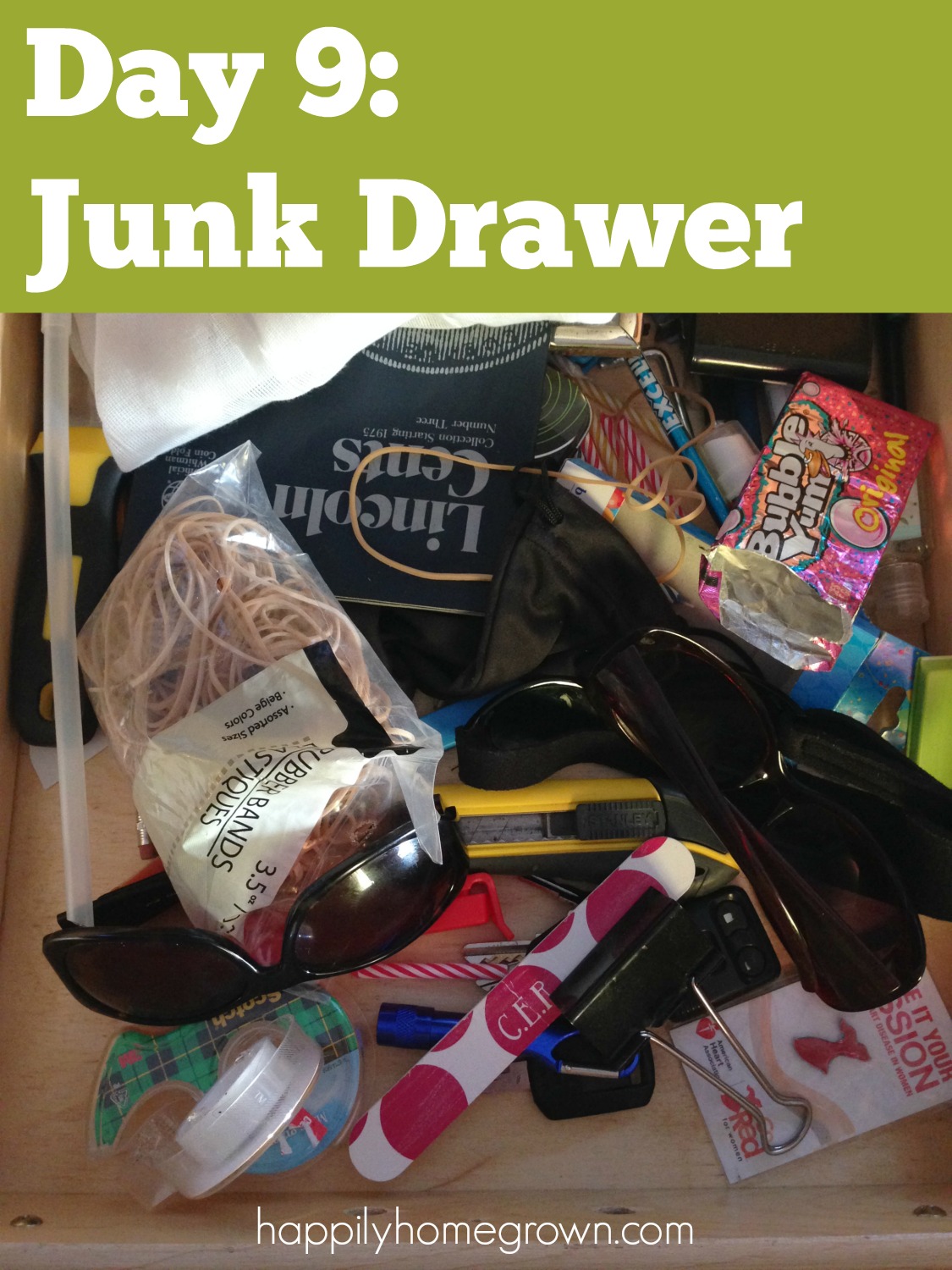 Day 9: Junk Drawer
Day 9 means it is time to clear out your junk drawer. I have 1 drawer in my kitchen that is a catch all – keys, sunglasses, clips for the snack bags, rubber bands, birthday candles, cheese cloth, and who knows what else! I absolutely hate this drawer. My kids know its the junk drawer, and anytime we can't find something they go there to look because its where things just end up. I don't mind having 1 drawer of randomness as long as it is tidy and I can find stuff.
The photo above is the before. I have no idea how I ever found anything in the drawer with it looking like that.
So I set my timer for 10 minutes …
And then it was done!
My 2 year old helped me by putting all of the birthday candles in a ziploc bag, while I sorted through the rest. We are using a food storage container that lost its lid to hold all of bag clips. I also found 2 rolls of tape, 2 nail files, about 20 pens, a pair of scissors, a box cutter, a putty knife, safety pins, a pack of bubble gum, expired travel-sized medications, and a hand sanitizer that I had been looking for.
Just about everything went away where it belongs, and not back into the drawer, which was my goal! I can now see everything, and know what we have. No more losing my keys to the gremlins that live in the junk drawer! In the 10 years we have lived here, I don't think this drawer has ever been this tidy (and I'm kinda embarrassed to say that, but hey this is a no judgement challenge).
By getting the items up off the bottom of the drawer, things fit in there much better and it is a lot less cluttered!

COMPLETE 40 BAGS IN 40 DAYS SERIES
DOWNLOAD YOUR 40 BAGS IN 40 DAYS CHECK LIST