Posts on Happily Homegrown contain affiliate links. When you make a purchase through an affiliate link, your price will be the same, but Happily Homegrown will receive a small commission. Thank you for your support!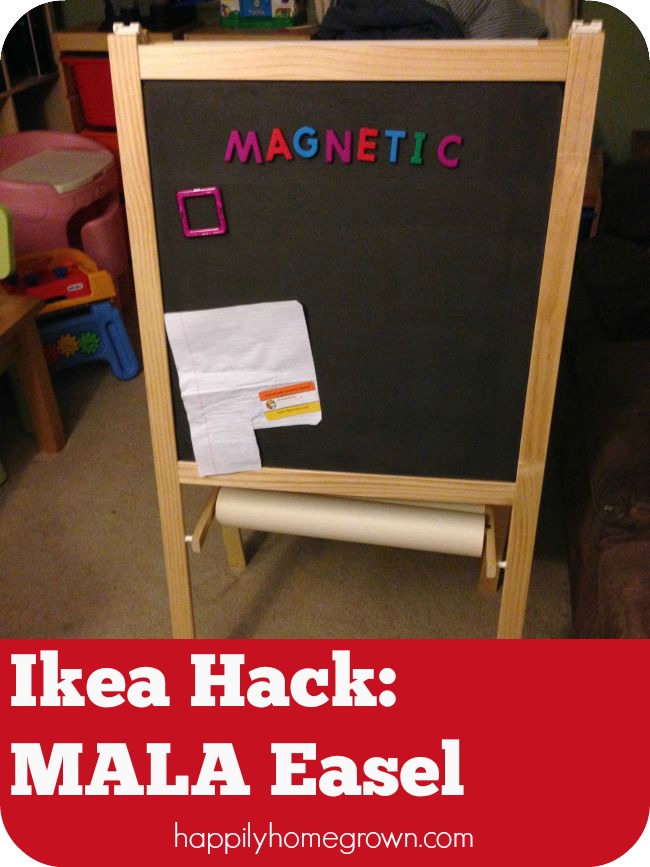 Recently, I wandered the showroom at IKEA and found the MÅLA easel – a basic children's easel where one side is a wipe-off board, and the other side is a chalkboard – for $14.99! I couldn't believe it! Brand new, and still cheaper than what I was used to seeing at consignment sales for a wooden framed easel.
**The MÅLA easel is also available through Amazon if you don't have an IKEA near you.
There was only one catch – I really wanted at least one surface to be magnetic, and that is not available on this easel.
I did a quick online search for magnetic easels, and found that many of them were well over $50! No no, that wouldn't do. I needed to find a way to make the MÅLA easel have at least 1 magnetic surface, and that's when it struck me: Rust-Oleum Magnetic Primer!
I had previously purchased a quart of magnetic primer for a different project, and then never used it, so it was already sitting on a shelf in my laundry room. I bought the easel, as well as the chairs I had gone to IKEA for in the first place, loaded the car, and went home happy with the new project I was about to undertake.
IKEA Hack of the MÅLA Easel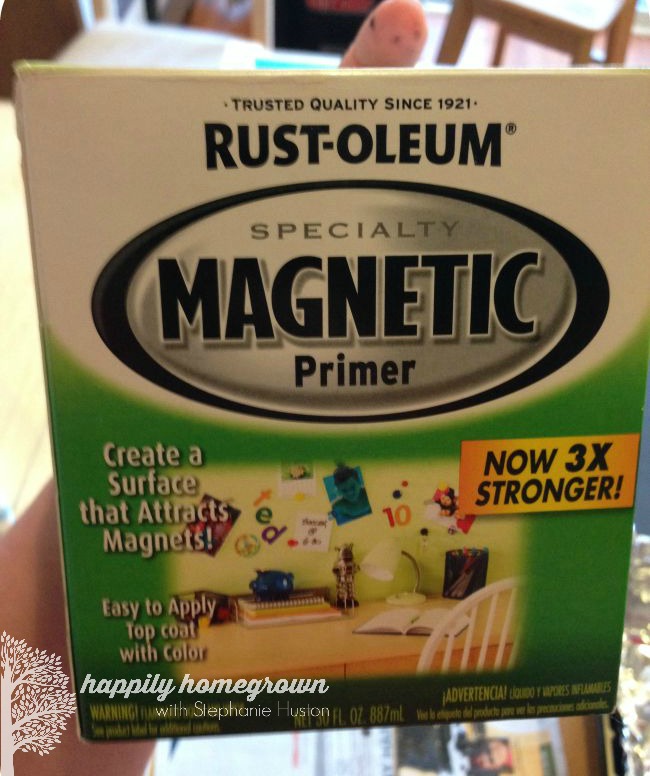 1. Mix the paint. Magnetic Primer has bits of iron in it that makes a heavy sludge in the bottom of the can when it sits on a shelf for too long. You can mix the primer by hand, scraping the bottom often, or you can take it to your local paint shop or hardware store and ask them to give it a shake for you. I opted for the later. Just be aware that shaking the paint only keeps the particles in suspension for a short period of time. You need to go home and use it right away, and continue to stir often.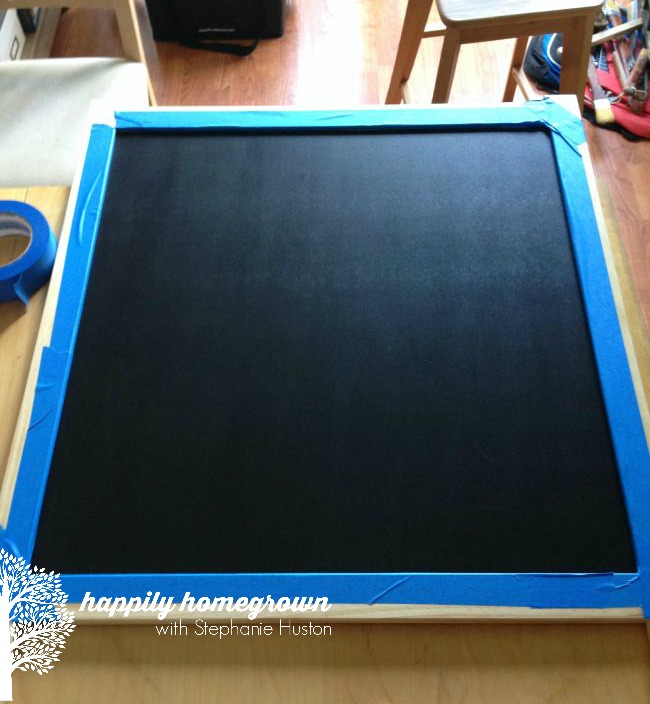 2. Tape the edges of your project with painter's tape. I am not a neat painter so painter's tape is always in my paint kit.
3. Using a dense foam roller, apply an even coat of the magnetic primer to your surface.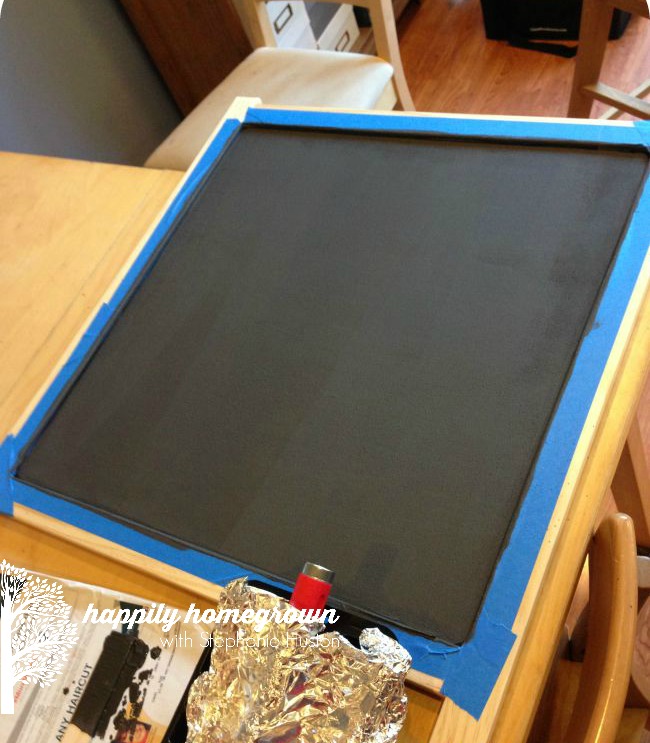 4. Set a timer for 30 minutes, and then repeat. Rust-Oleum recommends a minimum of 3 coats; I chose to do 5 since I had poured a little too much paint in the tray.
5. After your final coat of primer, remove the painter's tape, and allow your project to dry for at least 2 hours before putting magnets on the surface. I ultimately want to put a coat of chalkboard paint overtop the magnetic primer, but I don't have any on hand right now, so that will wait for another day (and a lot more taping and covering of the wood since I prefer the spray paint version of the chalkboard paint for this project). You can put up to 2 coats of a top-coat over your magnetic primer, and still have a magnetic surface.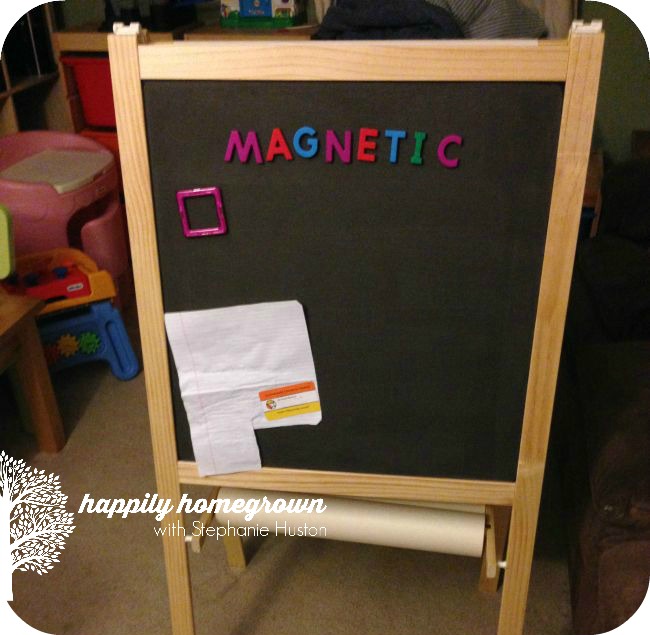 Once the magnetic surface was dry, I assembled the MÅLA easel, added a roll of drawing paper, and we were good to go! My children absolutely love their magnetic easel and they are using it all of the time.