Posts on Happily Homegrown contain affiliate links. When you make a purchase through an affiliate link, your price will be the same, but Happily Homegrown will receive a small commission. Thank you for your support!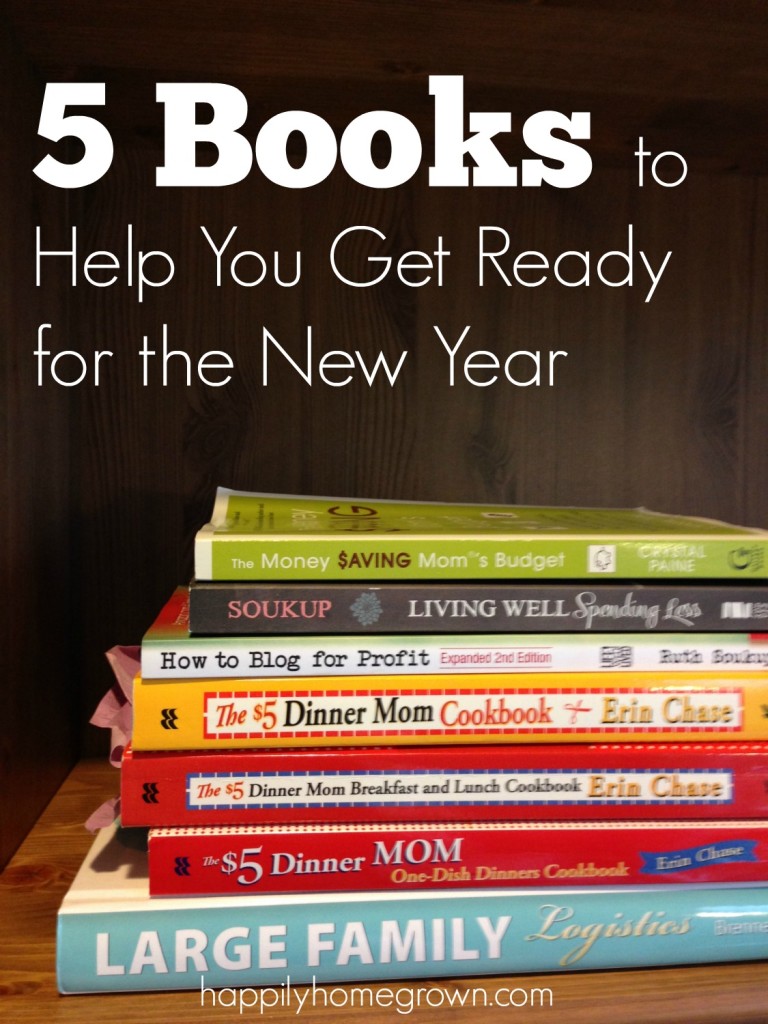 The new year is almost here!  Can you believe how fast time flies?  2015 was very hard for my family, and I want to get ready for the new year by writing out my goals and getting my ideas in order.  The goal is not to be perfect, just better than the day before.
I have several books, from four specific authors, that I am referring to as I get ready for the new year.  While I really enjoy all of the books from these authors (as you can see from the photo above), these 5 are my go to for setting goals for 2016.
*Post contains affiliate links.
5 Books to Help You Get Ready for the New Year
The Money Saving Moms Budget by Crystal Paine – This book is a wonderful financial resource to read in preparation for the new year.  While its an easy read, the information and tips are so valuable.  Since Crystal is a busy work-from-home mom, the advice is practical and taken from real life, not from some financial guru sitting in an office.
Large Family Logistics by Kim Brenneman – While I only have 3 children, not a large family by a lot of standards, I have found this book incredibly helpful over the years.  Kim shares tips on meal planning, shopping, chores, and homeschooling all from the perspective of a mom who knows and has been there.  She understands what the new seasons in our life bring new challenges, and new joys.
The $5 Dinner Mom Breakfast & Lunch Cookbook by Erin Chase – Who doesn't want to feed their family healthy, homemade foods, that taste great and are inexpensive?  This was my first cookbook from Erin, and now I have all of them!  The recipes are practical for a busy parent to prepare, and I love how she lets you know which recipes are great for the freezer so you can prepare them when you have extra time to use through out the week/month ahead.  The best part – none of her recipes cost more than $5 to feed a family of four!  One of my goals in the new year is to really focus on our meal planning, so I am pulling out my copy of this book to tackle breakfasts and snacks.
31 Days to a Clutter Free Life by Ruth Soukup – I have 3 young children, we homeschool, and we acquire a TON of stuff.  I need this book in my life!  Even if we don't cut out the clutter completely, I am always looking for resources that will help me scale back the stuff, simplify our life, and live more simply.  Ruth delivers on all counts!  As a busy working mom, she knows what its like to have too few hours in the day to get done everything we want to do around the house.  By breaking the mission to a clutter free life into 31 challenges, she takes one of the most daunting tasks and makes it achievable.  I plan on starting this challenge in January to set the new year up for a great start!
Say Goodbye to Survival Mode: 9 Simple Strategies to Stress Less, Sleep More, and Restore Your Passion for Life by Crystal Paine – Yes, there are two books by Crystal on my top 5 list.  I really think that she has a lot of great advice on how to live life with intention, and make the most out of what you have available to you.  When thinking about new year's resolutions and goal setting, her books are always high on my reference list!  I really appreciate how Crystal breaks down the strategies for taking control of your life into manageable chunks.  While some of her advice may seem like common sense, having someone validate what we already know, and put it into writing really helps bring focus to the tasks at hand.
With my books and a cup of tea, or lets be honest, a bottle of wine, I plan on sitting down over the Christmas break and really focusing on my goals for the new year.  I am ready to kick off a fantastic 2016!  Who's with me?