Posts on Happily Homegrown contain affiliate links. When you make a purchase through an affiliate link, your price will be the same, but Happily Homegrown will receive a small commission. Thank you for your support!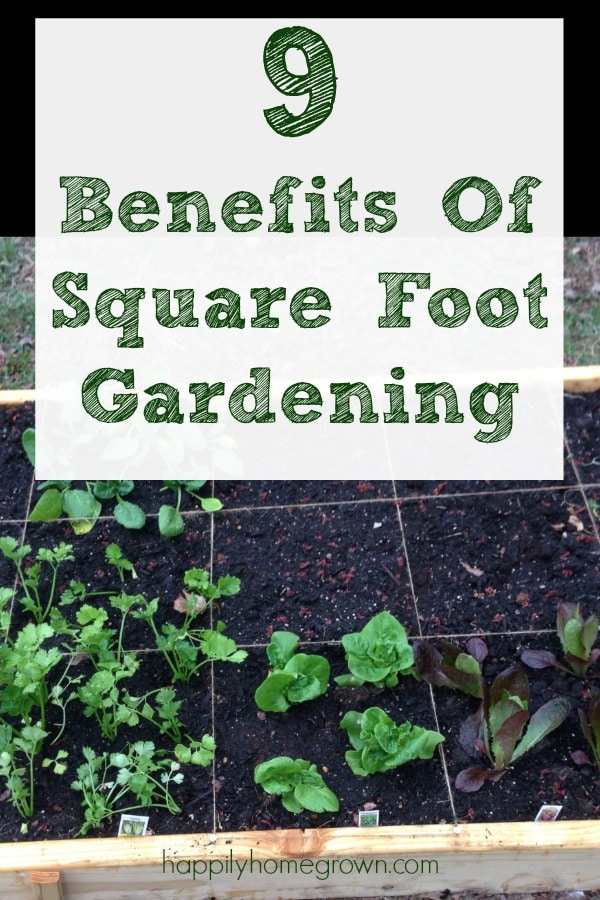 Throughout the spring, I will be doing a series of in-person workshops talking about plants, and how to grow them when you have less than ideal conditions.  The two main topics to overcome poor conditions are Square Foot Gardening (SFG) and container gardening.  Over the next few days, I will be sharing a series of posts with you about these topics, covering much of the information that will be discussed in the workshops.
SFG and container gardening are a little pricier in the beginning set up phase, but the end result is worth it. You have to purchase your soil components as well as your containers or the untreated lumber to build your beds.  We have easily spent about $800 over the last three years just building our beds (we have 13), but once they are built, you don't have to redo them each year.  If you don't have the budget to go big, start small with individual planters, or even a simple 4×4 garden bed kit which you can get for around $35 at Home Depot.  
Even with the initial costs of creating the gardens, I feel that the benefits are far greater in the long term.
Benefits of Square Foot Gardening
can have a garden anywhere even on top of concrete/pavement
fewer weeds
easier to prevent critter – netting, fencing, etc
more concentrated growing space = less wasted amendments/fertilizers
easier for crop rotation for the home gardener
more plants in a smaller space – For example, in a 2'x8′ garden bed you can grow 10 tomatoes & 6 pepper plants; using traditional row gardening, you could only have 5 tomatoes or 7 pepper plants
biodiversity – more variety in less space
great for beginners or those with physical limitations
no heavy equipment to purchase/rent, store, or use
The goal with SFG and container gardening is to work smarter, not harder. SFG results in using 80% less space to grow the same amount of crops you would in traditional row gardening. By using less space, you also are cutting down on the amount of water that is needed, the amount of fertilizers and soil amendments that are needed, and, probably the most appealing, the amount of time you need to spend working in the garden.
In the next post, I will share with you how to set up your raised beds to get ready for a productive gardening season.