Posts on Happily Homegrown contain affiliate links. When you make a purchase through an affiliate link, your price will be the same, but Happily Homegrown will receive a small commission. Thank you for your support!
This quick and easy, no-knead, yeast bread tastes just like a toasted English muffin. Perfect for breakfast with jam & butter, or even for making your favorite breakfast sandwiches.
One of our favorite breakfast foods is a toasted English muffin with butter and strawberry jam or peanut butter and sliced bananas. Store bought English muffins tend to be pricey, with a package of six costing anywhere from $2.50-$5.00 per package. That's just too much of our grocery budget since we would go through a pack each morning.
While I can make homemade English muffins for a fraction of the cost, I often don't have the time to make them. I need the flavor of an English muffin with the ease of making a quick-bread, and that's exactly what you get with this recipe.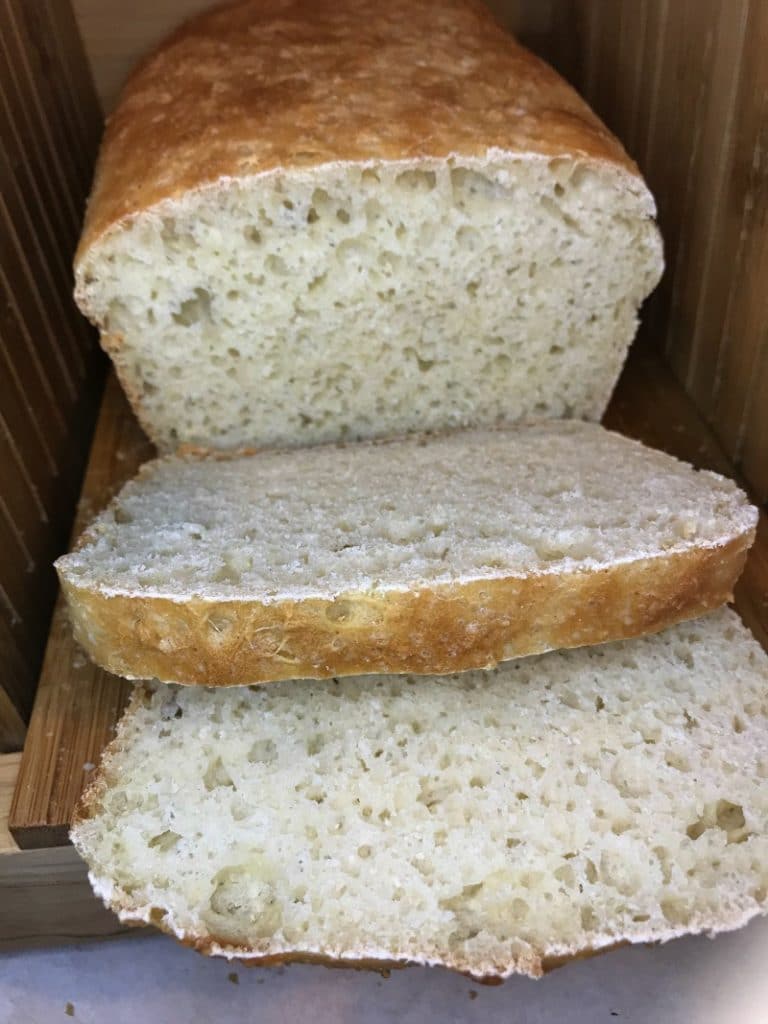 English Muffin Bread is a no-knead yeast dough that comes together just as easily as making your favorite quick bread. Put everything in the bowl. Mix it up. Pour the batter into the prepared pan … and then because it's a yeast dough … wait while the dough rises. A quick bake in a hot oven, and from start to finish you have fresh bread in a little over an hour. You can't make homemade English muffins that quickly!
English Muffin Bread
Ingredients
3

cups

all-purpose flour

1

tablespoon

sugar

1 1/2

teaspoons

salt

1/4

teaspoon

baking soda

1

tablespoon

instant yeast

1

cup

milk

1/4

cup

water

2

tablespoons

vegetable oil or olive oil

cornmeal

to sprinkle in pan
Instructions
Combine all of the dry ingredients in the bowl of your mixer. Heat the milk, water, and oil until it's between 120°-130° F. Pour the hot liquid over the dry ingredients, and using a paddle attachment (or a wooden spoon if mixing by hand), beat the ingredients together for about 3 minutes to form a dough that is soft and elastic. This dough is more like a batter than traditional bread dough, so it will be quite slack.

Lightly grease a loaf pan and dust the inside of the pan with cornmeal. This will help the finished bread to release and give your loaf that traditional English muffin texture.

Pour your bread dough into the prepared pan, and level as much as possible.

Put your pan of bread dough aside, covered loosely, so it can rise for about an hour. You want your dough to rise just above the height of the pan.

While the dough is rising, preheat your oven to 400°F. When your dough has risen, bake your bread for 25-27 minutes. It will be golden brown. If you want to guarantee it is baked all the way through, check for an internal temperature of 190°.

Once your bread is finished baking, allow it to cool for 5 minutes in the pan before turning it out on a wire rack. Cool your bread completely before slicing.
Recipe Notes
This recipe can easily be doubled or even tripled. English muffin bread also freezes well for future use so you can make multiple loaves when you have time, and then just pull a few slices from the freezer as needed.