Posts on Happily Homegrown contain affiliate links. When you make a purchase through an affiliate link, your price will be the same, but Happily Homegrown will receive a small commission. Thank you for your support!
Would you like plastic with your tea? That sounds like a pretty straight forward question, but it's also a bit of a trick question. Not all tea bags are created equal and for those people who are trying to go plastic-free, it may be time to re-evaluate what's in your cup of tea.
For years, I drank Lipton tea. Plain black tea in the little bags. When my son started our compost pile he looked up if you could compost Lipton tea bags specifically and found out that you can. Lipton tea bags are made out of unbleached hemp which is a natural fiber and can be composted.
But not the pyramid shaped bags. They contain food-grade plastics. No compost pile for those.
And that's when all of the years of hearing that you can compost tea bags came to a head. Tea leaves are totally compostable, but the reality is that so many of the tea bags we use are not.

Can You Compost Tea Bags?
The general rule of thumb is that if you are using a string-and-tag tea bag than most likely it is plastic-free. These bags are often made with unfiltered paper or hemp. There is often a tiny staple, which will oxidize and begin to break down with time. These tea bags can be composted.
Pyramid bags and "silken" bags look pretty, but they aren't made with silk. The majorith of these bags are made with synthetic materials, specifically polyethylene terephthalate (PET) which is a food-grade plastic. I always thought they were fabric, but I was mistaken. These tea bags are not compostable.
Heat sealed bags, such as the round and square tag-less varieties, contain a small amount of plastic. The tea bag itself is often made with a natural fiber, however, natural fibers don't melt and fuse together which is why the synthetic materials are added. These tea bags have a small amount of plastic thread that goes around the edge and then the heat seal melts the two sides of the tea bag together. These tea bags are not compostable.
Which Tea Bags are Compostable?
The first question is which tea bags are plastic-free. When doing research for this post, I found a lot of information on British tea companies. Of course. What is more British than a cup of tea? But American tea manufacturers weren't so upfront with posting what's in their tea bags on their company website or answering my questions when I called them directly.
Organic tea companies seem to be the most conscientious about what material is used to make their tea bags. Yogi Tea, Numi Tea, EDEN Organic, Organic Traditional Medicinals, and Two Leaves Organic Teas all have plant-based tea sachets. All of their tea bags are plastic-free and compostable.
Both Tetley and Lipton bagged black and green teas (regular and decaf) are in a standard string-and-tag bag. Both companies have confirmed, via this morning's phone calls, that these tea bags are made with all natural materials, are plastic-free, and are compostable.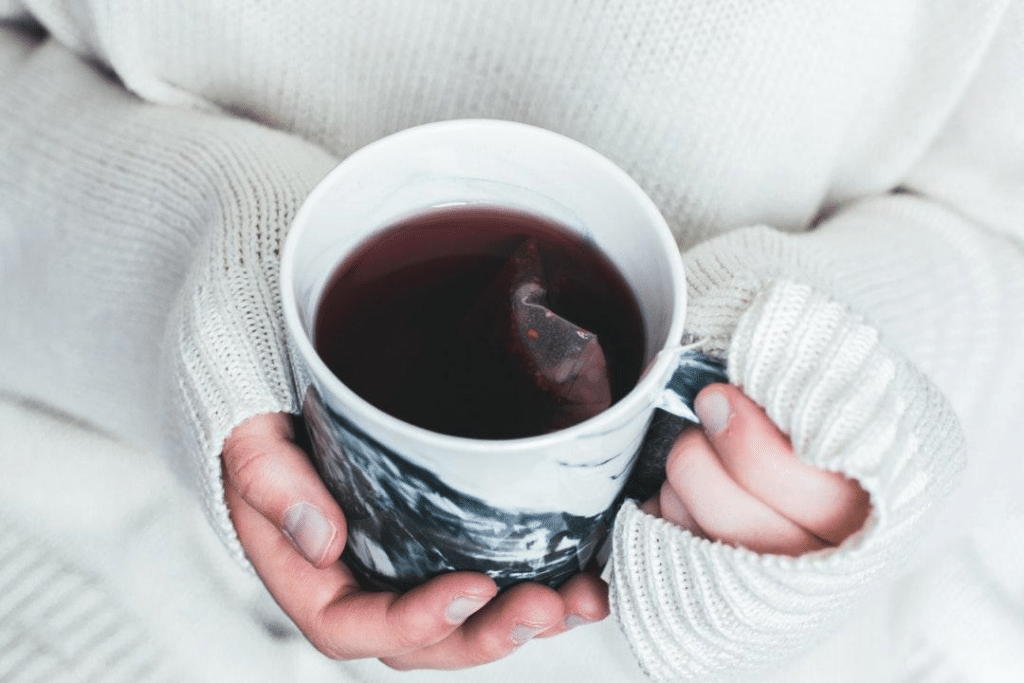 What are my options for plastic free tea?
Besides the tea bags from the companies listed above, you can always go with loose leaf tea. Loose leaf tea is all natural and compostable. You can use loose leaf tea to brew by the cup or an entire pot of tea.
I like classic black teas – English Breakfast, Irish Breakfast, and Darjeeling are my go to varieties and I have several tins of each in the pantry (along with my Lipton tea bags). When you brew your tea, you can use reusable cloth tea bags, ball infusers, or just leave the tea leaves in there and filter them out as you pour each cup.
To brew loose leaf tea, use 1 rounded teaspoon of loose tea for every 8 ounces of water. If you are brewing a pot of tea, use 1 rounded teaspoon of tea per cup of water, plus an extra teaspoon "for the pot".
You Didn't Mention The Tea that I Drink! Does it contain plastic?
There are so many tea companies that I couldn't contact them all. If your favorite tea company isn't listed, contact them. Ask them what materials they use to make their tea bags. Hold these companies accountable for what materials they are using, and if you don't like the answer you get, be willing to switch brands. Your dollars are how you tell companies what products to continue making and what is acceptable or not to you and your family.
How to compost tea bags
Composting your natural-fiber tea bags is really easy. Just toss them into an active compost pile, cover with some brown material like straw or leaves, and let it be. Turn your compost pile as you normally would, and in time you will have beautiful nutrient-rich compost for your gardens.