Posts on Happily Homegrown contain affiliate links. When you make a purchase through an affiliate link, your price will be the same, but Happily Homegrown will receive a small commission. Thank you for your support!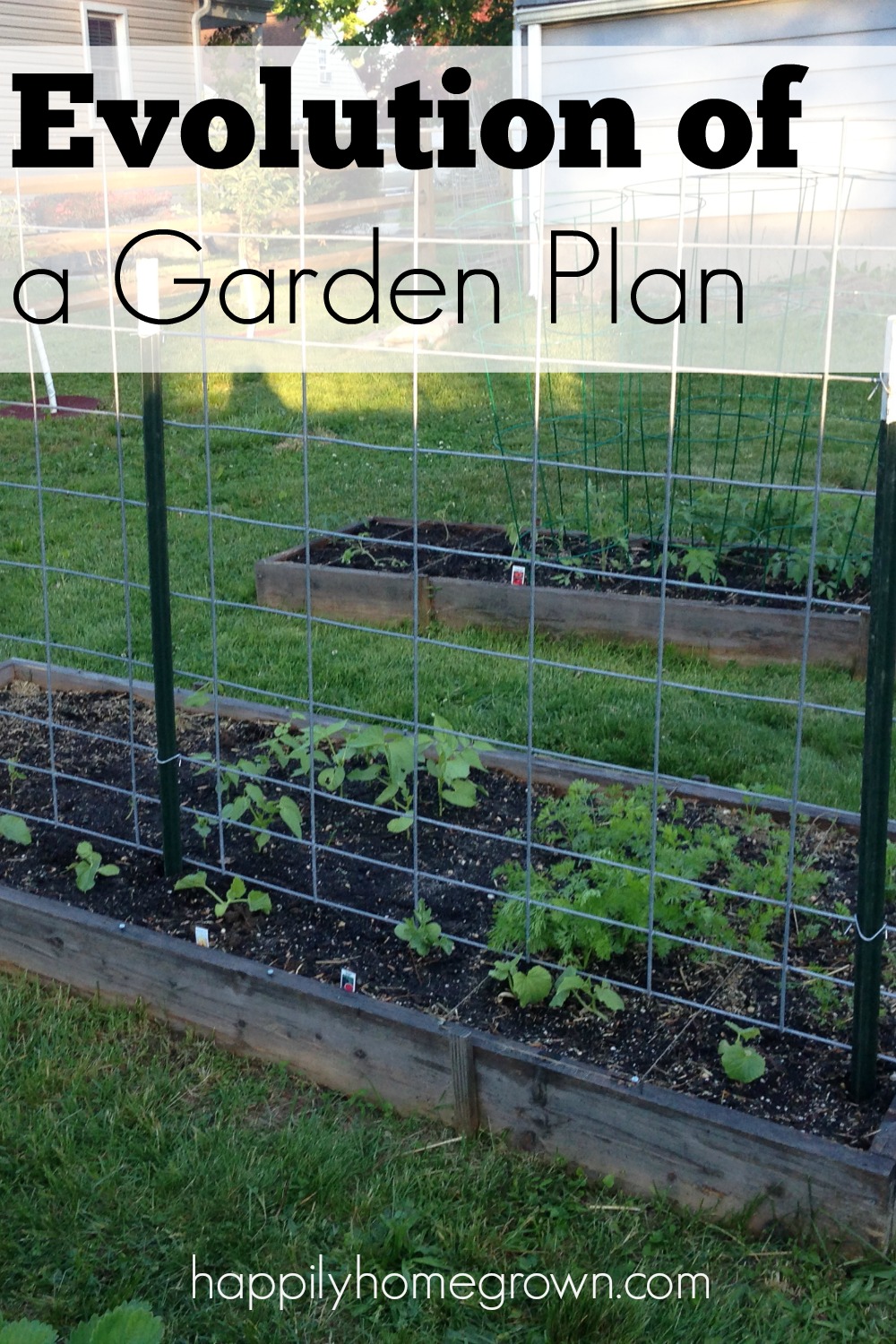 In 2008, my husband & I put in our first garden.  There was no garden plan, just me spending about $30 on random veggies I thought I would like to grow.  We tilled the ground (which was a nightmare – a lot of clay), and I marked out the beds and planted.  My oldest son was only 7mos old at the time, and I thought I'd be able to do it all.  Other than the tomatoes, our garden was an absolute disaster!  I didn't realize how much I didn't know about gardening.  For starters, we had a huge tree in our back yard, and while the area we chose got plenty of sun in March & April (when we tilled) it got very little once the tree was in full bloom.  After that disaster, I began to read everything I could about gardening, and specifically raised beds.  I had many conversations with my father, Chuck, about gardening since he and my grandfather had some of the most beautiful and productive vegetable gardens I remember ever seeing.
In 2012, that huge tree in the backyard fell over during a wind storm.  While the tree service was removing from the yard that warm August morning, I surveyed the new landscape of the yard and realized, I could finally garden!
The initial plan included 4 fruit trees, 3 berry bushes, and 10 small raised beds.  I wanted to do it all, and do it all at once!  Steve was concerned since the first garden was a disaster, and encouraged me to take it slow, but I wanted to do it all – that was until I found out I was pregnant in October!  That put the brakes on the garden plan.
The 5yr Garden Plan
Since I was still determined to have a garden, we revised the garden plan to be installed over the next 5 years, with completion in 2017.  Steve & I were both on board and were looking forward to easing into gardening.  That winter we planted 1 peach and 3 apple trees.  In June, I gave birth to our youngest son, and was thrilled to not be splitting my time between a newborn and a garden.
When spring of 2014 rolled around, we were ready to start on our garden beds, and that is when the first revision took place.  Instead of 4'x4′ beds, we opted for two 2'x8′ beds and two 3'x8′ beds.  I happily planted my four garden beds using the Square Foot Gardening (SFG) method, and had beautiful harvest that first year.  Salad greens, tomatoes, more cucumbers that I knew what to do with, sweet potatoes, zucchini, peppers, and herbs.  It was wonderful!
Upon refinancing our home in September, we decided to replace the privacy fence that was surrounding our backyard with a split rail fence around our entire property.  The amount of additional light that is now in our yard is amazing!  No more shady spots out back because of a 6′ tall fence.  Oh the possibilities!  And with the front yard fenced in, I now felt comfortable continuing my gardens to the front of the house.  The original garden plan was not out the window.  We were going full on homesteading!
Just last year, as the fence project was complete, my children each received some money as a gift to do whatever they wanted.  They decided they wanted fruit trees!  My daughter selected a tart cherry (self-pollinating), and the boys each selected pear trees (Bartlett & Moonglow).  I then started "running errands" on Saturdays without the children, and would come home with lumber, soil, mulch, compost in the back of my very small SUV.  I really needed a pick up truck … so we rented one for the BIG trip.
We added five more raised garden beds, plus a tilled shade bed and 40′ of border gardens all to the front yard!  Then a crazy thing happened … I wanted MORE!
The vegetable and flower gardens were so enjoyable for me, and I threw myself into them entirely.  It was how I grieved the loss of my father.  Chuck had taught me so much about gardening, and life in general.  He and I had ordered plants for my gardens so he could come up each week and spend time in the garden with his grand children.  When he died in February, I decided that I couldn't break his promise to the kids.   We planted everything that Pop had planned on growing with them.  They dug in the soil with me, like they would have with him, and I told them stories about the gardens we had had when I was a little girl.  I probably went overboard with the gardens last year to compensate for missing him so terribly much, but I know that he was smiling down on us and he'd be proud of what we were accomplishing on our little quarter-acre property in the middle of the suburbs.
This year's garden plan – 2016
As I sat down last week to begin work on the garden plan, I thought back to all of those wonderful conversations Chuck and I used to have about growing our own food and making the most of the resources that we have available to us.  One of the resources have available to me this year is more space.  We have quite a bit of space in the yard that we have not dedicated to gardens yet.  Part of that is because with three young children, they need space to run and play.  Part of it is my hope to raise hens and bees on our property (I need to convince my husband first).  And part of it is that the funds ran out last year, so plans were put on hold.
My garden goals for 2016 include the micro-orchard, the vineyard, growing corn, and adding a pollinator garden.  I have finally completed the garden plan, with the help of my husband, that will reflect all of these goals being put into action.  I am still working on what will go in each garden bed since we also practice crop rotation and I need to make sure the plants that are transferring into new beds are not of the same family as what has been there before.
Our garden plan for 2016 includes 21 fruit trees, 15 blueberry bushes, 10 raspberry bushes, and 5 additional fruits; plus 21 vegetables, and 13 culinary & medicinal herbs.
Fruits:
3 varieties of apple, adding 6 more
1 variety of peach, adding 1 more
2 varieties of pear, adding 1 more
1 variety of cherry, adding 1 more
2 varieties of figs (currently in the garage until spring planting)
adding 1 apricot
adding 2 varieties of Japanese plum
3 varieties of strawberries
Caroline Raspberries
multiple varieties of high-bush blueberries
adding 3 varieties of grapes – Concord plus 2 more
Blacktail Mountain Watermelon
Honey Rock Melon
Vegetables:
3 varieties of Rhubarb
Orange & Purple carrots
sweet corn
Cantare Green Beans
Beurre de Rocquencourt (wax bean)
Little Marvel & Tall Telephone Shell Peas
a variety of lettuces and salad greens
Dinosaur Kale
Glory of Enkhuzien – Green Cabbage
6 varieties of tomatoes
Boston Pickling Cucumbers
eggplant
Fordhook Zucchini
celery
Brussels sprouts
broccoli
2 varieties of pumpkin
spaghetti squash
3 varieties of beets
spinach
4 varieties of sweet/hot peppers
Herbs:
parsley
sage
rosemary
thyme
tarragon
oregano
basil
dill
marjoram
cilantro
lavender
chamomile
mint
The list of what we are growing may seem overwhelming to some, but with proper planning it is all quite manageable.  I look forward to sharing the upcoming year in our garden with all of you, and if you are in the area, I invite you to join me for one of my garden tours or classes that I will be holding this year (more information to come in late January).