Posts on Happily Homegrown contain affiliate links. When you make a purchase through an affiliate link, your price will be the same, but Happily Homegrown will receive a small commission. Thank you for your support!
I received access to Elephango free of charge for review purposes and was compensated for my time. All opinions expressed in this post are my own and I was not required to post a positive review of the product.
Since I homeschool three children, but there is only one of me, I'm always looking for ways to foster independence in our homeschool. Any subject that my children can work on and I can be mostly hands-off is a huge win.
Recently, I was given access to Elephango, a supplemental curriculum for homeschoolers, and asked to check it out and share my thoughts on how I could use this supplemental curriculum in my homeschool. I was hesitant at first. Would I really be able to find something to engage my teens and my youngest? Would this just be another resource that added more work, but not substance?
I am happy to say my trepidation was unfounded.
Thousands of Online Homeschool Resources
Elephango has thousands of lessons, resources, and activities that are appropriate for all ages. Whether you are homeschooling a kindergartner or a high schooler, you will be able to find valuable lessons to supplement your primary curriculum or use as a unit study.
Students aren't just watching videos or reading articles without purpose. Elephango lessons are designed to engage the learner. The skill and drill approach doesn't work for today's children. They need skills that will serve them well today and into the future.
Creativity, Critical Thinking, Communication, Collaboration.
This is where Elephango shines!
As students navigate topics, each lesson also emphasizes problem-solving, interpersonal skills, teamwork, and critical thinking.
Lessons are formatted with neuro-science in mind.  This isn't just a curated playlist.  Rather, lessons spark curiosity and have students asking and searching for their, "Why?"
How We Are Using This Supplemental Curriculum
One area where I struggle as a homeschool teacher is literature studies.  I know crazy since I was an English teacher, but when working one-on-one it's a completely different beast.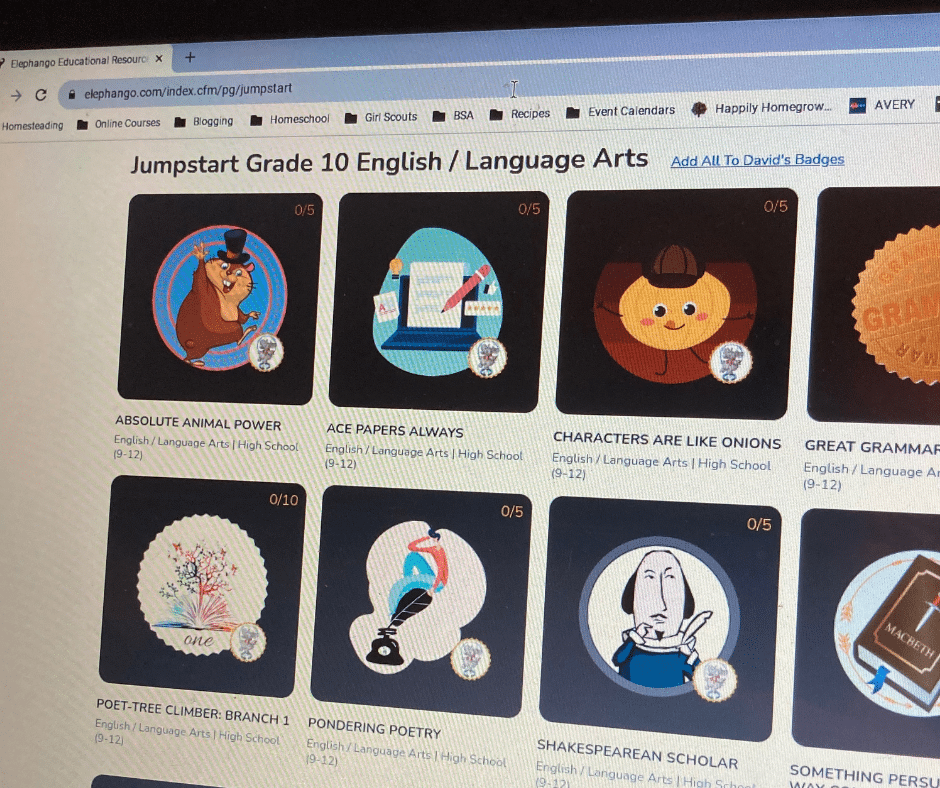 A quick peek at the Jumpstart Guide for 10th Grade English and I had the framework for our coming year! There were several literature unit studies ready to go and the piece of literature was also available digitally (no tracking down copies at the library).
Our 10th Grade English class will include:
George Orwell's Animal House
JD Salinger's The Catcher in the Rye
Pearl S Buck's The Good Earth
The poetry of Emily Dickinson, Walt Whitman, Robert Frost, Maya Angelou, and more
Shakespeare's Macbeth
There are also writing, grammar, and vocabulary lessons interspersed in the Jumpstart Guide that will help to round out a full year of English.
I can assign the guide in whole or part to my son, and from his login, he can work through the lessons at his own pace.
Throughout the year, as we are exploring various topics in social studies and science, I will assign additional lessons from Elephango to supplement and reinforce our curriculum.
How are you going to use Elephango this year?
Let me know in the comments on this post.
What does my Elephango subscription include?
Your Elephango family membership includes unlimited access to over 3000 lessons for grades K-12. You will be able to personalize up to four accounts so your family can let their curiosity drive their learning. And you'll have access to all of the embedded videos, articles, interactive content, downloadable worksheets, projects, and learning adventures for all ages.
To streamline resources, there is also an Elephango plugin for Chrome that creates a safe search Google landing page where your children can search both Elephango and Google safely.
How much does Elephango cost?
Elephango costs just $19.99 a month, or $16.67 a month when billed annually, for a homeschool family membership.
Before you commit to a full year, we want you to try Elephango FREE for 3 months! Check out the lessons and see how you can integrate this captivating supplemental curriculum into your homeschool.
Get 3 Months of Elephango FREE with promo code: 3monthfreeblog10
So check out Elephango and discover how the supplemental lessons will improve your homeschool today!