Posts on Happily Homegrown contain affiliate links. When you make a purchase through an affiliate link, your price will be the same, but Happily Homegrown will receive a small commission. Thank you for your support!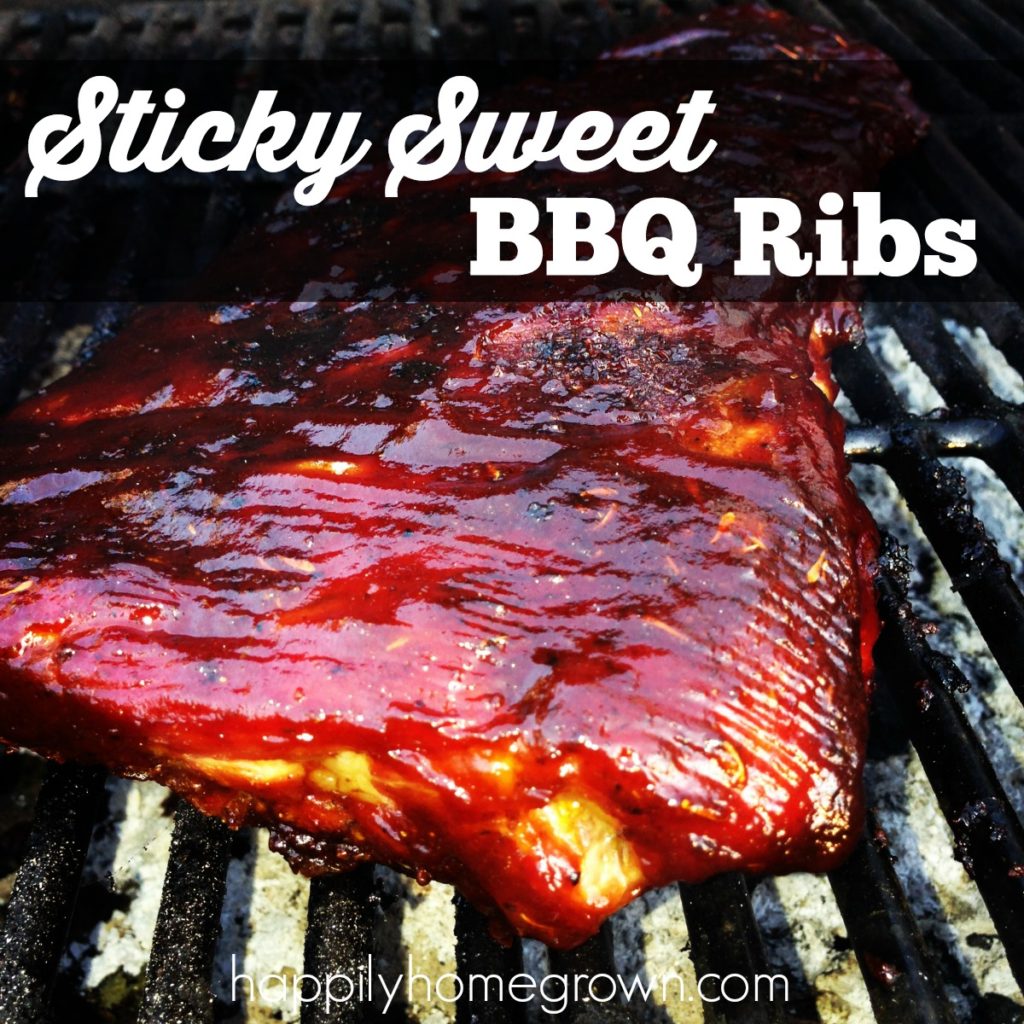 Sticky Sweet BBQ Ribs
Nothing says summer like BBQ, and today I'm talking ribs! Pork spareribs have got to be one of my absolute favorite foods to have fresh off the grill. They are succulent, spicy, and sticky sweet perfection.
The trick to these Sticky Sweet BBQ Ribs is in the rub and the sauce.
5 Tbsp brown sugar
4 Tbsp paprika
1 Tbsp adobo
2 Tbsp garlic powder
1 Tbsp onion powder
1½ tsp allspice
1 Tbsp thyme
1½ tsp black pepper
Mix all of these dry ingredients together and store in an air tight container until you are ready to prep your ribs.
A day before you plan on firing up the BBQ, coat your spare ribs in a thin layer of mustard (I used a prepared honey mustard) and a liberal coating of the spice rub. Its called a rub, and that's exactly what you have to do – rub the spice mixture into the ribs. Cover with plastic wrap, and keep chilled until you are ready to toss them on the grill.
Grill or smoke your ribs however you like to prepare them. When they have about 20 min left to go its time for the sauce.
My sauce of choice is a jazzed up prepared sauce. I know what you're thinking, "Prepared sauce?!" The difference is, the prepared sauce is also homemade – I love the Neely's BBQ Sauce recipe and prepare it in large batches, and can it for use later on.
So here's the jazzed up version:
1qt of Neely's BBQ Sauce
½ cup brown sugar
¼ cup honey
¼ cup ketchup
1 Tbsp Worchestershire sauce
Combine all of the ingredients in a sauce pot, and cook it down until it is thick and sticky.
For the last 20 minutes of cooking time on the grill, baste your ribs with the BBQ sauce, building up the most delicious, sticky sweet bark on the outside of the ribs. Enough sauce? Time to take the ribs off the grill and allow them to rest for 10 minutes before slicing them down between the bones. Serve with more sauce on the side.