Posts on Happily Homegrown contain affiliate links. When you make a purchase through an affiliate link, your price will be the same, but Happily Homegrown will receive a small commission. Thank you for your support!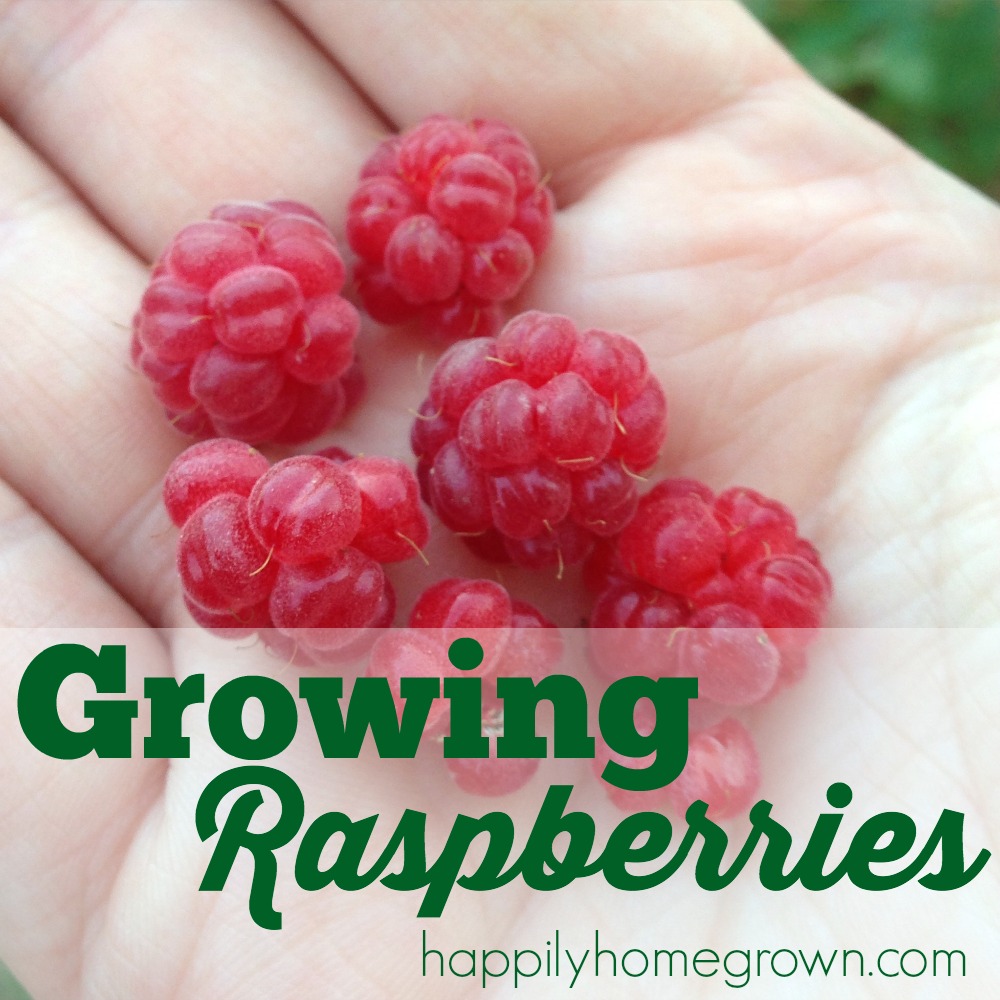 Raspberries are one of my favorite fruits. In addition to eating them fresh, I make raspberry jams and jellies that I then use in candy fillings, for pastries, and filled cookies. With a 6oz package of raspberries costing about $4 each, I decided to add raspberries to our garden.
I originally purchased a package of 3 bare-root Caroline raspberry canes from Stark Bros Nursery. I had a 3'x8′ raised bed, and the plan was for the 3 raspberry bushed to grow in that bed … and only that bed. I planted the raspberry canes in 2014. By the end of that summer, only 1 of the raspberry canes had taken off, the other two died. I got 2 huge raspberries off the plant that year, and was excited for the future potential. Since 2 plants didn't take, I contacted Stark Bros about replacing the raspberries as is their policy (all bare-root plants are guaranteed for 1 full year). They said they would reship in spring. PERFECT!
I decided I wanted to transplant that one lone raspberry bush to a different part of the yard so that I could plant it and the 3 replacements all together. On a mild late-winter day, I went out to the garden to prune & dig out the raspberry bush. There were a lot of little green raspberry canes starting just under the surface of the dirt. I didn't expect that. So inside I went, and hopped on Google.
And that is when I learned the most important tidbit about raspberries – they send our runners underground and spread to take over an area.
Oh shit!
That is not what I expected at all. I expected raspberry bushes, not craziness and mayhem.
I carefully dug out the largest of the raspberry bushes/canes, and then hand pulled more than 90 little raspberry canes that were just starting in the raised bed. I think I provided free raspberries to most of Morrisville and the surrounding areas.
When the bed was clear, my husband ran the tiller through it. I planted 2 rows of corn, and then noticed something.
MORE RASPBERRIES!
Each itty bitty little root that was in the bed was cut and spread through out the garden bed when my husband ran the tiller. I now had an entire 3'x8′ raised bed filled with raspberry canes! I once again gave away more than 40 starter plants, and then pulled even more to put in the trash. Somewhere in mid-July 2015, I gave up and just let the whole thing grow. Maybe it would be ok. Maybe they would stay in the bed.
All fall I harvested raspberries a handful at a time. They were absolutely delicious! Large reddish purple berries with the perfect raspberry flavor.
But alas, that isn't where I wanted the raspberries to grow. So this winter, I once again began the process of pruning back what was there, and then digging and removing the raspberry canes. I've given away another 20 large established canes, plus about 100 or so small canes that are about 2-4 inches in size, and they were just the ones that I was counting.
I have decided to remove the soil, and take it to my inlaws home. They live in the mountains, and already have wild raspberries. We are going to dump the soil in the woods, and see what happens. If they grow there great, if not also great. Either way, I won't have them on my property any more.
So as I filled two very large bins with soil to take to their home, I noticed something … raspberry canes growing outside of the raised bed. Numerous canes growing outside the raised bed. Those little buggers sent out runners underground, under the 6″ board that enclosed the raised bed, and they were trying to survive on their own. Raspberries are very determined.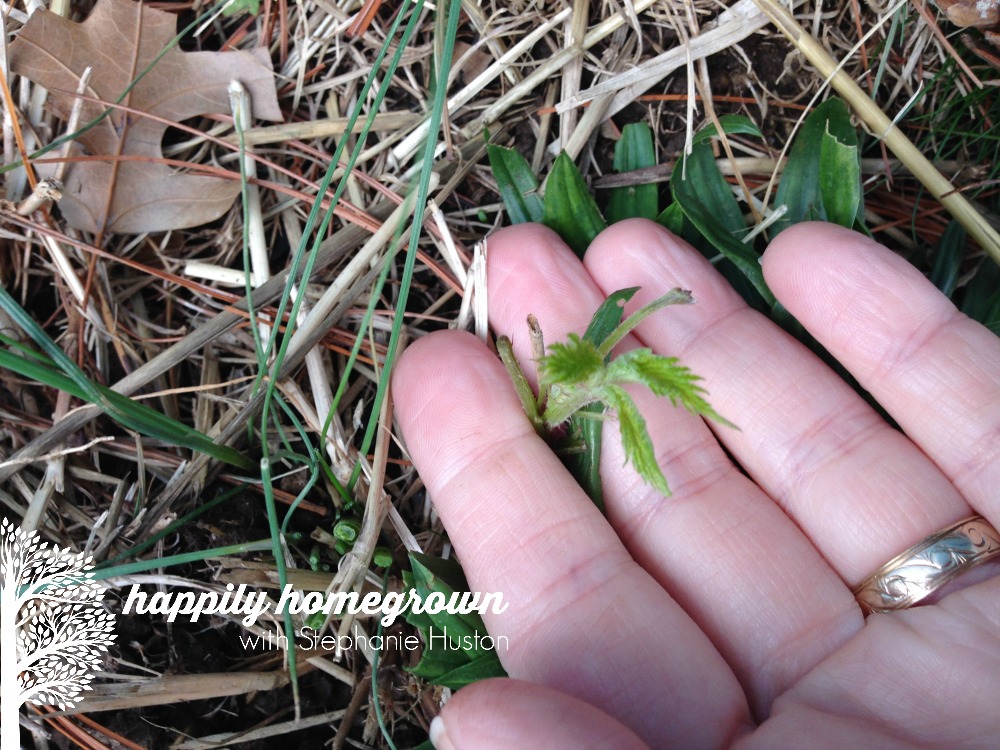 Its late April, and I am going out to the raspberry patch daily to remove more raspberry canes, dig out the rogue plants growing outside of the bed, and giving them away whenever I can. My goal is to remove as many as possible and put a greenhouse or shed in that spot in the yard.
If after all that you still want to grow raspberries (or blackberries or other cane fruits), here are a few tips.
3 Tips for Growing & 1 Tip for Killing Raspberries
Only plant raspberries in an area of the yard where you want them to grow. Give them room to spread, but be willing to maintain the canes so you don't end up with a huge briar patch.
Do not plant raspberries along a shared fence unless you speak with your neighbor and you have an understanding about what is going in that space. Nothing will cause fights faster than rogue plants from your yard taking over your neighbor's yard.
If you don't have room for raspberries to go in the ground without causing issues, plant them in pots! Raspberry actually do really well in large pots. Make sure the pots have proper drainage, and don't place directly on the ground so the roots don't go into your soil.
The only thing known to kill raspberry plants is glyphosate … also known as RoundUp. There are other weed killers on the market that are more natural, however your ability to kill your raspberry plants with those products may vary.
Needless to say, we are still trying to kill/remove all of our raspberries. I have not gone to using chemicals to clear the area yet, mainly because I am still giving away free raspberry canes to friends, enemies, and neighbors, but I am getting really close to going in that direction so I can move on with other projects for that side of the yard.