Posts on Happily Homegrown contain affiliate links. When you make a purchase through an affiliate link, your price will be the same, but Happily Homegrown will receive a small commission. Thank you for your support!
There are a number of creative ways to get rid of the leftover Halloween candy – from donations and buybacks to using it in baked goods.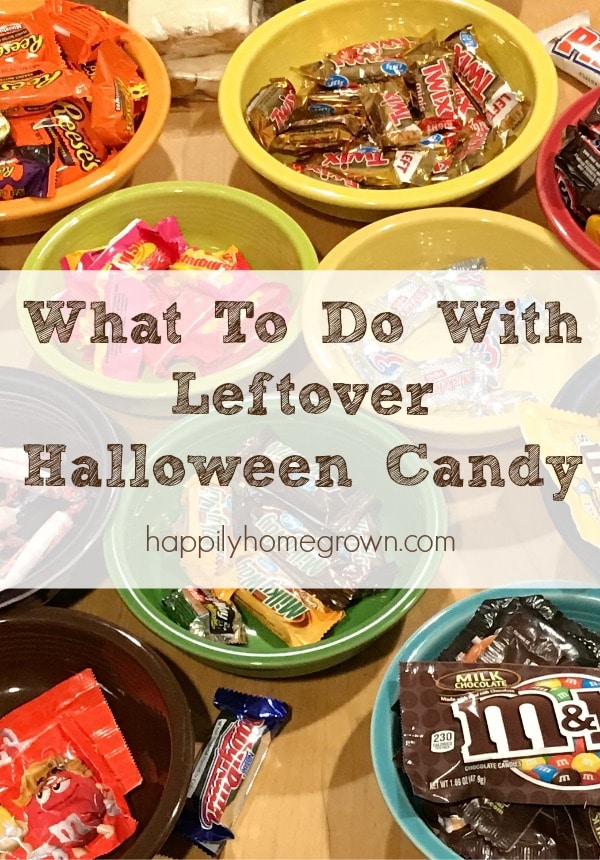 Leftover Halloween candy doesn't feel like a real issue around here, especially because I have a sweet tooth, but the reality is that after an hour of going door to door my children each had more than their fair share of sweets.  If we paced ourselves with only 2 pieces per person per day, we'd have enough Halloween candy to last until Christmas!  That's craziness!
10 Things to Do With Leftover Halloween Candy
 Halloween Candy Buyback – Buybacks are held at local businesses, traditionally dentists offices, where children can bring in their candy and trade it for cash, gift cards, toothbrushes, and small prizes.  You can find local buyback events by searching your zip code on their website.
Send it overseas.  Organizations like Operation Shoebox will gladly take it and send it to the US Military serving abroad.
Throw it in a parade.  Veterans' Day is right around the corner and many communities have parades and throw candy.  Donate it to the local fire hall, ambulance squad, or even to the scouts so they can toss sweets during the parade.
Donate it to your local homeless shelter, food pantry, retirement or nursing home.  Many will take donations of unopened candy for their clients and residents, but it's a good idea to call in advance to make sure they accept sweet treats.
Use it in trail mix!  M&Ms and Reeses' Pieces add a nice sweet component to the nuts and dried fruits that make up most trail mix blends.
Add it to your ingredients for holiday baking.
Make an Advent calendar and put a piece of candy in for each day leading up to Christmas.
Send a care package to grandparents or a relative who is in college.  Include some Halloween photos and a quick note to let them know you're thinking of them.
If you're in NYC, visit the Reese's Halloween Candy Converter Machine to trade your excess Halloween Candy in for a package of peanut butter cups.
Check out your local community boards for more ideas in your neighborhood.  There are endless options available in communities all around the United States.

Recipes Using Halloween Candy
Candy Bar Trifle
No matter what you decide to do with your excess Halloween candy, make sure you save a few of your favorites to have as a treat.  Hope you all had a Happy Halloween!