Posts on Happily Homegrown contain affiliate links. When you make a purchase through an affiliate link, your price will be the same, but Happily Homegrown will receive a small commission. Thank you for your support!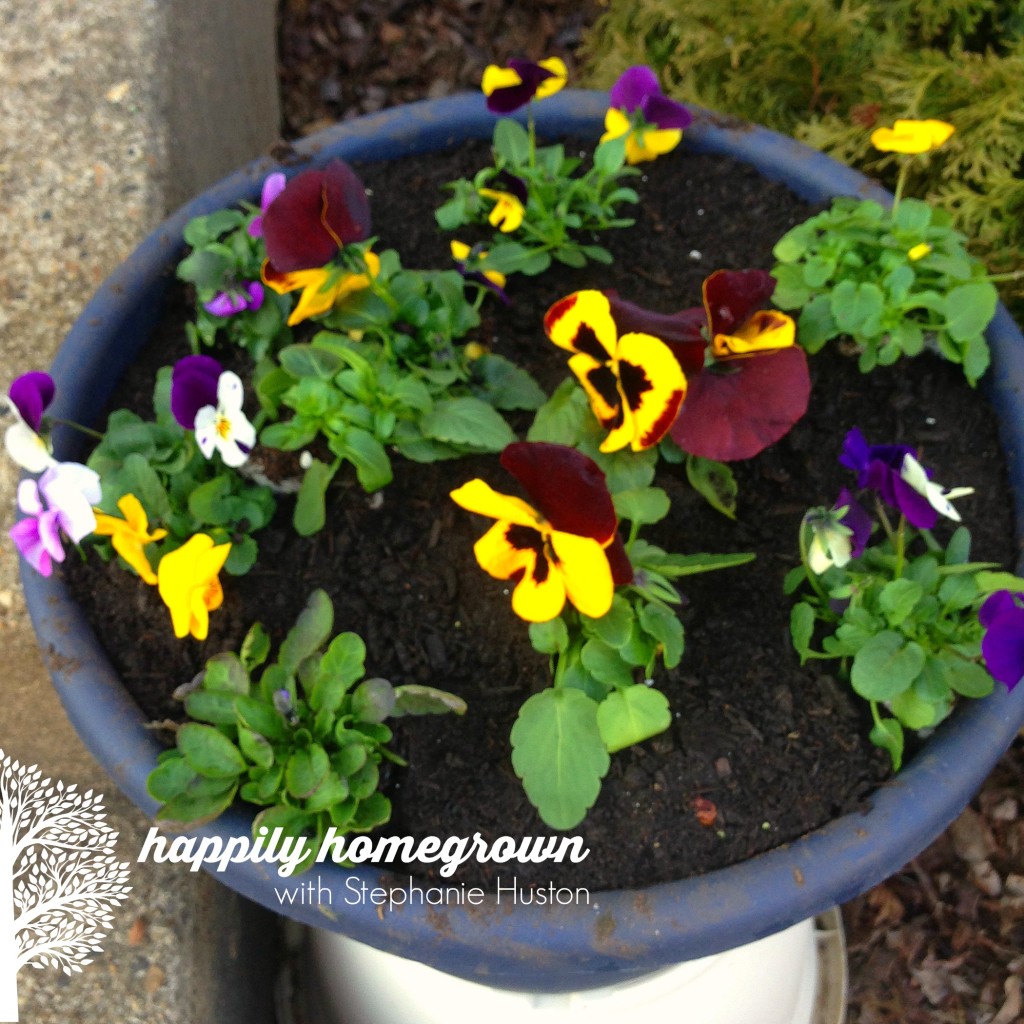 Garden Weather & What We Planted Today
Today, we hit a high around 75° – for March 8, in eastern Pennsylvania, that is incredible! So the warm weather inspired me to get in the gardens, and get some things planted. You read that right, I have things planted in my garden!
Pansies and violas love the cooler temperatures of early spring, and they can handle a frost. Our local garden center had them for $1.99 for a 4-pack, or an entire flat (8 4-packs) for only $12.99. We opted for a flat.
When we got home, we filled 3 large planters with pinecones, and then a little bit of sand, before topping it off with garden soil. We use the pinecones as a light weight natural filler since we have them available on our property. They provide really good drainage, and don't make the pots so heavy that we can't move them around when full. The sand gets added, and then you give the pot a shake so it settles between the pinecones. I'd rather have inexpensive sand fill in the gaps instead of the more expensive garden soil. The top 4-6 inches of the pot is filled with garden soil. We had a bag of organic soil leftover from last year. The children then planted 4 pansies in the center of each pot, and 4-6 violas around the perimeter. These will fill in through out the spring, and be nice and full in no time.
Our next purchase was on onion sets. These are very small, 1yr old onions that you plant just as you would a flower bulb, and they grow larger for you to harvest. Our garden center had 1/2 pound bags of onion sets for 99¢. I have never had much luck with growing onions from onion sets, mainly because of poor drainage or poor soil quality, but I figured I could amend the soil and give it a try. Besides, its only a 99¢ experiment. We planted the onions in a 3 square foot area of one garden, and along the border of our rhubarb bed. At the very least, we will get a ton of green onions to cut and dehydrate/freeze, even if the actual onions don't do so well.
Unfortunately, I didn't consult my garden plan before planting the onion sets, so now I have to rework the garden plans since I planted onions where I was originally going to plant peas. Whoops! Since I want to plant carrots and peas tomorrow, you know what I'll be doing this evening – glass of wine, and working on the garden plan.