Posts on Happily Homegrown contain affiliate links. When you make a purchase through an affiliate link, your price will be the same, but Happily Homegrown will receive a small commission. Thank you for your support!
Gardening in small spaces means you can have your own Victory Garden no matter where you live. Container gardening and raised bed gardening help to make the most of your small spaces.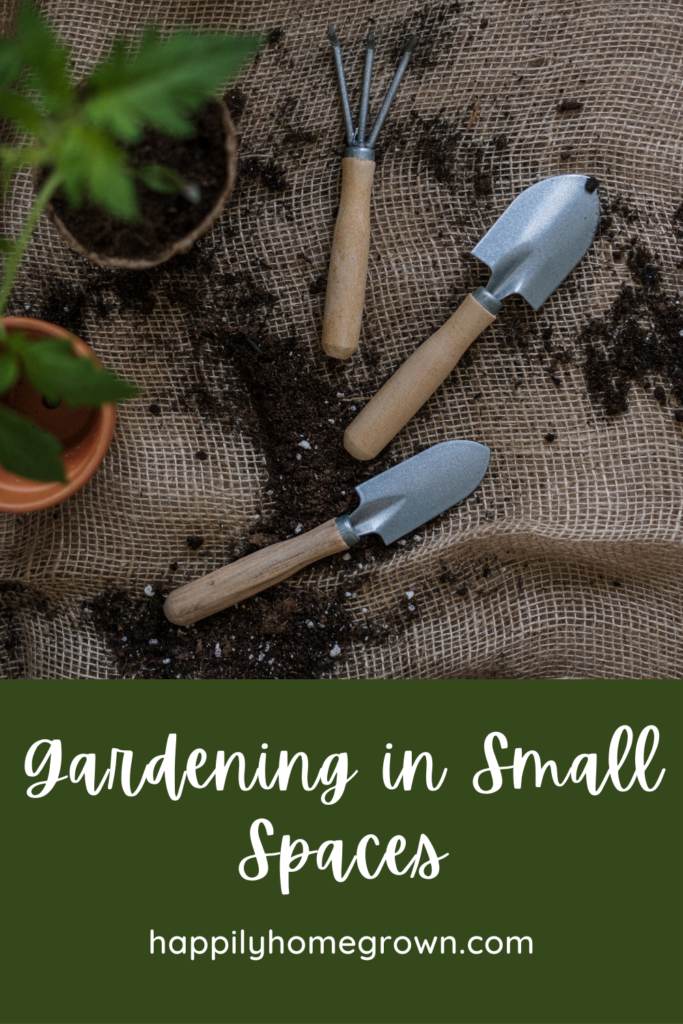 No matter your living arrangements, you should be gardening. There I said it. Having your hands in the soil and growing even some of your own food is very rewarding. It's good for the soul. Don't worry if you don't have a huge backyard. Gardening in small spaces is possible if you look at things that will work in your specific circumstances.
Growing Herbs Indoors
Grow herbs on a sunny window ledge. Herbs thrive indoors. Fill a few small pots with basil, thyme, parsley, and oregano and you will always have fresh herbs on hand to add to recipes. The added benefit to growing herbs indoors – you can grow them all 12 months out of the year with great success!
If you don't have a sunny window, no problem. That's where AeroGardens come into play. These countertop gardens come with a small grow light that will give your plants all of the light they need to thrive.

Container Gardening
Use flower pots and planters when you don't have space for a large garden. Many vegetables can grow and be quite productive even when grown in a container. While vegetables like tomatoes, peppers, squash & eggplants can grow 1 plant per 14" diameter pot, other vegetables like onions, carrots, and lettuce can fit multiple plants in the same amount of space. Place these containers in any outdoor sunny spot & you are good to go.
Vertical Gardening
There are fabulous planters that can be used to create a living wall that works incredibly well for salad green and herbs. Look into garden towers for growing things like strawberries, lettuces, and herbs and utilizing verticle space.
Square Foot Gardening
Square Foot Gardening (SFG) provides a lot of variety in a small space. In SFG, each square is a different crop, so in a 4'x4′ garden bed, you can grow 16 different vegetables, even more, if you practice succession planting, and plant a new crop each time you harvest the previous one.
What vegetables grow well in small spaces?
Select plants that do well in compact spaces. For example, bush style cucumbers, squash, and melons can be grown in pots easier than vining varieties. Tumbling Tom Tomatoes and Cherry Falls Bush Tomato grow well in hanging baskets. Loose-leaf lettuce is more productive than head lettuce even in the same amount of space. Read your seed packets to know which varieties will work best for you.

Edible Landscaping
Consider edible landscapes whenever possible. Compliment your flower gardens, walkways, and various spots in the yard by planting edibles among your other landscape plants. Blueberry bushes produce loads of delicious berries in early summer, and in fall the leaves turn a beautiful crimson that adds a festive pop of color to your yard. Instead of planting ornamental cabbages and kale, plant the real thing! They look very similar, but the edible varieties will put food on your table. Even adding fruit trees in place of shade trees will give you more food for your family and make a powerful punch to your landscape. Plant herbs among the flowers and at the base of your trees and shrubs. They are great for enticing pollinators to your yard, they look good, and they taste amazing!