Posts on Happily Homegrown contain affiliate links. When you make a purchase through an affiliate link, your price will be the same, but Happily Homegrown will receive a small commission. Thank you for your support!
I've been wanting to make homemade panettone for years, but was always intimidated by stories that this slightly sweet, eggy, Italian raisin bread took days to make. Who has time for that? So I stuck with mediocre store bought varieties. That was until this year.
Homemade panettone doesn't have to be labor intensive. It doesn't have to take days to prepare, and it doesn't have to drive you bonkers!
There are a few things that I find essential when it comes to panettone – candied citron, paper baking liners, and patience. I know, I said it doesn't take days, but when dealing with a yeast dough, a healthy dose of patience is always a good thing.
This recipe is broken down over 3 days, which is still a lot less time than some other recipes that I've seen, and most of it is passive time where you aren't actually doing anything. Trust me, it is worth it!
Day 1 – rehydrate the raisins
1 cup of raisins
1 1/2 cups liquid of your choice
Rehydrate 1 cup of raisins. You can steep them in just water, or you can impart a little flavor by using rum. I only had Bacardi Citron Rum on hand, so that's what I used, but spiced rum would also work nicely. Bring the liquid of your choice to a simmer, add the raisins, cover and walk away. That's it for Day 1.
Day 2 – making the dough
1 1/2 cups warm water
2 packets of active dry yeast
1 1/2 Tbsp kosher salt
1/2 cup honey
8 large eggs, lightly beaten
1 cup unsalted butter
1 tsp lemon extract or 1 Tbsp lemon juice + 1 tsp lemon zest
1 Tbsp vanilla extract
1 Tbsp lemon zest
7 1/2 cups all-purpose flour – do not substitute
1 cup of candied citron or candied lemon peel
rehydrated raisins from Day 1 – drained
Using a 5qt bowl, mix the yeast, salt, honey, eggs, melted butter, extracts, zest, and warm water together. Either mix with a whisk or if using a stand mixer, use a paddle attachment to incorporate everything.
Start adding flour. Switch to a dough hook or use a wooden spoon. Add up to 5 cups of the flour. Once fully incorporated, add the citron & raisins, and stir until fully incorporated. Add the remaining flour. The dough will be loose. Do not add more than the 7 1/2 cups of flour.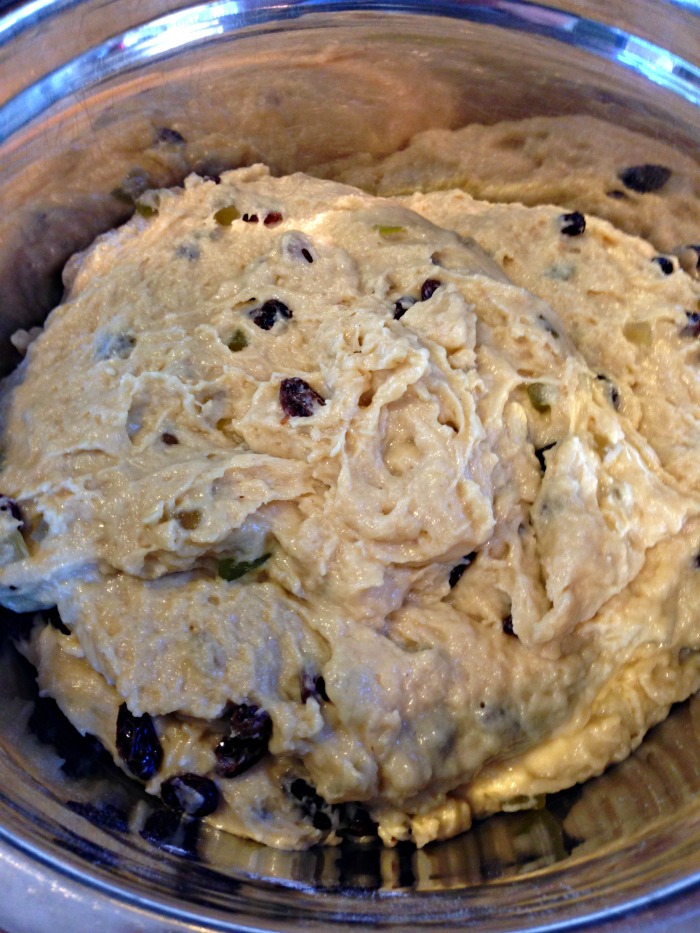 Cover with a damp tea towel or plastic wrap and rest at room temperature for 2 hours, until the dough rises and collapses (flattens on top). If your house is cool or drafty, it will take longer. You could always speed things along by putting your dough in the oven (no draft), on the radiator (extra warmth), or in a proofing box (I often use my Excalibur dehydrator).
Once the dough has risen & fallen, cover it with plastic wrap or a lid (slightly off to let the carbon dioxide to escape), and place in the fridge for a minimum of 5 hours, but its best to wait overnight.
Day 3 – baking day
Remove the dough from the fridge. This is enough dough to prepare 3 loaves, each about 1 1/2 pounds. If you are baking all of the loaves at once, great, if not, just break off a cantaloup sized piece of dough for today's loaf of panettone, and place the rest back in the fridge for up to 5 days.
Melt a little butter, and butter the inside of your panettone mold.
Shape your dough into a round ball. You will need a little extra flour on your hands and the counter since the dough is sticky. Do not try to knead the dough. You will become a doughy, sticky mess!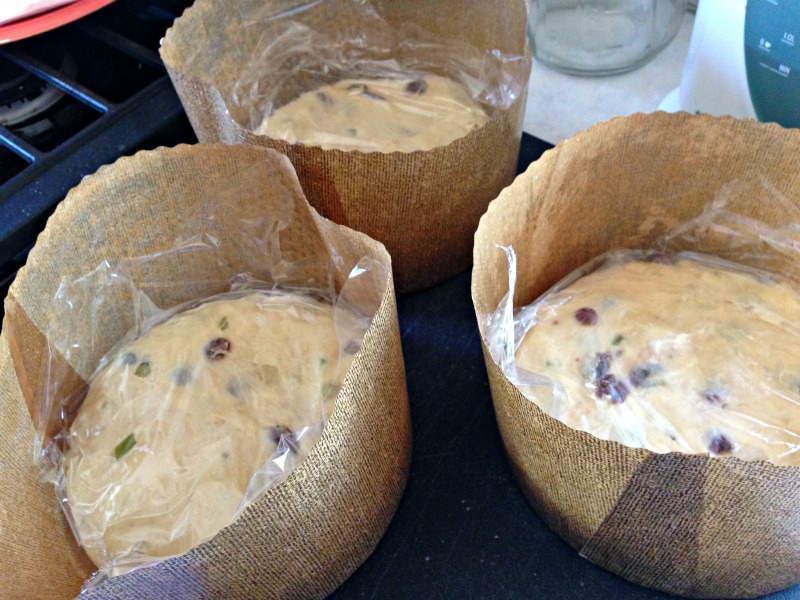 Place the round of dough, seam side down in the buttered mold. Cover with a piece of buttered plastic wrap for 2 hours.
When you have about 20 minutes left to go, preheat your oven to 400 degrees.
At the end of the resting time, beat together 1 egg with 1 Tbsp of water to make an egg wash. Brush the egg wash on the top of your panettone.
Place your panettone in the oven, and drop the temperature to 375. Bake for 50-55 minutes. Allow to cool completely before slicing.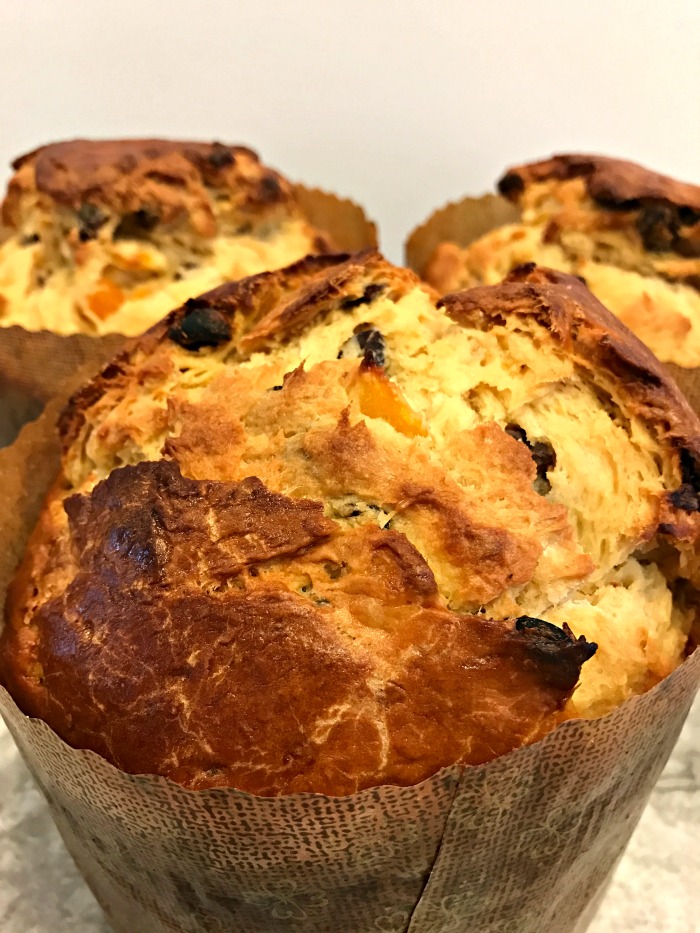 Don't have 3 days to make the panettone? No problem!
Rehydrate the raisins on the stove. Allow to simmer for 5 minutes. Turn off the heat, and allow to steep until you are ready to add them to the dough.
Prepare the dough. Place in a warm place to speed along the rising process.
Chill the dough for 2 hours.
Shape your loaves and put in a warm place to rest. Cut rest time to 1 hr 30 min.
Bake
Enjoy
The longer you wait before making the dough and baking your panettone the more flavors will develop, but if you absolutely need it now, go for it! Bake one off, and then store the remaining dough in the fridge for up to 5 days.