Posts on Happily Homegrown contain affiliate links. When you make a purchase through an affiliate link, your price will be the same, but Happily Homegrown will receive a small commission. Thank you for your support!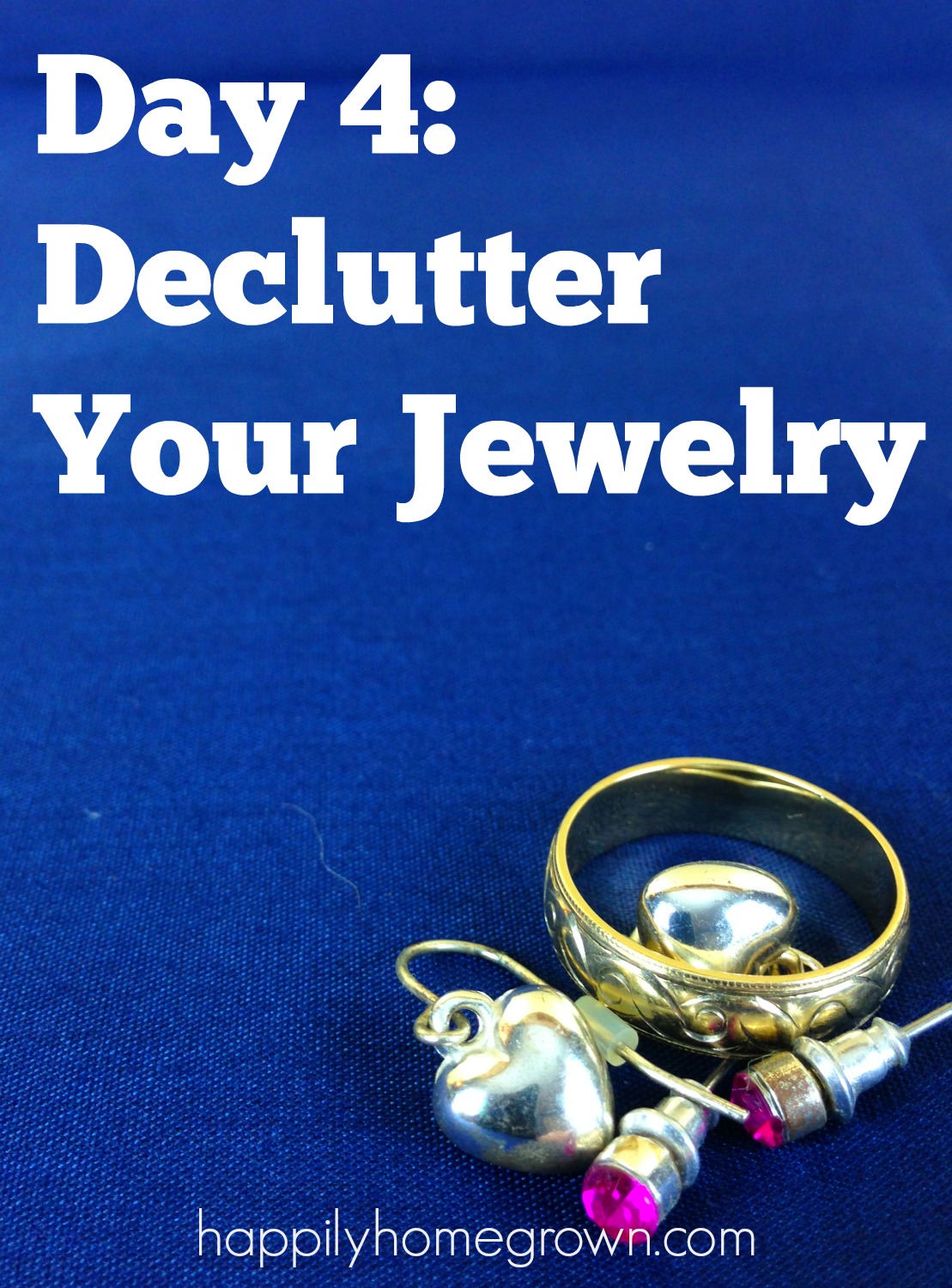 Day 4: Declutter Your Jewelry
As a teenager, I began accumulating all sorts of earrings, rings, and bracelets. While it isn't good jewelry, I have a lot of it! I know I'm not alone, and that is why the assignment for Day 4 is to Declutter Your Jewelry.
If you have pieces that you don't love, you don't need to hold onto them. I have several pieces that I won't wear ever again, however, they are family heirlooms so I don't want to get rid of them. Instead of having those in my jewelry box, I have moved those pieces into our safety deposit box.
Decluttering doesn't mean you have to trash or donate everything, but put it where it belongs. Pieces that have sentimental value, even if you don't wear them, just need to find a new home in a safety deposit box or safe.
If you do have any real gold, platinum, or silver that you don't wear and you don't want to keep, I highly recommend taking it to a jeweler and selling it to them. Last year, I sold some old earring backs and charms that I had gotten from a high school boyfriend, and I received $70 cash that easily.
Costume jewelry is easier to part with if its a piece you don't love. Costume jewelry sells very well on eBay and the various yard sale groups on Facebook.
While you are going through your jewelry, also check to see if you have pieces that are broken, knotted, or damaged in any way so you know which issues to address before those items make their way back into your jewelry box.
And that wraps up the end of our first week of the 40 Bags in 40 Days Combat Clutter Challenge. Take Sunday as your day of rest. Spend time with your family, reflect on the challenges that you had over the past 4 days, and what may be a challenge in the coming week.

COMPLETE 40 BAGS IN 40 DAYS SERIES