Posts on Happily Homegrown contain affiliate links. When you make a purchase through an affiliate link, your price will be the same, but Happily Homegrown will receive a small commission. Thank you for your support!
Cub Scout camping is an exciting way to meet a wide variety of requirements for the members of your pack.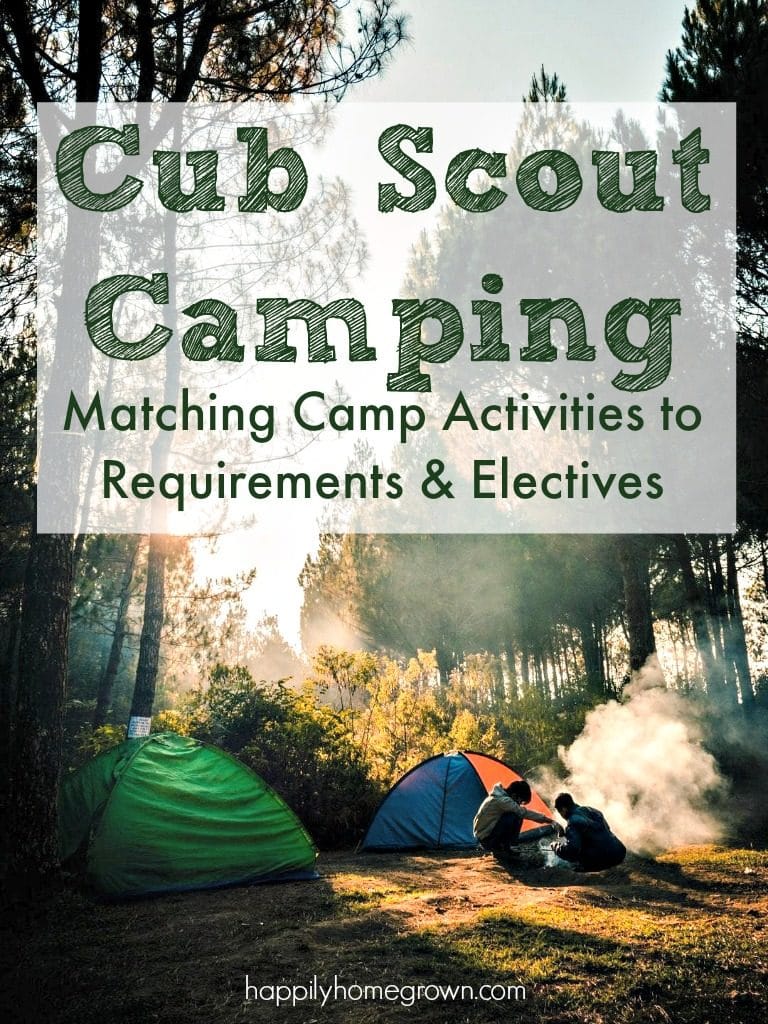 Camping and outdoor skills are an integral part of the Cub Scout, and later the Boy Scout, experience. You can not advance through the ranks without spending time outdoors. Cub Scout camping is at the pack level, which means scouts in kindergarten through fifth grade, and their families are attending these outings.
If you have more than one child you understand the challenges of having a single activity meet the needs and hold the attention of children of various ages. Multiply that by the 20+ Cub Scouts who are attending your pack campout and you may have some challenges on your hands. One way to alleviate these challenges is by planning a camp program that is engaging for all scouts and helps them all to earn a variety of advancements and electives at their level.
My type-A brain loves lists and organizing events, so a few years ago when I helped plan a pack campout to Gettysburg, I began correlating a list of various camp activities, and then matching them to requirements at each level. This list has now been updated twice – once to reflect the 2017 advancements change and again in September 2018 to include Cub Scout Lions, the newest program developed for kindergartners.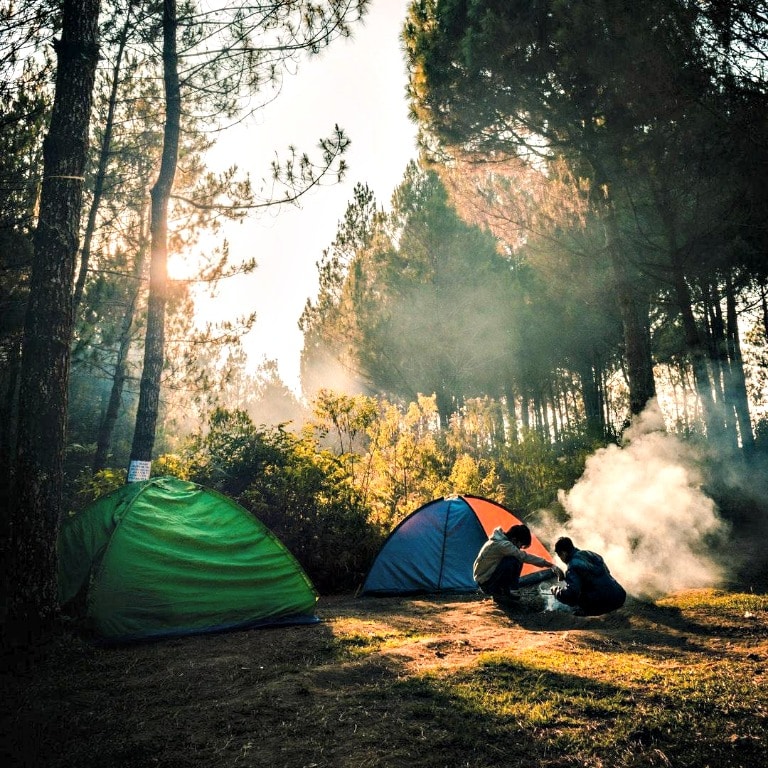 Updated to reflect the 2017 Requirements Changes
Updated to include Cub Scout Lions requirements
Camping Trip
Just attending a camping trip with your den or pack meets several of the requirements at the different age levels.
Lions – Lions Honor: 5
Wolf – Call of the Wild: 1
Bear – Bear Necessities: 1-4
AoL – Camper (Outdoorsman)
Flag Ceremony & Opening
Having a flag ceremony is a nice way to officially start the camping trip. Make sure to follow proper flag etiquette while outdoors.
Lions – King of the Jungle: 1
Wolf – Council Fire: 1
AoL – Building A Better World:1
Day Hike/Nature Walk
Taking a nature walk or day hike is a great way to familiarize yourself with your surroundings.  There are many activities that you can do during the hike, like this free printable nature scavenger hunt, and each level's requirements are a little bit different.
Lions – Mountain Lion: 2, 3
Tiger – Backyard Jungle: 1-3, 5
Tiger – Tigers in the Wild: 1-4, 6, 7
Wolf – Paws on the Path: 1-7
Wolf – Code of the Wolf: 2A
Wolf – Call of the Wild: 6
Bear: Fur, Feathers, & Ferns: 1, 4, 5
Webelos – Webelos Walkabout: 1, 3, 4, 5, 6
Webelos or AoL – Castaway: 2C
Webelos or AoL – Into the Wild: 5, 6
Webelos or AoL – Into the Woods: 1-3, 5, 6
Orienteering & Geocaching
This can be a fun project at camp, or for a day out with your den.
Wolf – Finding Your Way: 2, 3, 4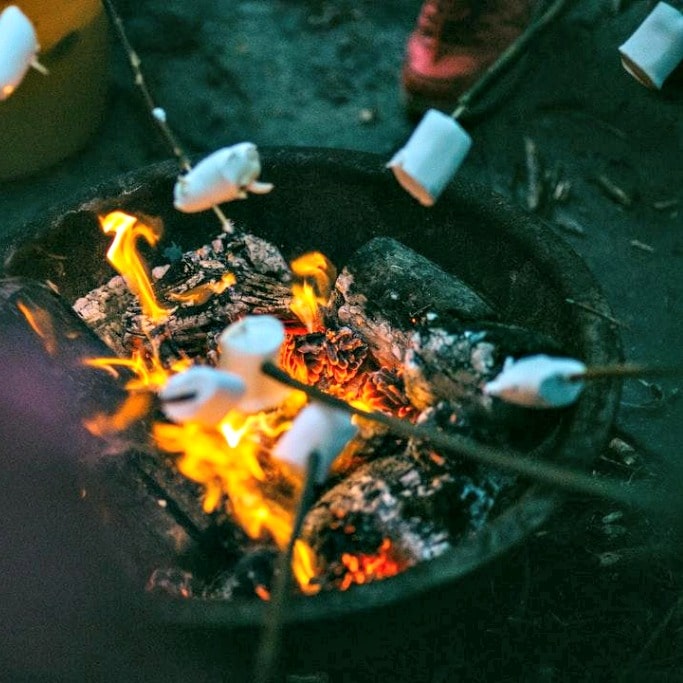 Fire Safety & Fire Building
If you are going to have a campfire during your trip, all scouts should attend a fire safety session. Review who can enter the fire circle, how to build a fire, how to maintain a safe fire, and how to extinguish a fire at the bare minimum.
Webelos – Cast Iron Chef: 3
Webelos or AoL – Castaway: 1B
Camp Cooking
Even if this is a family camping trip, the scouts should be the ones preparing and cooking the majority of the meals. They can do a lot more than we often give them credit for.
Bear – Bear Picnic Basket: 2, 5
Webelos – Cast Iron Chef: 1, 2
Webelos or AoL – Castaway: 1A, 1B
Knots
Knowing a few basic knots, as well as how and when to use them, is great for any scout. There are wonderful knot tying kits available online if you want to go above and beyond with these skills.
Wolf – Call of the Wild: 5
AoL -Camper (Outdoorsman): A4 or B3
AoL – Scouting Adventure: 5
Skits & Songs
Cub Scouts love to perform!  It's great to have a session available during the day for the scouts to work in their patrols to come up with a skit or a song to perform during the evening's campfire activities.
Tiger – Tigers in the Wild: 5
Tiger – Tiger Tales: 6
Wolf – Howling at the Moon: 2-4
Webelos or AoL – Maestro: 2D, 2E, 2F, 2H