Posts on Happily Homegrown contain affiliate links. When you make a purchase through an affiliate link, your price will be the same, but Happily Homegrown will receive a small commission. Thank you for your support!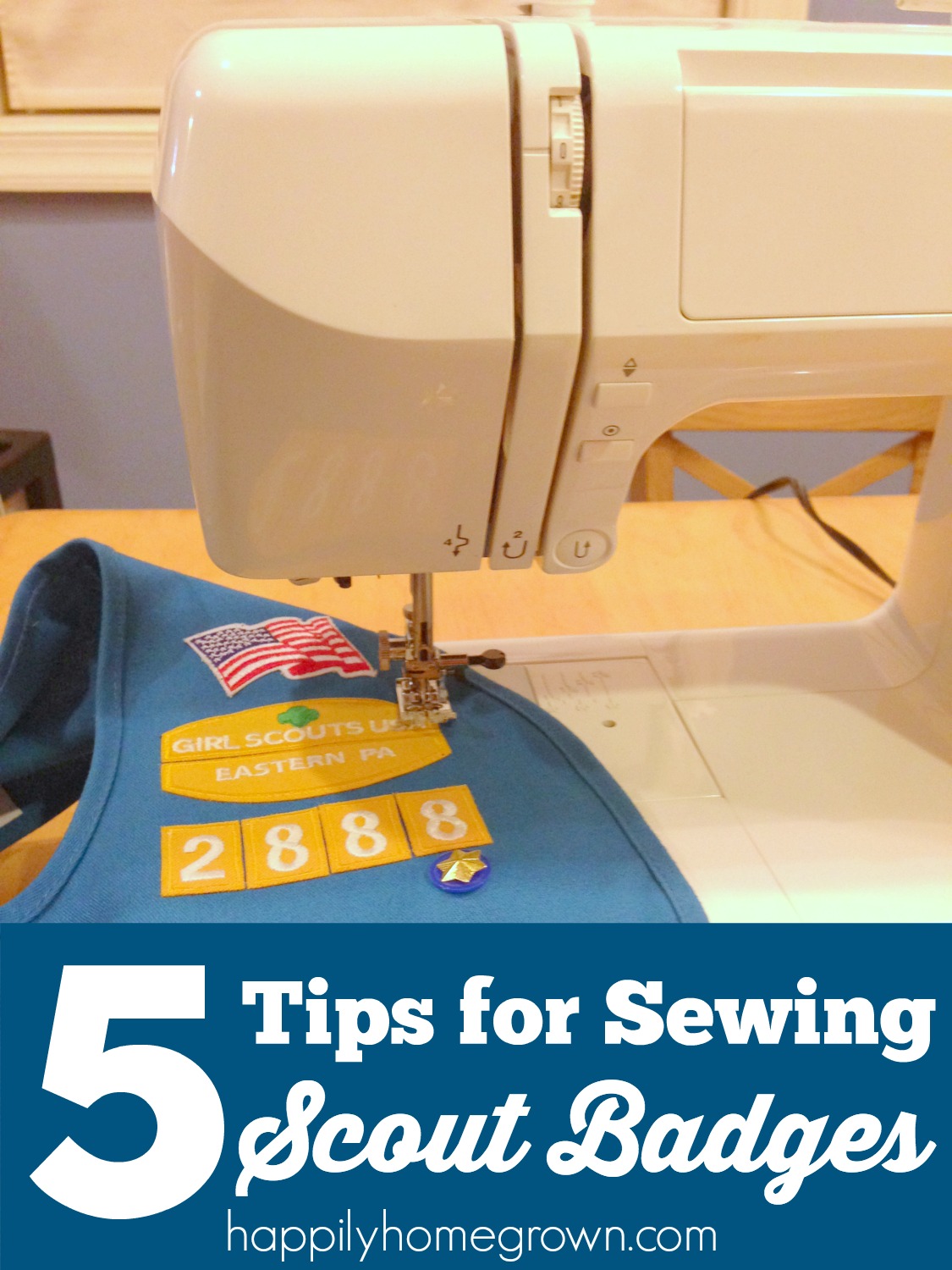 These days, most Girl Scout badges, fun patches, and insignia are made to be ironed on, but let's be honest, the iron on adhesive doesn't hold.  As a Daisy leader, I see the girls with their little fingers playing and pulling at their patches, and before you know it, troop numbers are missing or petals have gone missing.  The girls are cute as can be, but their uniforms are a hot mess!
This year, we have been doing things a bit differently, and now we are sewing scout badges, fun patches, and insignia even if they say they are "iron on".  Since doing this, we haven't had any casualties, and the girls are much happier with the look of their uniforms.
For the record, I am not an expert seamstress by any stretch of the imagination.  I can sew a straight line on my sewing machine, but I can't do all of the fancy stitches.  If I can do this, anyone with a sewing machine can do this and have their Girl Scout or Boy Scout uniforms in tip top shape in no time!
5 Tips for Sewing Scout Badges
Place the badges where they belong.  If they are iron on badges, iron them on and then allow them to cool entirely so the iron on adhesive doesn't gum up your sewing machine needle.  If it is not an iron on badge, use a small piece of painter's tape to adhere the badge where you want it to go.  This is much faster than pinning and will result in fewer cuss words and poked fingers.
Set up your sewing machine with invisible thread. Invisible thread is a monofilament thread that is virtually invisible when used.  You only use this as your stitching thread though, not your bobbin.  To thread your needle, draw on the edge of the thread with a black Sharpie so that you can see it to work with it.  You will also want to adjust your sewing machine's tension to a 0 or 1.  Tension that is too high will result in a broken thread.
Select your bobbin color to match the item you are sewing.  I use Coats & Clark Dual Duty XP General Purpose Thread from Joann Fabrics.  This is my go to brand for all of my sewing projects.  If you can't find the exact color you need, then go with a neutral and you will still be good to go, but Joann's makes it easy for you and all of their threads are also available online.
Daisy Uniform – Color 5160dd Radiant Blue
Brownie Uniform – Color 8880 Cherry Mahogany
Junior Uniform – Color 6550 Kerry Green
Cadette/Senior/Ambassador Uniforms – Color 8010 Natural or Color 8050 Buff
Cub Scout Uniforms – Color 4880 Freedom Blue
Boy Scout Uniforms – Color 8010 Natural or Color 8050 Buff
Line up your needle with the edge of the badge you are going to sew on, and "knot" your thread.  On my sewing machine, there is a button that I press that will lock the stitch for me, but if you don't have that, you may have to stitch forward a few, then reverse stitch a few to "knot" your thread.  You will need to do this when you start and stop each badge.
Sew your badges on staying close to the border of the badge.  Take your time, this is not a race, besides, going too fast could result in a broken invisible thread.  Remember to remove your tape before stitching through it.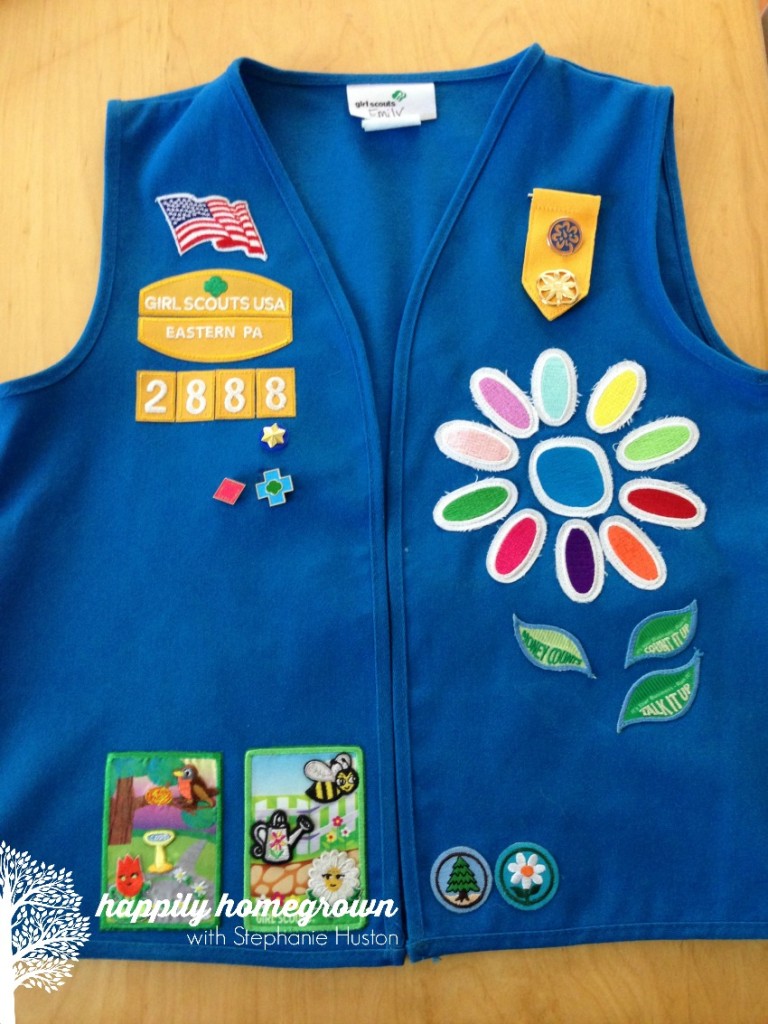 Please note:  the image above has the two small round badges on the front of the uniform.  These are council own badges and we chose to put them on the front.  Some troop troops/councils prefer council own badges be placed on the back of the uniform.
When you are finished, trim your stray threads and that's it!  Your scout's uniform is now ready to wear, or get washed, without the fear of losing patches.