Posts on Happily Homegrown contain affiliate links. When you make a purchase through an affiliate link, your price will be the same, but Happily Homegrown will receive a small commission. Thank you for your support!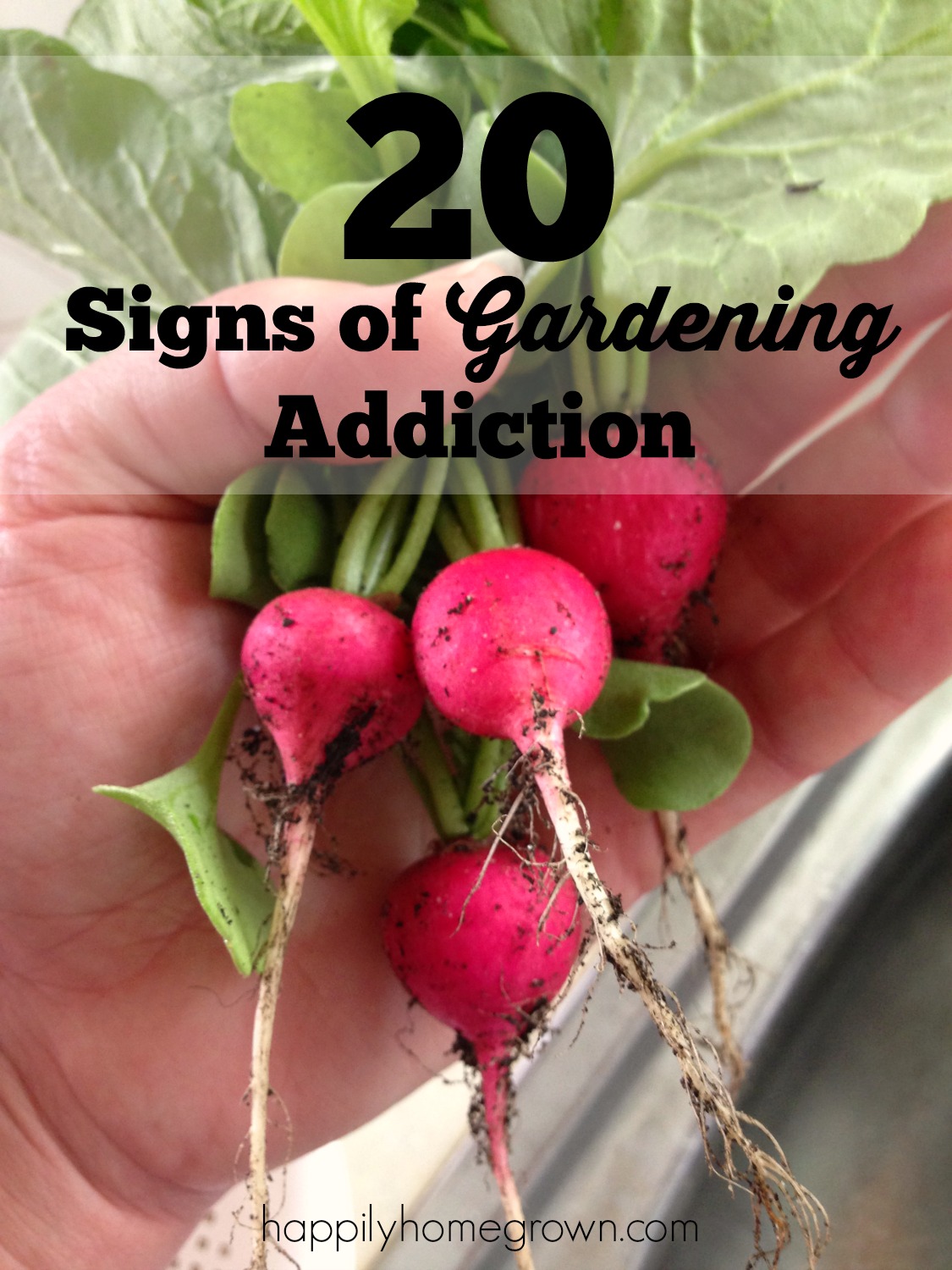 As I have shared, gardening is one of my passions.  I love spending time outdoors, in the dirt, and growing food for our family.  However, over the last year it has gone from a passion to a possible gardening addiction – I don't think its a bad thing.
20 Signs of Gardening Addiction
You know where all of the garden centers are within a 20 minute drive of your home, and which one is the best resource for which items.
You request plants that even the people at the garden center have never heard of.
You have dreams turning your quarter acre property into something that could rival Longwood Gardens.
Your idea of a wonderful date includes lunch and a trip to a few garden centers.
You get sad because you have to leave a portion of the yard for the kids to play.
You buy bags of garden soil because they were on sale & you have a coupon even if you don't have a container to put them in yet.
Any time you have a new idea about what to do with your garden, you create a new board on Pinterest.
You contact borough hall to ask for permission to plant trees (yes plural) on the street strip (lawn between sidewalk & street) and are devastated when they say no.
You color coordinate your planters and tomato cages.
You buy rabbit/chicken manure off of a friend in a Facebook group.  You don't think this is weird.
You long for a pickup truck so you don't have to ask a friend to pick up shrubs, bushes, trees, manure, soil, mulch, etc for you.
You know you can fit a tree in your car with your children securely in their carseats.
Even the children have garden gloves.
You come home from running errands with lumber, soil, and plants asking your husband to build you new garden beds, and he doesn't blink an eye because this isn't the first time you've done this.
You belong to more than one gardening group on Facebook
Your friends, and random strangers, text you questions about gardening.
Your YouTube subscriptions are all for gardening & farming videos.
You plant vegetables that you don't like just so that you can grow them.
You are covered in more dirt than the kids after being outside for an afternoon.
You have certain friends that are your enablers, encouraging you to grow more, build more beds, and plant more things, and if you run out of room at your place, you can always plant stuff at theirs!
Do you know any one who "suffers" from gardening addiction?  There is no cure, only acceptance … that and maybe tomatoes.