Posts on Happily Homegrown contain affiliate links. When you make a purchase through an affiliate link, your price will be the same, but Happily Homegrown will receive a small commission. Thank you for your support!
Tex-Mex food is a cheese lovers dream!  From nachos and tacos, to burritos and enchiladas – its all about the cheese!  These delicious chicken & cheese enchiladas are a great way to repurpose your leftovers into something completely new that the whole family will enjoy.
For years, I bought my enchilada sauce in a can in the ethnic foods aisle at the grocery store.  The red sauce was tomato based, slightly sweet, and so many brands contained ingredients that I wasn't happy feeding my family (fake sugars, food dyes, etc).  That's when I decided that my sauce was no longer going to come from the store, but instead from our own pantry.
Enchilada sauce is super easy to throw together, and will keep in the fridge for up to a week or in the freezer for 3 months, so there is no reason not to make it yourself.  What's even better is how easily you can modify this enchilada sauce recipe to meet your dietary needs – it can easily be made gluten free or vegetarian with only slight modifications – and since you are making this sauce from scratch, you can control the heat making it extra spicy or with a touch more garlic, whatever your family prefers, just by modifying the basic recipe.
Basic Red Enchilada Sauce
2 Tbsp olive oil
2 Tbsp all-purpose or gluten-free flour
4 Tbsp chili powder
3/4 tsp garlic powder
1/2 tsp salt
1/2 tsp cumin
1/4 tsp oregano
2 cups chicken or vegetable stock
In a pot, heat the oil and flour to make a roux.  Cook this mixture for a few minutes, then add the rest of the spices and whisk in the stock until your sauce is smooth.  Return the sauce to a simmer, and cook for 10-15 so all of the flavors have a chance to blend together.  When you are finished cooking your sauce use right away, or store it in an air tight container in the fridge for up to a week.
Once you have the perfect enchilada sauce, its time to contemplate fillings  When we have enchiladas for dinner, my children prefer to not have any additional sides, so instead we add chicken and black beans to our filling to round out the meal.
Chicken & Cheese Enchiladas
2 cups leftover roast chicken, cut up
1/4 cup salsa (my favorite prepared salsa is by Green Mountain Gringo)
1 cup black beans
1/4 cup corn
1 cup shredded Colby-Jack cheese
8oz softened cream cheese
salt & pepper to taste
corn tortillas
Mix all of the ingredients together in a large bowl.  This makes a lot of filling, so its perfect to make one very large batch of enchiladas and have dinner for a few nights.
To assemble your enchiladas:
Coat the bottom of a 9×13 baking dish with enchilada sauce, a few tablespoons will do the trick.  Then, take your corn tortilla, place a spoonful of filling on one end of the tortilla, and roll it up.  Place it in the baking dish seam side down.  Continue to roll all of your enchiladas until you are out of filling or out of room in your baking dish.  Top the enchiladas with more sauce, and then additional shredded cheese.
At this point, you can refrigerate your enchiladas to bake later in the week, or freeze for several months.  If you are going to bake them right away, pop them into a 375 degree oven for 25 minutes until heated through and all of the cheese is gooey and melted.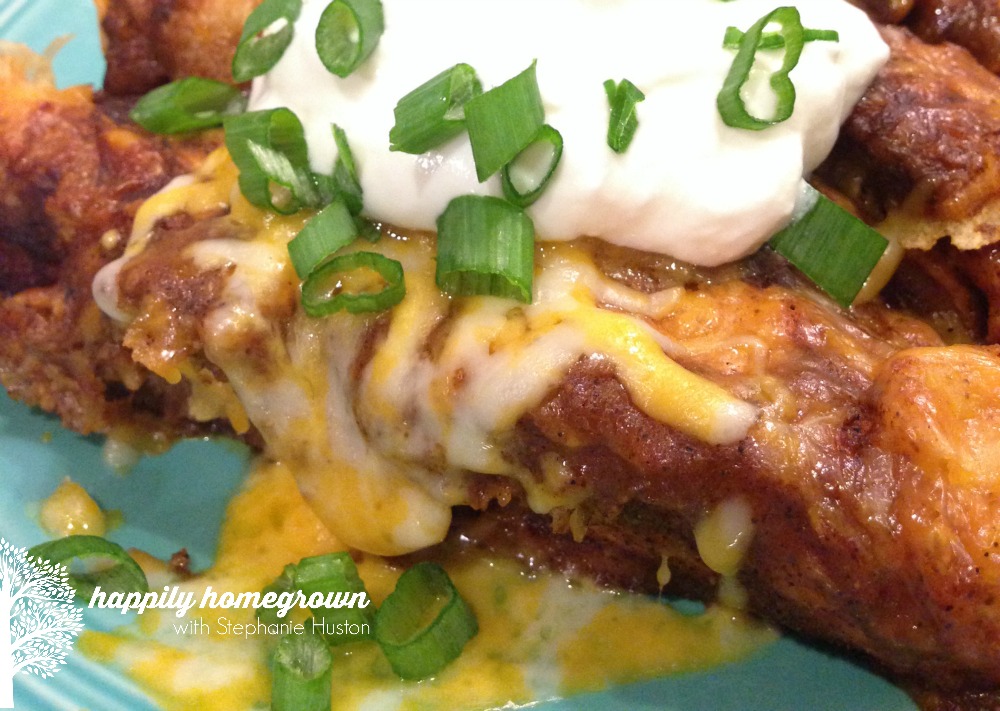 Serve your chicken & cheese enchiladas topped with sour cream, guacamole, and salsa (and of course more cheese!).
Chicken & Cheese Enchiladas make a perfect weeknight meal for the family, or they are a great way to feed a crowd.  I hope you try it, and enjoy these enchiladas as much as we do.
If you like this recipe, give us a "YUM" using the links on the top or bottom of this post.