Posts on Happily Homegrown contain affiliate links. When you make a purchase through an affiliate link, your price will be the same, but Happily Homegrown will receive a small commission. Thank you for your support!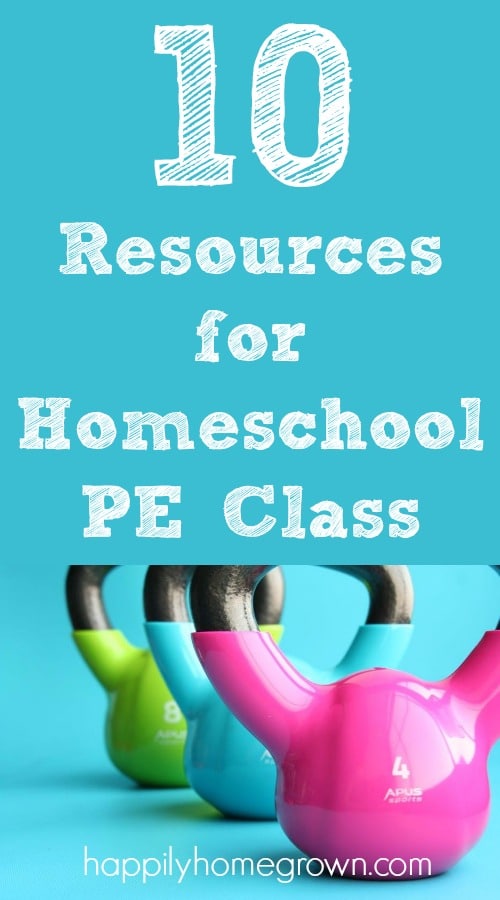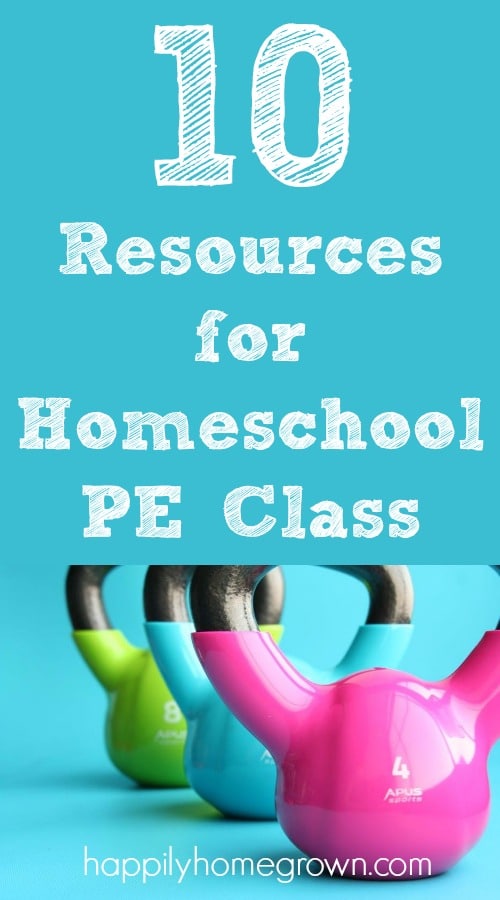 Our family strives to have PE at home, which means indoors in the bad weather and outside when we can.  Having some PE gear at home, and knowing what resources are readily available has made a world of difference in our homeschool and in our children's fitness levels.  Creating a home gym for your homeschool doesn't have to break the bank, either.  Here are some of our favorite resources for teaching PE class at home.
10 Resources for Homeschool PE Class
Rebounder Trampoline – Make sure to get one that can accommodate the weight of your growing children.  Many of the ones targeted to children have a max weight of about 50-60 lbs.  This one is a similar price, and good for individuals weighing up to 250 lbs.
Fitivities is a board game for 2-24 players and encourages physical activity and different exercises and movements.
Fitdeck Illustrated Exercise Cards – These cards contain illustrations and instructions to walk you through more than 50 upper, middle, lower, and full body exercises.
Hanging Obstacle Course – Obstacle courses have upped their game!  You can get a hanging obstacle course kit and convert your yard so the children can practice their ninja warrior skills.  This kit is customizable, and you can use multiple kits together.
Beginner Pilates/Yoga Kit – This is one of my personal favorites!  The kit includes a body-sculpting ball, resistance band, and instructional exercise cards to get you started.
Cosmic Kids Yoga is an online yoga class geared towards children.  The workouts range from 10-25 minutes long and use traditional yoga poses and practices along with storytelling that appeals to children.
Pedometer – A pedometer tracks the number of steps you take each day.  Aim for 10,000 steps each day.  If you are currently less active, start by seeing how many steps you walk on average, and then work to increase it.  Track your steps each day to see your progress.
Hand Weights – This basic set has 3 pairs of dumbbells and a storage stand.  Use the weights on their own, or along with other fitness and cardio programs.
Daily Burn is an online fitness channel with 1000+ amazing workout videos at your disposal.
Presidential Youth Fitness Program – If you went to public school, you probably remember the President's Fitness Challenge.  In 2016, the program was revamped and got a new name, but the purpose is the same – to prepare children for a lifetime of health & fitness.