Posts on Happily Homegrown contain affiliate links. When you make a purchase through an affiliate link, your price will be the same, but Happily Homegrown will receive a small commission. Thank you for your support!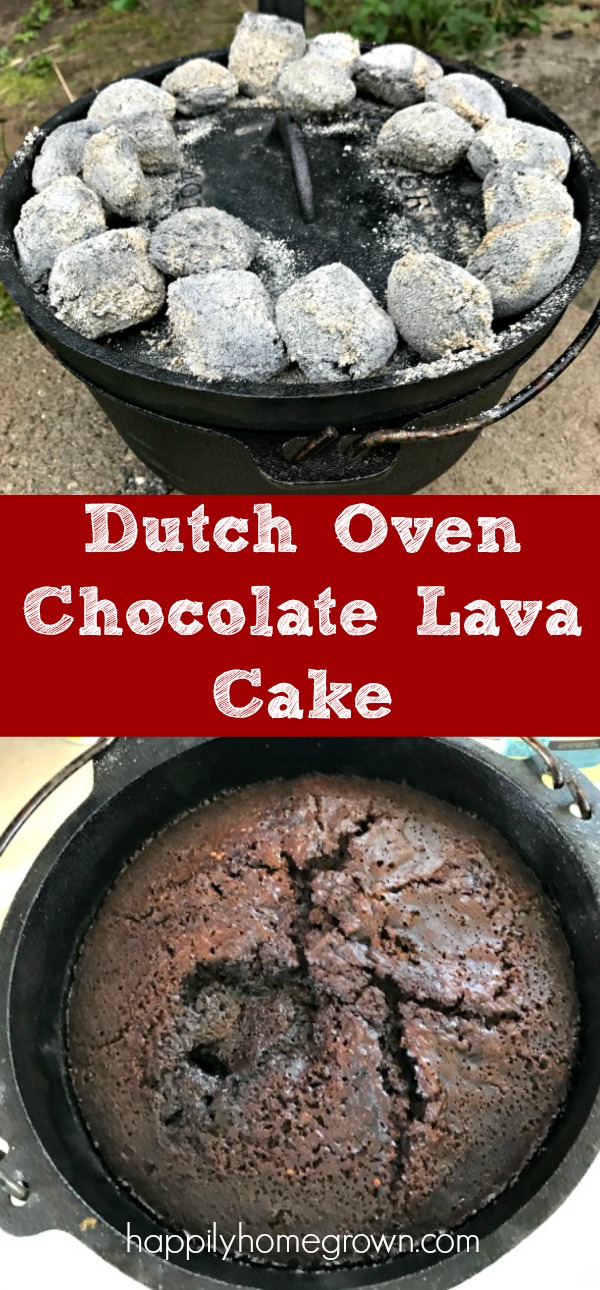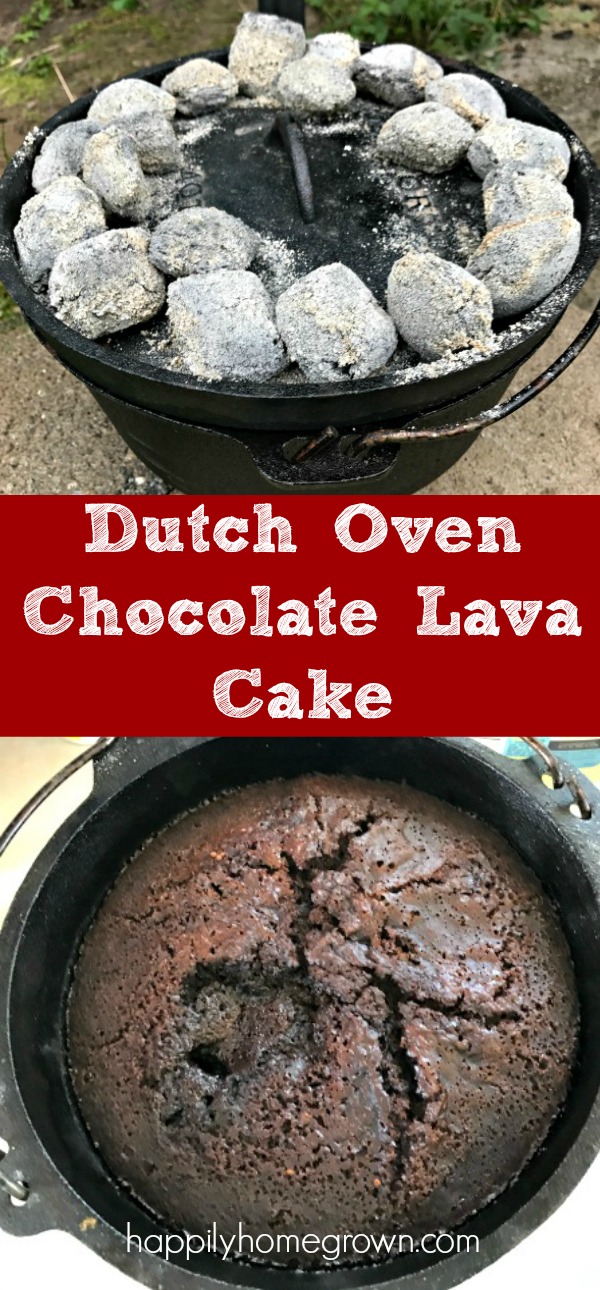 When we made our Dutch Oven Chocolate Lava Cake, I wasn't planning to write it up as a blog post. I was just going to share a photo on Instagram and call it a day. But that wouldn't do. Within 6 hours of posting that photo, I received more than 20 requests for the recipe! It has taken me a few days to get this written up for all of you, but I hope you enjoy it as much as we did.
Last week, my daughter had a few friends over to work on some Girl Scout badges. One of our activities was to bake a cake in a Dutch Oven. These girls had made foil packet meals before on a campfire, and some had even made cobbler in a Dutch Oven, but the idea of actually baking a cake made them very excited.
I promised them, that if they liked this cake we would make it again on our next troop camping trip. It's fair to say that we will be baking this cake on many future camping trips after the reaction I got from the girls!
And that reaction said it all … the oohs and ahhhs when we took the lid off the Dutch Oven. The wide-eyed expression as I scooped out the cake into 9 bowls and topped each with some vanilla ice cream. And the happy, yummy sounds as they ate every last bite!
Get the Fire Started
Dutch Oven baking requires charcoal briquettes to be placed on the lid of your vessel as well as below. For this recipe, you will need 8 charcoal briquettes on the bottom, and another 16 charcoal briquettes on top.
Place all of the charcoal in a chimney starter with a piece of crumpled newspaper underneath. Light the newspaper, and allow the charcoal to get screaming hot and ashy.
Assembling Your Cake
Grease the inside of a 4-Quart Cast Iron Dutch Oven with shortening. Next, prepare your favorite boxed chocolate cake mix, and pour the batter into the Dutch Oven.
For the lava, combine 1 cup brown sugar, 1 cup white sugar, and 2/3 cup cocoa powder in a bowl. Sprinkle the cocoa sugar mixture on top of your cake batter. It's going to look like there is way too much dry powder, but trust me, it will be fine. Pour 2 1/4 cups very hot black coffee (or water) over the top of the cocoa sugar mixture. Place your lid on the Dutch Oven.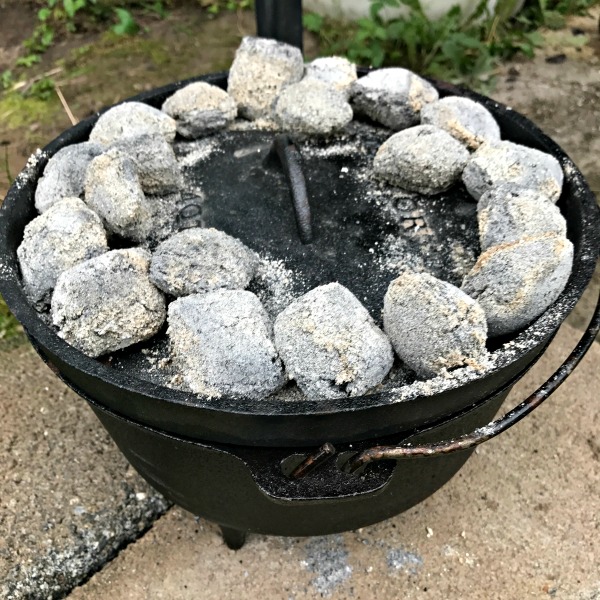 Baking In a Dutch Oven
Take your Dutch Oven outside. Place 8 smoldering charcoal briquettes on the ground. Place your Dutch Oven on top of those briquettes. Next, place the remaining 16 briquettes on the lid of the Dutch Oven, going completely around the edge for even baking. Allow your chocolate lava cake to bake for 55 minutes.
At the end of the 55 minutes, remove the remaining charcoal and ash from the lid of your Dutch Oven. Remove the Dutch Oven from the heat source, and allow it to stand for 10 minutes before serving.
Serve your Dutch Oven Chocolate Lava Cake with Vanilla Ice Cream or whipped cream.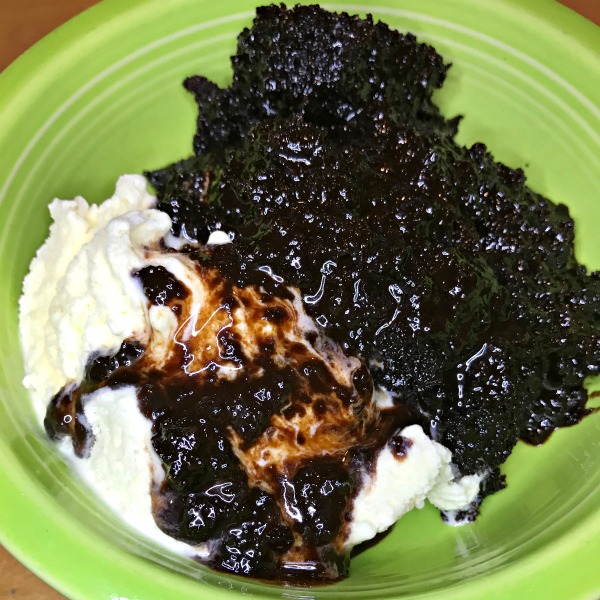 Dutch Oven Chocolate Lava Cake
Ingredients
1

chocolate cake mix

prepared according to the package

2 1/4

cups

very hot black coffee

2/3

cup

cocoa powder

1

cup

brown sugar

1

cup

white sugar
Instructions
Grease the inside of a 4qt cast iron Dutch Oven with shortening. Next, prepare your favorite boxed chocolate cake mix, and pour the batter into the Dutch Oven.

For the lava, combine 1 cup brown sugar, 1 cup white sugar, and 2/3 cup cocoa powder in a bowl. Sprinkle the cocoa sugar mixture on top of your cake batter. It's going to look like there is way too much dry powder, but trust me, it will be fine. Pour 2 1/4 cups very hot black coffee (or water) over the top of the cocoa sugar mixture. Place your lid on the Dutch Oven.

Bake on an open hearth with 8 charcoal briquettes on the bottom, and 16 charcoal briquettes on the top around the edge.

Allow your chocolate lava cake to bake for 55 minutes.

At the end of the 55 minutes, remove the remaining charcoal and ash from the lid of your Dutch Oven. Remove the Dutch Oven from the heat source, and allow it to stand for 10 minutes before serving.

Serve your Dutch Oven Chocolate Lava Cake with Vanilla Ice Cream or whipped cream.

Serves 12