Posts on Happily Homegrown contain affiliate links. When you make a purchase through an affiliate link, your price will be the same, but Happily Homegrown will receive a small commission. Thank you for your support!
I RECEIVED ACCESS TO iugo.world Homeschool Community FREE OF CHARGE FOR REVIEW PURPOSES AND WAS COMPENSATED FOR MY TIME. ALL OPINIONS EXPRESSED IN THIS POST ARE MY OWN AND I WAS NOT REQUIRED TO POST A POSITIVE REVIEW OF THE PRODUCT.
Whether you've been homeschooling for years or just starting out, we are always looking for "our people."
You know what I mean. Like-minded homeschoolers who you can bounce ideas off of. People you can chat with about curriculum. Or field trips. Or about how you are going bonkers because your kid doesn't like the activities that you had planned.
People who have been there and are going through it with you.
Sometimes we find our people in person at co-ops or other events for homeschoolers in the community. Sometimes the community needs to be a bit more far-reaching, and that's where social media comes into play.
But what if there was a social platform that was just for homeschoolers?
A place where you could interact with homeschoolers from your town, or even around the country. Where you are all brought together by a common desire to homeschool your children.
And what if that platform also offered curriculum, online co-op, tips and learning resources, and events that were accessible to you both online and locally?
I'd say someone needs to get on that idea and make it happen!
And that's exactly what they did.
Iugo.world is a private, one-of-a-kind web, iOS, and Android-based homeschool community app. Members can connect, share, and access hundreds of curated and original homeschool learning and teaching resources, tips, events, courses, and other relevant information designed to help their homeschools thrive.
A Homeschooler Walks Into an App
Okay, so that's not exactly how it goes, but you get the idea.
This summer, I had an opportunity to join the iugo.world homeschool community during their soft open. Before they went live to the masses, a small group of us got a bit of a behind-the-scenes tour of what was coming and the type of community that was being curated.
I had an opportunity to meet with founders Judy & Windy to chat about their vision for iugo.world and how it will benefit the homeschool community.
Their focus is on how kids learn and every resource is steeped in educational pedagogy. They offer 36 weeks of learning in grades K-12. The curriculum selections are offered in English/Language Arts, Math, Science, and Social Studies, as well as several electives. In addition, there are moderated discussion boards and interest groups that will appeal to all types of homeschool families.
If you are looking for an umbrella school, there is also iugo.world Academy. Visit the academy website for all of the details on how an umbrella school could benefit you.
Is iugo.world for K-12 Secular Homeschoolers?
As a secular homeschooler, I am delighted to let you know that the platform is in fact secular as are the curriculum, resources, and tips. However, there is a Faith-Based Homeschooling interest group that is for Christian homeschoolers. I have been assured by the founders that all topics on religion will be in the interest group only and will not carry over into the other areas of the platform.
During my conversation with Windy & Judy, I voiced my concern that "Faith–Based Homeschooling" means different things to different people and that our local homeschool community has a lot more religious diversity than just various sects of Christianity. I suggested that additional interest groups be added for other faiths to discuss how they homeschool and the unique challenges they may face. I also recommended a secular interest group, because we have specific needs and challenges that are unique to us as well and completely independent of faith or religion.
How to Get Started with the iugo.world Homeschool Community
Now that we have this unique community that was created just for us, how do you join?
There are currently two different plans available for you iugoCONNECT which is the free plan, and iugoPRO which is a reasonable $12 per month.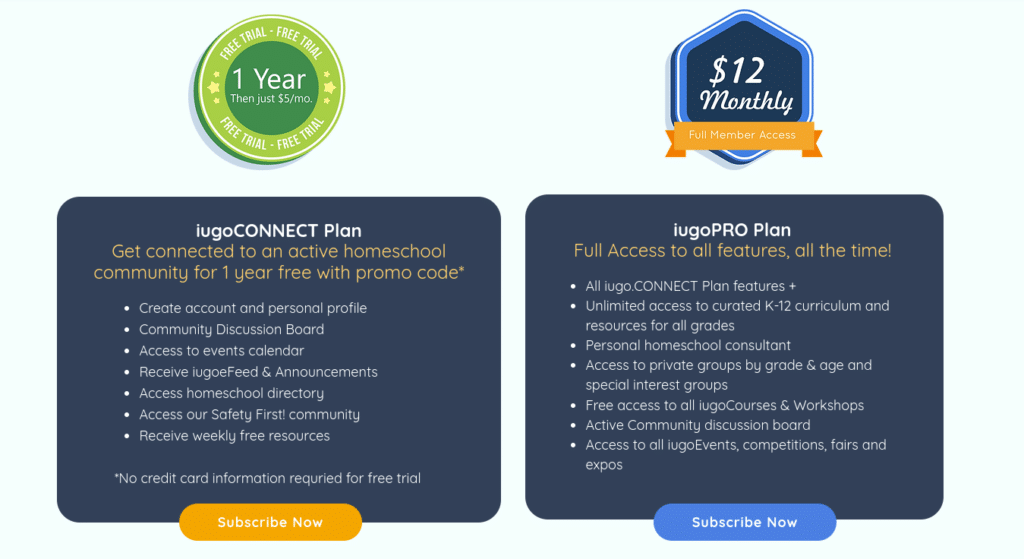 One thing to note, with the iugoPRO Plan, that is $12 a month for the entire family, not per student!