Posts on Happily Homegrown contain affiliate links. When you make a purchase through an affiliate link, your price will be the same, but Happily Homegrown will receive a small commission. Thank you for your support!
We have a hodge podge of chairs that we've gotten over the years. Some were hand-me-downs and others we purchased from IKEA or yard sales. Even if the chairs were in great shape when we got them, the fabric on the cushions deteriorates over time. Add that to my children being rough on furniture, and it was time to recover the cushions on our dining room chairs. It only takes about 15 minutes to recover a chair cushion. What a quick way to improve the look of your furniture without spending a lot of money!
Supplies & Fabric Options
All you need to recover your chair cushion is a screwdriver, hammer, scissors, staple gun, and fabric. For the fabric, I prefer either cotton duck, denim, or canvas because it will hold up to my children. The fabric possibilities are endless though, and you can use just about anything – linen, velvet, even quilting weight cotton – the only difference is how it will wear over time.
Reupholstering a Dining Room Chair
First, remove the cushion from the chair. Then, remove the old fabric leaving the actual cushion part of the chair intact. If this is the first time the chair is being recovered, you can just cut away the old fabric cover, but it the cushion has been covered multiple times, you want to remove the staples. Removing the staples will take a little extra time and a pair of pliers. Below, you see the staples that are holding the cushion onto the wooden base.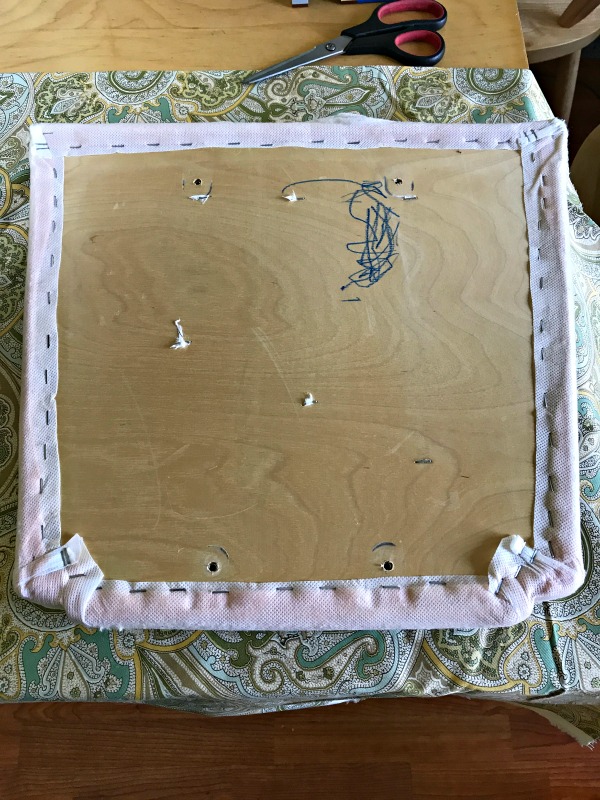 Next, place the fabric you are going to use on a flat work surface. Make sure you have enough fabric to wrap around to the back of the cushion. Pull the fabric over the edge and staple it to the cushion base.
After you have stapled along one edge, pull the corner tight and staple that down. Now staple down the side.
With two-fourths of the fabric stapled down, you now want to start pulling the fabric very tight as you staple. Start at the corner adjacent to the first side that you stapled. Pull the fabric tight, staple down the corner, and then work your way along the edge.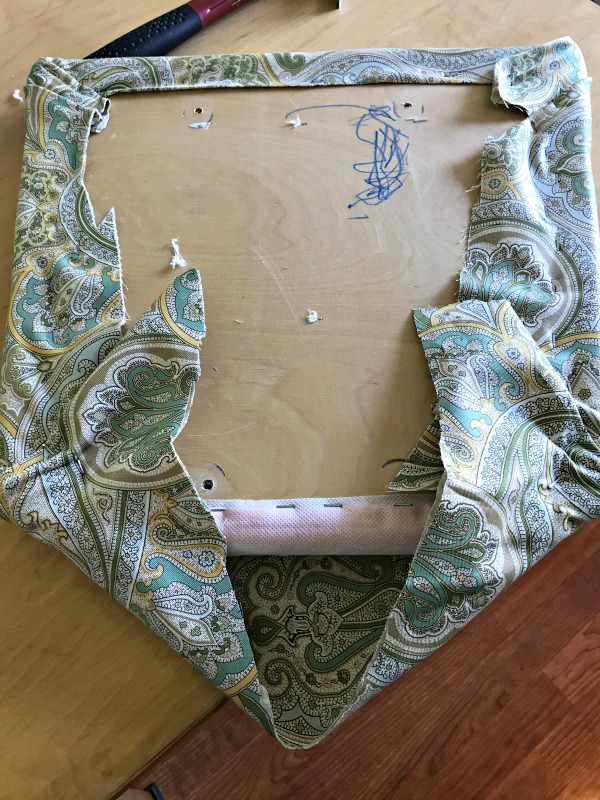 Only one side of the cushion left! Start by doing the corners, pulling the fabric tight as you go. Once both corners are finished, staple along the edge, securing the fabric to the wooden base.
Now, look at all of your staples on the cushion. Do you need more to secure the fabric? Add them as necessary. Hammer any raised staples so they don't catch on anything. Lastly, cut away any excess fabric.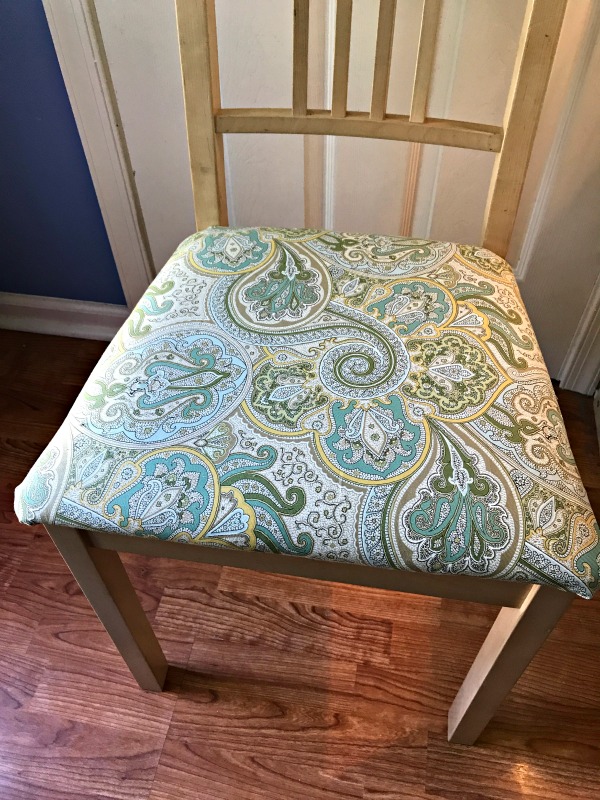 Reattach the cushion to your chair and you are finished!