Posts on Happily Homegrown contain affiliate links. When you make a purchase through an affiliate link, your price will be the same, but Happily Homegrown will receive a small commission. Thank you for your support!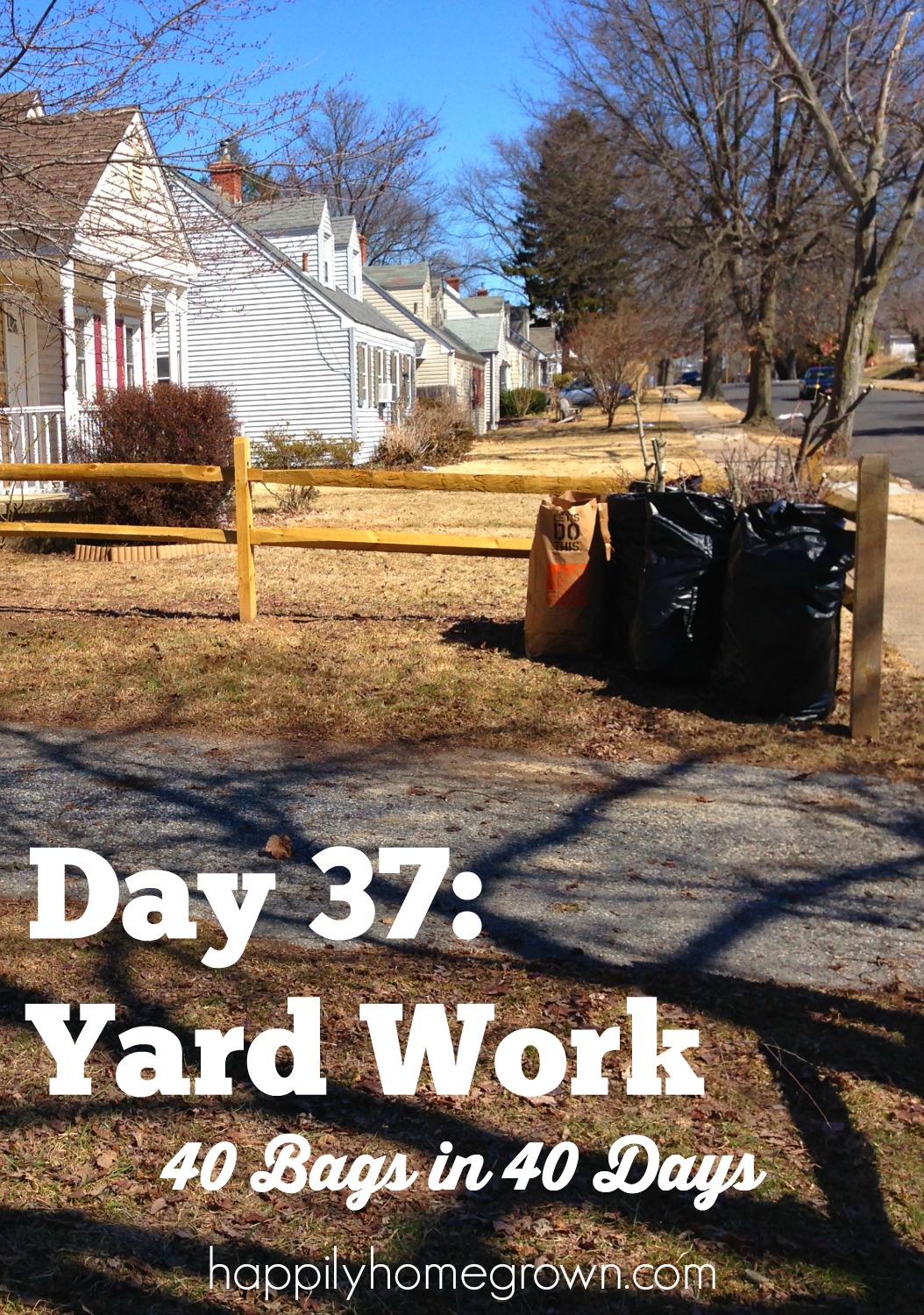 With the nice weather comes the desire to be outdoors, and then you start looking around … sticks and pinecones all over the yard, leaves that fell after the last time you raked, garden beds to be cleaned out, trees to be pruned, even the lawn needs to be mowed right about now!
We are going to go a little out of order and will hold this one back until the weekend since during the week we are busy getting school work and real work taken care of.
I plan to spend 2 hours outside (after taking my allergy meds so I survive the hour) with my children and husband with us all working together to get the yard ready for spring.
Yard Work Plan
Big kids can gather up all of the sticks and small down branches and bag them
Tiny can gather up all of the pine cones and put them in the bucket so we have them for the compost bin
Weed the garden beds (I've already done this this season, so its really just a spot check)
Water the gardens that are already planted
Rake up the leaves and add them to the compost
Clear old mulch from around trees and roses
Put down fresh mulch around the trees
Build the two new garden beds
Set up the two new garden beds
Top off all of the existing garden beds with compost
Sweep out the shed
Mow the lawn (it doesn't really need it yet, but there are a few patches of onion grass that are pretty high up)
Over seed with white clover and red clover so it takes over the lawn
Fill the bird feeders
I know this sounds like an incredibly long list, however with 5 of us working together it really will only take us about 2 hours. If it was just me, that would be a full day, and would result in a very sore back and legs from all of that bending and lifting. Its much better to have the whole family work together if possible, or break the tasks down over several days so you don't over do it.