Posts on Happily Homegrown contain affiliate links. When you make a purchase through an affiliate link, your price will be the same, but Happily Homegrown will receive a small commission. Thank you for your support!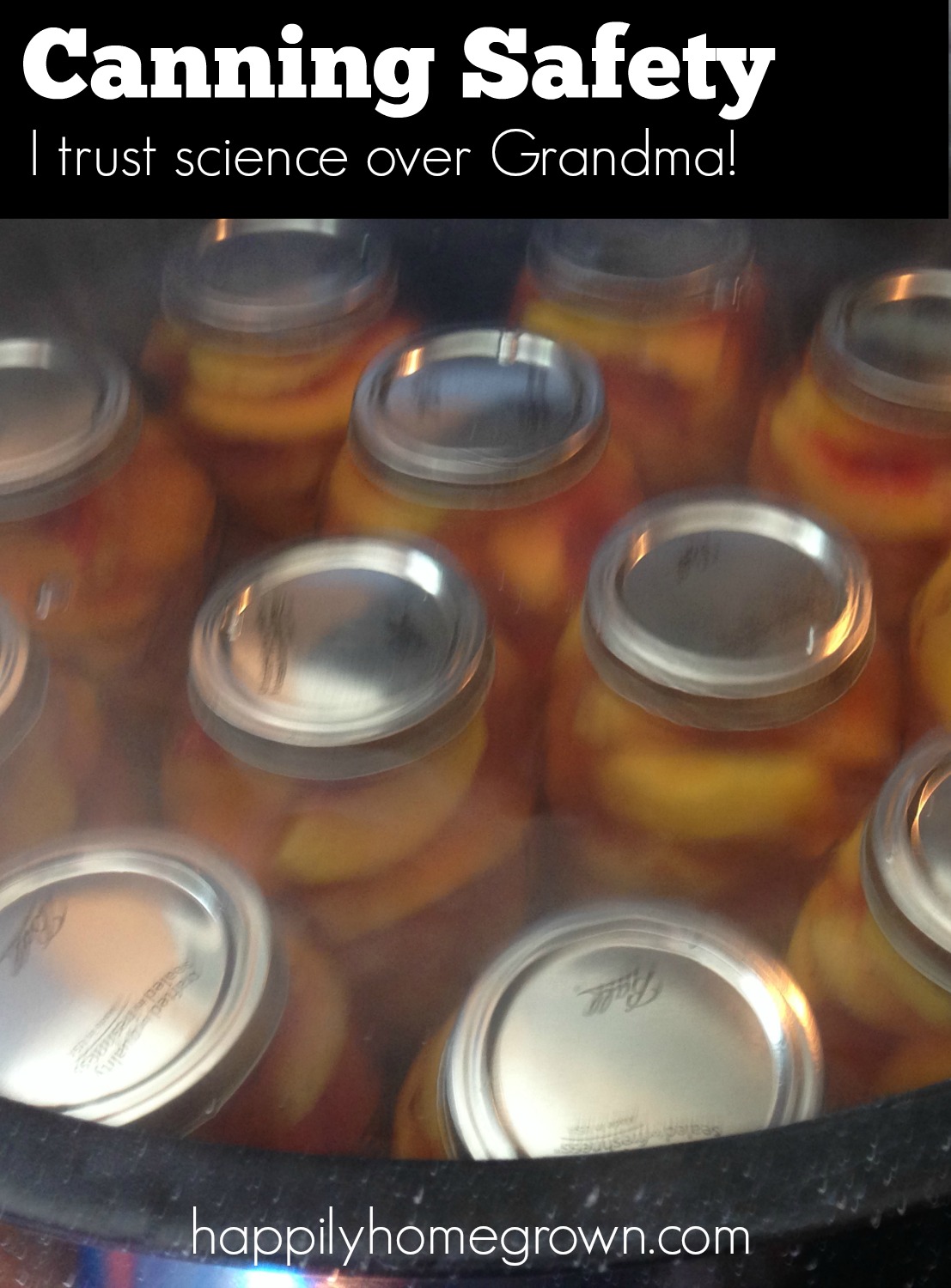 I have been canning foods at home for over 15 years.  During that time, I have made my share of mistakes – hot jar on a cool counter, letting my finger tips get a little too close to the boiling water in the canner, forgetting to skim the foam off my jam – all mistakes that many of us have made, but none of them that could be fatal.  Knowing the basics of canning safety will allow you to confidently fill your pantry shelves with delicious home canned foods.
Saying that home canning can have fatal outcomes may sound extreme, but that's exactly what happened last April at a church potluck when people were served potato salad made from improperly home-canned potatoes.  One woman died, and more than 30 others got sick.  The cause – botulism.
Clostridium botulinum is the name of a group of bacteria. They can be found in soil.  These rod-shaped organisms grow best in low oxygen conditions. The bacteria form spores which allow them to survive in a dormant state until exposed to conditions that can support their growth. — CDC
These spores can be killed several ways, with the two most common being acid and heat.
First lets talk about acid.  Not "scary" acid that you work with in a science lab environment, but rather things like vinegar, lemon juice, and powdered citric acid – all of which are food grade and completely safe for you to use in your home kitchen.  When you make jams & jellies, pickles, canned fruits in syrup, and tomatoes you are working with acidic foods.  These foods are acidic enough that they are a hostile environment for bacteria, and therefore it is completely safe to can these items using a boiling water bath canner.
The second method is heat.  Home-canned low acid foods such as vegetables, meats, poultry, and seafood must be canned using a pressure canner.  Even processing in a boiling water bath canner for 3 days straight you will not, you can not, kill botulism spores! The temperature does not get high enough. The ONLY safe way to can vegetables and low acid foods is to do so with a pressure canner.
There are many people out there on other blogs, Facebook groups, forums, and in kitchens around the world that believe, "If it was good enough for grandma, then its good enough for me," and my other favorite, "Well I've done this all my life and I'm still here."  That doesn't mean you were doing things safely, it means you got damn lucky.
Here's the thing, what we know about bacteria has changed over the last 100 years.  Its changing on a regular basis.  Scientists discover things, study them, and then publish their findings in peer reviewed journals.  Just because it was good enough for grandma doesn't mean it has to be good enough for you. Once you know better, you do better.
You can still safely can many items at home, in fact I have jars cooling on the counter and another batch in my pressure canner as we speak.  The important part is knowing what to do to keep yourself, and your family, healthy and safe.
Don't have a pressure canner, but you want to preserve low acid foods? Your options are: buy one, borrow one, or freeze your food instead.  Its that simple.
To learn more about safe canning check out the National Center for Home Food Preservation, the US Department of Agriculture's Complete Guide to Home Canning, and The Penn State Extension Home Food Preservation.
Take the time to educate yourself on the basics of canning safety, and ask questions if you are unsure of something.  There is a wonderful community of home canners out here to help you!