Posts on Happily Homegrown contain affiliate links. When you make a purchase through an affiliate link, your price will be the same, but Happily Homegrown will receive a small commission. Thank you for your support!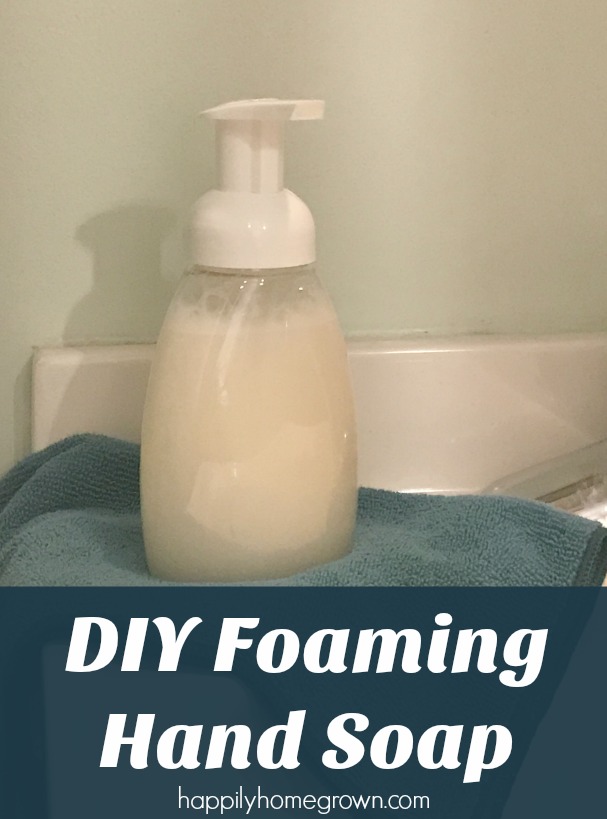 With young children, hand washing can be a challenge. If we use bar soap, they leave it disgusting with all of the food and dirt that they went to the sink to wash off. If we use liquid soap, they go through half a bottle by pumping and pumping because they want a handful of soap.
Enter the foaming hand soap.
I really like foaming hand soap because I need less soap to wash my hands.  All of that beautiful, luxurious foam is created with just a small amount of soap combined with water.  What a way to stretch your soap, and your dollar, farther.
One of my homesteading goals for this year was to make more of our health and beauty products, and soap is the most used product in our house! (Unless I'm in the garden, then I use a lot more of this DIY hand scrub so I can exfoliate the dirt and grime from my hands).  After a couple of months of playing with ratios of Castille soap, a variety of carrier oils, and essential oils I believe I have found the perfect, most luxurious, foaming hand soap.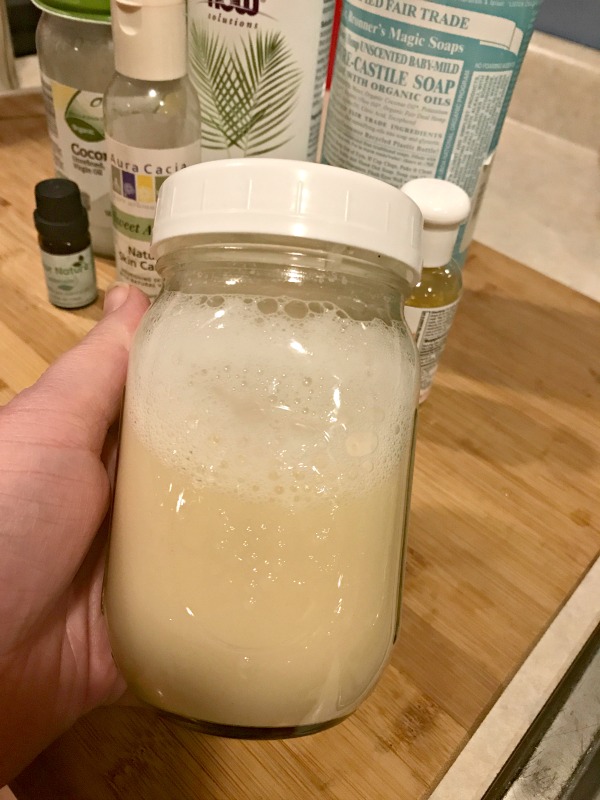 Foaming Hand Soap Base
First up is my foaming hand soap base.  I had found a lot of hand soap recipes online that use a grated bar of soap combined with water, but that wasn't for me.  I wanted to use something more natural.  Our foaming hand soap base starts with Dr. Bronner's Castille soap.  Dr. Bronner's pure-castille liquid soap is cruelty-free, vegan, and biodegradable making it better for the environment than other liquid soaps that contain a variety of perfumes and colorants, as well as other non-biodegradable ingredients.  
To the Castille soap, I add a combination of melted extra virgin coconut oil (the stuff from the kitchen pantry), sweet almond oil, and Vitamin E oil.  Coconut oil is naturally antibacterial and anti-fungal, so I like adding it to my homemade beauty products.  Sweet Almond Oil and Vitamin E oil are antioxidants that are found in many natural and synthetic skin care products because of their healing and moisturizing properties.  
Where most commercially purchased hand soaps contain fragrance, which in some cases are extremely strong, with homemade soap, you can control the scent in addition to the quality of the ingredients.  While the base ingredients are unscented or neutral, I do like to add essential oils to my soap base.  Our favorite is peppermint, but tea tree & lavender is also a nice combination.
Once you have mixed up your soap base, give it a good shake and you are ready to go!  One batch will fill your foaming soap bottle about 11 times.  It's incredible how far you can stretch these premium ingredients.
Make it Foam!
Fill your foaming soap dispenser using 2-3 tablespoons of the foaming hand soap base; then top off with distilled water or water that has been boiled and cooled. Add your foaming dispenser, and you are all ready to wash your hands with luxurious foam!
Each time you refill your countertop soap dispensers, give your foaming hand soap base a shake to make sure the oils and Castille soap haven't gotten clumpy or separated out.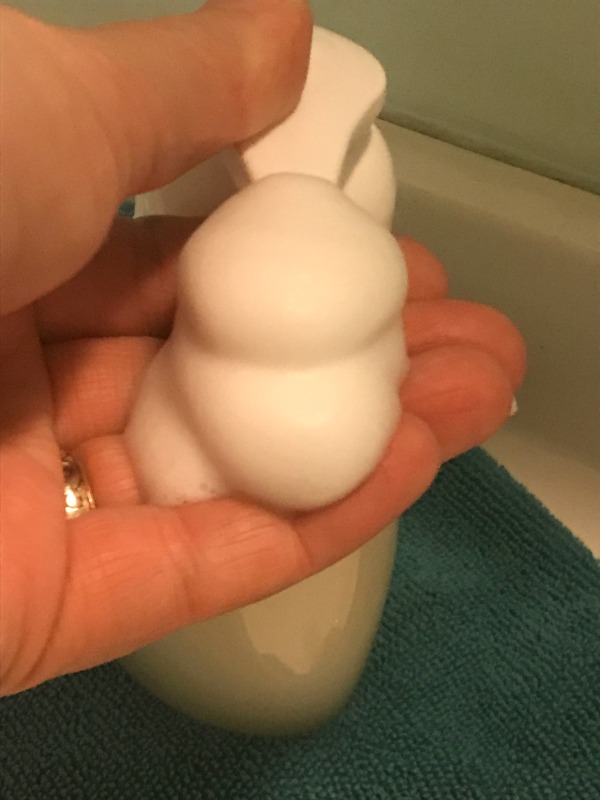 Foaming Hand Soap
1 3/4 cup Dr. Bronner's liquid pure-Castille soap
2 Tbsp extra virgin coconut oil, melted
1 Tbsp sweet almond oil
1 Tbsp vitamin E oil
30 drops of essential oils (we like peppermint)
In a 1-pint mason jar, add your coconut oil. Place the jar in a pot of hot water until the oil is fully melted. Next, add the vitamin E oil and sweet almond oil. Fill your jar to the 2 cup line with the liquid castille soap. Stir or shake to combine.
When you are ready to fill your foaming dispenser, put 2-3 tablespoons of the soap base in your bottle, and top off with either distilled water or water that has been boiled and returned to room temperature.
Notes
One batch will fill your countertop soap bottles 10-12 times.