Posts on Happily Homegrown contain affiliate links. When you make a purchase through an affiliate link, your price will be the same, but Happily Homegrown will receive a small commission. Thank you for your support!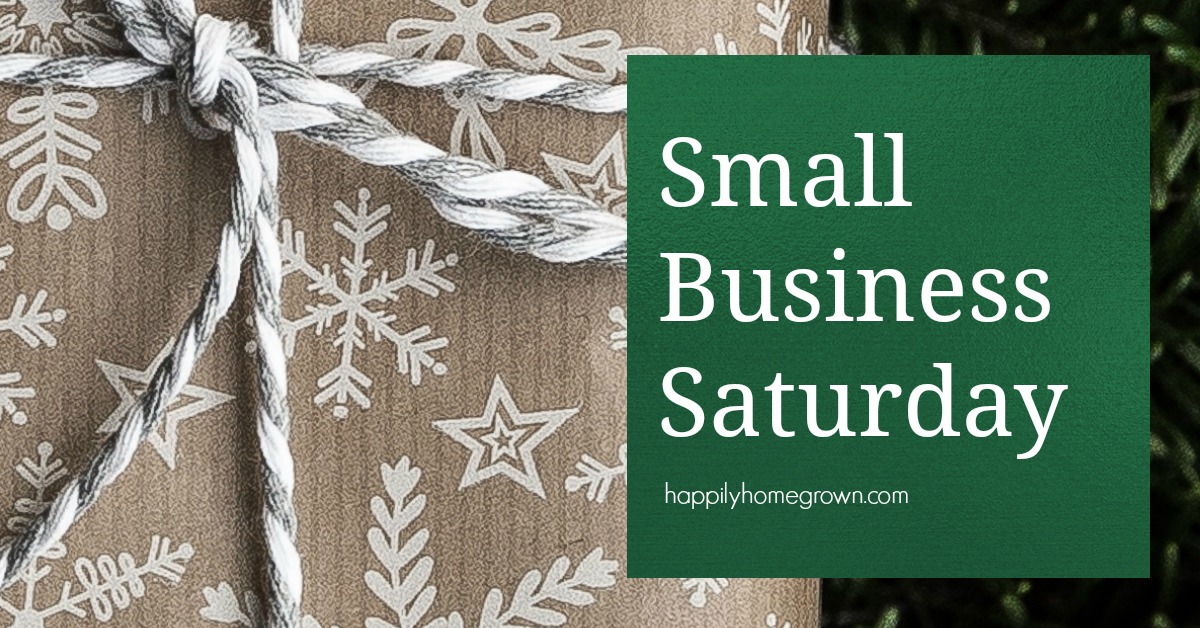 Small Business Saturday is held each year on the Saturday after Thanksgiving. The focus is to shop small business and celebrate local community. When you shop small business, you are helping communities to thrive. Small businesses can have anywhere from 1 to 150 employees.
Small businesses are your local pizza shops and restaurants. They are your friends Etsy shop or direct sales business. It's the consignment sale you go to twice a year, and the car wash you visit weekly. It's the caterer, photographer, and musician you call when you're having an event. The hair and nail salon you visit when you want to look your best, and the chiropractor and eye doctor you visit when you want to feel your best. And believe it or not, small businesses are the bloggers you follow online when you are looking for a recipe, parenting advice, DIY and craft projects and so one.
Our communities thrive thanks to small businesses that fit a need that the larger corporations just can't meet. Let's celebrate those businesses and the contributions they make this Small Business Saturday, and throughout the remainder of the holiday shopping season.

Support Small Business
Happily Homegrown
I have been blogging at Happily Homegrown for two years, sharing homemaking & homesteading tips, inspiration, recipes, and DIY projects the whole family can get in on. When you shop using the links throughout the site, you are supporting my blog as well as my family.
Norwex – Stephanie Huston, Independent Sales Consultant
Norwex helps create safe havens by reducing the harmful chemicals and waste that challenge our health and environment. You can clean the majority of your home with just water and an Envirocloth. In addition to household cleaning items, there is also a personal care line, a pet care line, and general household products as well.
Decadent Soap Works – Denise Hall, Owner
Decadent Soap Works makes handcrafted, cold process, Shea Butter soap that is vegan, all natural, and scented only with essential oils. They also work with essential oils to create customizable aromatherapy; in bath and body products, as well as in roller bottles and diffusers.
Tastefully Simple – Jacki Pitkow, Independent Consultant
Tastefully Simple has quick meal ideas and all-time favorites you and your family will love. Whether your taste is sweet, spicy or a little sassy, just think of Jacki as your own personal shopper and dinner time assistant. So what do you have in mind? Let's get started!
Bringhurst Meats
Bringhurst Meats is a full-service butcher shop located in Berlin, NJ where they have been serving the community since 1934! They also offer deer processing for local hunters. This is where we have purchased our beef by the side for the last 5 years. Everything is always such wonderful quality.
The books listed below have been written by friends of mine who happen to be bloggers.