Posts on Happily Homegrown contain affiliate links. When you make a purchase through an affiliate link, your price will be the same, but Happily Homegrown will receive a small commission. Thank you for your support!
Today, we are answering your questions about homeschooling in Pennsylvania.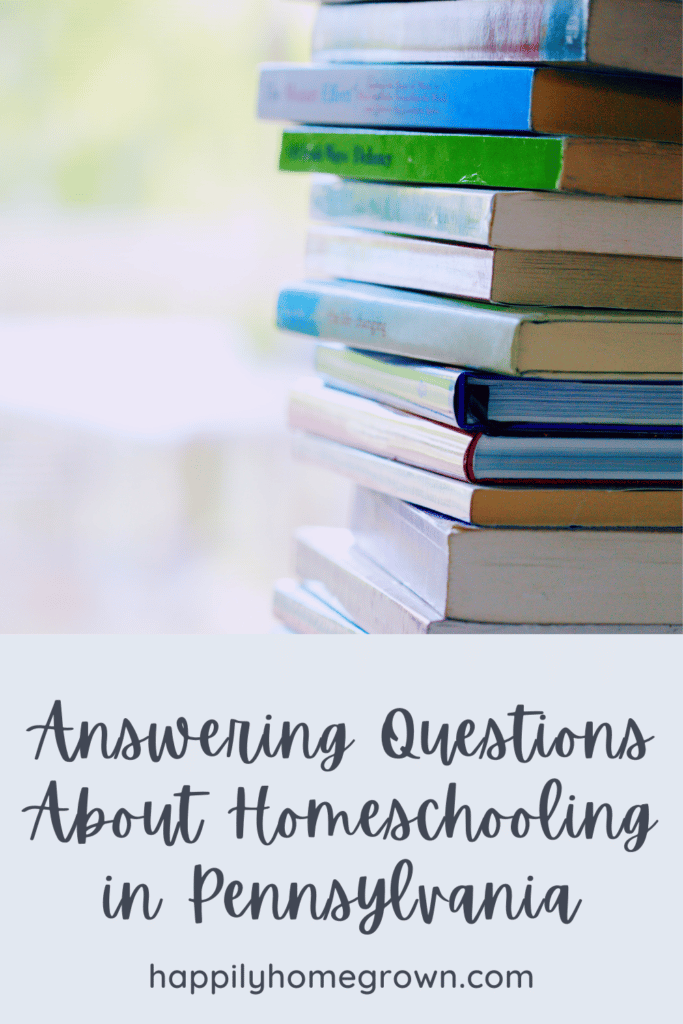 First published in June 2020
Since March [2020], all Pennsylvania students have been doing school at home. While crisis schooling because of COVID-19 is nothing like traditional homeschool (even for homeschoolers), it has brought the conversation about homeschooling to the table for a lot of families.
With more families considering homeschooling there are bound to be a lot of questions. I'm going to try to answer the most frequently asked questions that I am seeing. The answers I share are based on my personal experience as a homeschooler and homeschool evaluator in Pennsylvania.
Is homeschooling legal?
Absolutely! Homeschooling is legal throughout the United States, and each state has its own laws regulating homeschoolers.
Are homeschoolers religious?
According to The National Center for Education Statistics, about 51% of homeschooling parents cited religious reasons for homeschooling in 2016. This number continues to decrease, and, in my opinion, secular homeschooling is sure to see a surge as a result of COVID-19.
Do you need a degree to homeschool?
You do not need a college degree to homeschool your own children. The parent, or homeschool supervisor, must hold a high school diploma or equivalent.
Does the school district approve me as a homeschooler?
No. As per PA Homeschool Law, you are informing the school district that you will homeschool with your affidavit and student objectives at the start of the academic year. The school district does not approve or allow you to homeschool.
Are standardized tests required?
Standardized testing is required in grades 3, 5, and 8 for all Pennsylvania homeschoolers. Your child does not need to take the same standardized tests as the public school students, and you can choose from the list of approved tests that are listed on the Pennsylvania Department of Education's website.
Do homeschooled children have to follow a set curriculum?
One of the benefits of homeschooling is that each family can do things their own way. You do not have to use a specific curriculum or curriculum at all! The choice is up to you and your family, and no one has to approve your decision.
What about socialization?
If you have mentioned homeschooling to anyone this has likely been the first question they ask you. It may even be one of your biggest concerns, but should it be? Homeschooled children are social. They socialize with their families, friends, members of the community. They attend community classes. They go on field trips. They still go to church, play sports, or are in scouts if that is your family's thing.
Is homeschooling expensive?
Homeschooling can cost as much or as little as you want. In PA, we are able to request that the public school provide us with copies of the textbooks used so we may use them at home. There are free programs online that you can find and implement with your children. You can utilize the library for a wide variety of resources. You can also purchase all-in-one curriculum that costs anywhere for a few hundred to a few thousand dollars per student per year. No one option is the right choice or the best choice for all families. You do what is best for you and your children.
How do I start homeschooling?
If your child has never been enrolled in school, you will need to submit an affidavit and objectives once they turn 6 years old.
If your child has been previously enrolled in school, then you must first withdraw your student. Each school district has a different procedure for withdrawing a student. Once that process is finished, then you would submit an affidavit and objectives for your student(s).
How specific do my objectives need to be?
The objectives you submit to the school district should be written in general terms. You can write more specific objectives for yourself, but I like to keep the information I share with the school district as general as possible.
Do we need to do a certain number of hours of school each day?
You are not required to do a specific number of hours a day, but PA Homeschool law does say that you need to complete 180 days of instruction or 900 hours (990 hours at the secondary level) of instruction each year. The academic year runs July 1-June 30.
I have personally found that it is easier to track academic days than track hours. We keep a 180-day check sheet for each child and I mark off the instructional days.
What counts as an instructional day?
Instructional days are any days where learning occurs whether formal or informal. Written assignments – instructional day. Field trip – instructional day. Scout camp – instructional day. Baking on a weekend – instructional day. If you look carefully, there are learning experiences and instructional experiences all around us, even if certain items would fall under the heading of "life skills".
How do I find an evaluator?
Finding an evaluator is easier than you may think. Ask other homeschoolers you know who they use. Ask a friend or family member who is a Pennsylvania school teacher to be your evaluator. Ask around in the various homeschooling groups on Facebook. I am also an evaluator, and happy to work with families for both in-person and distance evaluations.
Are there tax breaks for homeschoolers?
Wouldn't that be nice! Unfortunately, there are no tax breaks or tax deductions at the federal or state level for homeschool families in Pennsylvania.
Where can I find more information about homeschooling in Pennsylvania?
The best resource is to read the law on the Pennsylvania Department of Education's website. This will always reflect the most up-to-date information, and any changes to requirements that will impact your family.
Do you have more questions about homeschooling?
Ask below in the comments and I'll do my best to answer them for you.