Posts on Happily Homegrown contain affiliate links. When you make a purchase through an affiliate link, your price will be the same, but Happily Homegrown will receive a small commission. Thank you for your support!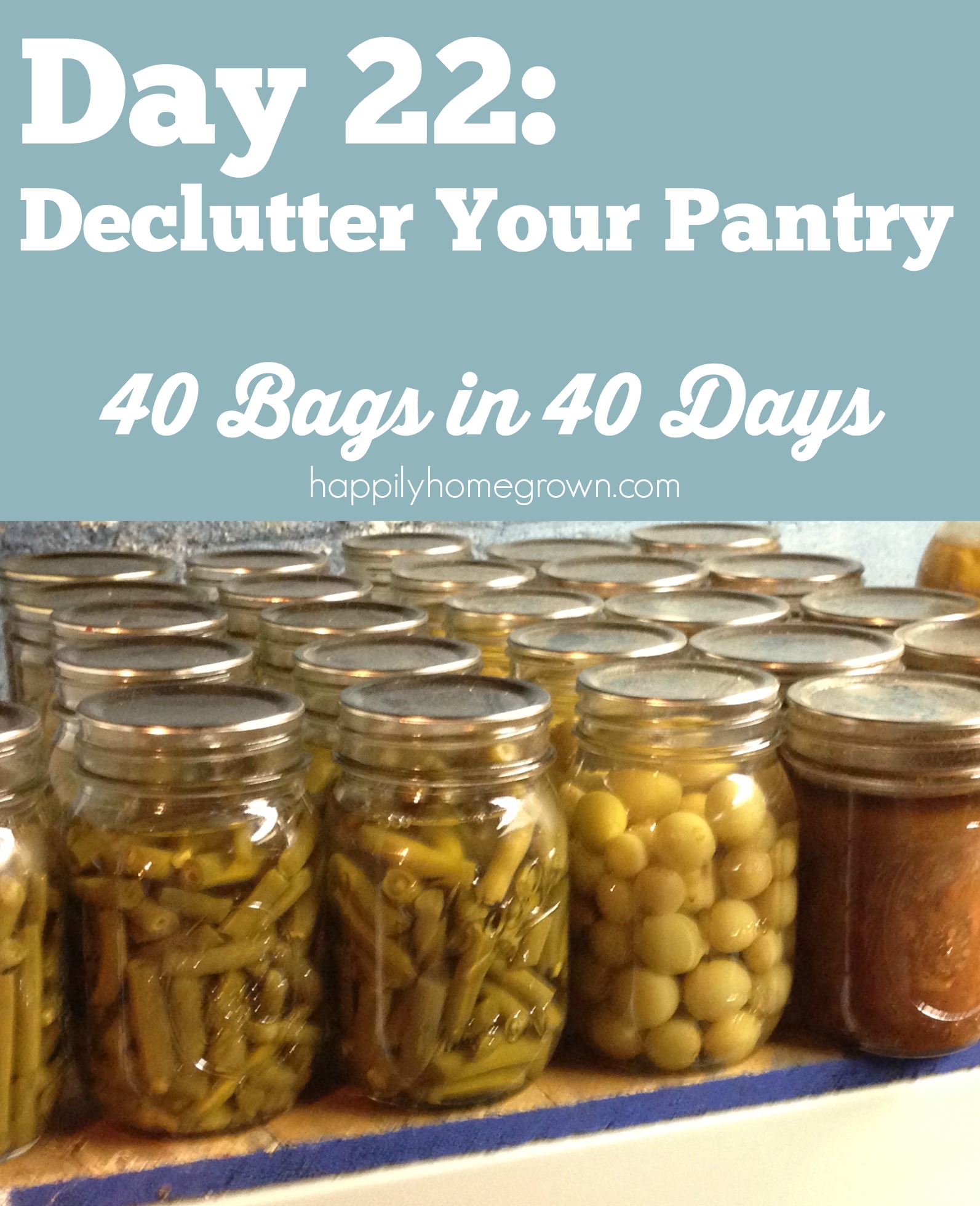 Day 22: Declutter Your Pantry
I am lucky enough to have a dry basement where we set up a portion of it as a pantry, but whether you have an entire room or just one cabinet in your kitchen, decluttering your pantry should be done with some regularity so you don't have cabinets full of expired food going to waste.
While you may be comfortable eating food past its date, food banks can not accept food after its expiration. Keep this in mind while decluttering your pantry. All food that is past date should be discarded not donated. However, if you come across any groceries that will expire before you could use them, by all means put them in a bin for donation.
A few other things I like to do while tidying the pantry …
Check all open containers and canisters to make sure the food hasn't spoiled, it it has – discard
Check the caps on all home canned items. If the cap is no longer sealed – discard the contents & the cap, but reuse the jar
Items we can't use before they expire get donated
Group like items together. If there are items that you use often but you don't have in your pantry, add them to your grocery list
By having an organized pantry, and making sure you check it before going to the grocery store, you can prevent yourself from wasting money on items you won't use or don't need.
My other big tip is to organize your pantry so the items that were first in are first out (FIFO). That means as you purchase new items, you put them behind your existing "inventory". If you have a lot of canned goods, consider getting special FIFO organizers just for those items – I like this one since we practice food storage and have many larger cans.
How long will it take to organize your pantry? Is 10 minutes enough, or are you going to need a lot more time for this one? A few times a year, I do a major pantry clean out, and that usually takes me about an hour, so this is the perfect assignment for a Saturday, when most of us have a little extra time for getting stuff done around the house.
Sunday is your day for rest and reflection. Enjoy your family time, and have a great weekend living with less clutter!

COMPLETE 40 BAGS IN 40 DAYS SERIES