Posts on Happily Homegrown contain affiliate links. When you make a purchase through an affiliate link, your price will be the same, but Happily Homegrown will receive a small commission. Thank you for your support!
Do you know your plant hardiness or agricultural zone? Gardeners and farmers around the country rely on the information about USDA Agricultural Zones when selecting crop varieties.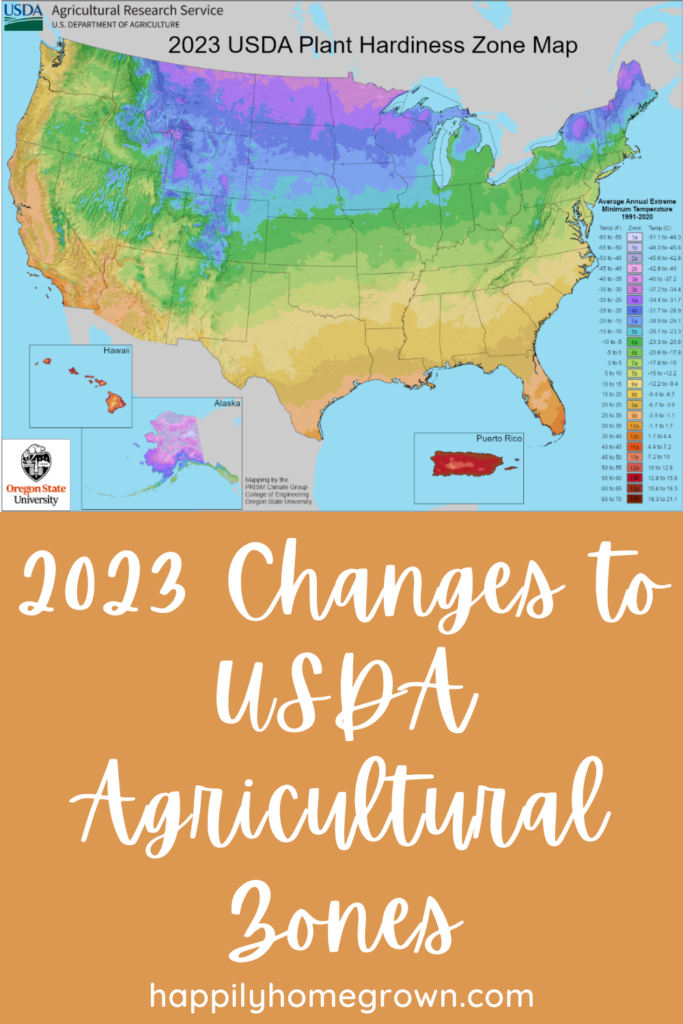 Agricultural zones were last updated in 2012, and that is the information we have been using for the last decade. This week, the United States Department of Agriculture released the updated 2023 Plant Hardiness Zones.
What is a plant hardiness zone?
The USDA Plant Hardiness Zones are the standard that gardeners and growers can use to determine which perennial plants are most likely to thrive in a location. The zones are calculated based on the average extreme minimum and maximum temperatures in a given area.
What do the updates to agricultural zones mean for you?
For the most part, the plant hardiness zones either stayed the same or shifted slightly warmer. These temperature shifts have been happening over time, and are based on the data over the last ten years. It doesn't mean that suddenly everything changes.
Where can I go to find out my agricultural zone?
Check out the 2023 USDA Plant Hardiness Zone Map for the most up-to-date information regarding your agricultural zone. This map is typically updated about every 10 years.
Will online nurseries and garden centers be able to send me plants now?
Many online garden centers and nurseries will tell you if the plants you are purchasing are compatible with your zone. If your zone changed, this may mean that different plants are now available to ship to you depending on the laws in your state. Contact customer service at your favorite online garden center or nursery for more details on what can ship to your area.
My Agricultural Zone
Our home was previously solid in Zone 7A, with neighboring towns also listed a Zone 7A. However, when I looked today, my zipcode is still showing as 7A the adjacent zip codes are listed as Zone 7B and 8A. Both of these zip codes start within 2 miles of my home or less. Both are now reporting to be warmer plant hardiness zones!
This means, that our property may show that we are Zone 7A, but we may very well be in a warmer zone. I am going to continue to garden the way I always have, but knowing we are so close to Zone 8, and that we have a southern exposure garden, I may decide to challenge some things and experiment with plant varieties that typically need a Zone 8 or warmer. This is going to lead to some fun experiments in the years to come!